Shumee is a unique DTC brand in India for kids. They are known for their sustainable approach to making toys more playtime development-friendly. Their product range boasts of open-ended wooden toys, games, and activity boxes handcrafted by local artisans using natural materials and non-toxic colors.
"As a brand that is engaged with kids at a very young age of 0 to 6 years, we are focused on offering a learning experience during playtime. But this also requires staying in touch with parents and learning from their experiences to offer better products. We needed a channel of communication that wouldn't go unnoticed."‍
The challenge of scaling communication for a seamless buying journey
‍Shumee toys address a consumer market wherein the buyer needs constant communication and content to make informed purchases. From the time they visit the site to when they start exploring the products and eventually go on to buy one, Shumee realized there was a need to proactively communicate with the customers.
The brand wanted to be available to address the smallest of concerns of consumers across the buyer journey, and activated communication on social media, email and other platforms. But as the DTC brand grew, they saw an influx of queries from customers at different buying stages, making it harder for the support team to handle requests.
"We have made ourselves available across channels like email and social media to answer consumer queries – during and after the purchase. But as our orders grew, our support queries on multiple channels increased as well, and we realized we need a more integrated solution to manage them better in order to truly deliver a good customer experience."
At this point Shumee started to explore channels that were being proactively used by their consumers, realizing WhatsApp was their go-to for support as well as receiving order updates. That's when they started looking for an affordable solution that would let them not just streamline, but also automate communication across the different stages of a buyer's journey.
This is when the brand discovered Interakt.
Using the WhatsApp Business API with Interakt
The brand started to use a WhatsApp marketing tool for basic automations, only to find that the channel offered a much higher open rate than emails, SMS and other communication platforms. That's when they decided it was time for them to bring other communication automations to the platform.
After having explored WhatsApp marketing solutions that would easily integrate with Shopify, the team chanced upon Interakt and started to explore its features.
"We wanted to double down on our WhatsApp marketing and communication. At the same time, we wanted a solution that would fit our resources, offer easy scalability and also integrate easily with our eCommerce CMS, Shopify. After exploring the features of Interakt, we decided it was time to explore the automations they offered. Now we have been with them since April 2021!"
The impact of using Interakt for WhatsApp marketing
The brand has a strong online presence, but also a consumer base that continually wants to be in the 'know-how' and often requires an education-first approach to convert. With Interakt's WhatsApp Business API solutions Shumee set up WhatsApp marketing automation that immediately addressed about 70% of the communication needs in their buying cycle.
They automated their abandoned cart recovery messages on WhatsApp with Interakt; letting them not just remind but also follow up with consumers who left products behind. The brand was able to notice an increase in their cart recovery message open rates and conversions as a result of the automation.
Shumee also set up automated order status notifications on WhatsApp with Interakt. This helped them reduce the WISMO (where is my order) queries – from order confirmation to shipping alerts, they now proactively communicate with the customer.
The DTC brand is also exploring new angles to using WhatsApp marketing to get to know its buyers better. They have also set up an automated campaign that nudges the buyers to join their Facebook group, wherein parents frequently exchange notes, establishing a deeper connection with them.‍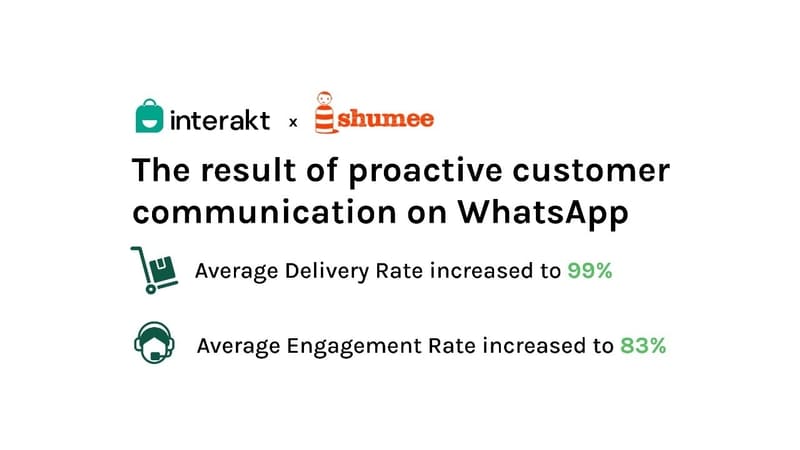 Shumee was able to simplify customer support across the buying journey. The Shared Inbox of Interakt made it easy for the team to manage customer communication and keep track of the buyer's journey without having to switch between platforms.‍
"Thank you Interakt for simplifying sales and customer communication on WhatsApp. It has been a good experience working with the team so far. As we explore more use cases for WhatsApp marketing, we hope to drive bigger and better results from the channel in the future."‍
Ready to experience the power of WhatsApp Business API?
Explore smart automations for customer support, marketing and sales with Interakt.