Hustlemad is a D2C modern essentials brand that builds products for everyday use. They focus on going after different categories of products to make them better in terms of the quality and the pricing they're being offered at.
"We look at everyday things, identify what we can really improve on and go after it to offer the best quality for it. Our brand's focus is to provide outstanding quality and bring radical transparency in the pricing the products are being sold at. That makes it important for us to proactively communicate with our customers."
‍
Anuraj Singh, Co-Founder, Hustlemad‍
The challenge of streamline communication with customers across the buying journey
Addressing a target segment that wants to make informed purchase decisions, Hustlemad recognised the need for streamlining their customer communication from day one.
The brand's core pillar is to maintain transparency with consumers and help them make the right purchase by understanding the difference in the products they offer to them. This required the brand to remain proactive on all customer touchpoints including the website live chat, social media, email and other platforms.
"We wanted to be there for our customers all the time. While we had established a lot of channels to communicate with them – live chat, email, etc, they weren't exactly as intuitive as we needed them to be. We wanted a communication channel that'd let us really converse with our customers."
This is the point at which Hustlemad started to look for channels that their target audience was proactively using. They quickly identified that WhatsApp was a preferred channel of communication in their target segment and started looking for a solution that'd help them use it to talk to their customers.
This is when the brand discovered Interakt.
Using the WhatsApp Business API with Interakt
Moving to WhatsApp Business API came naturally to the brand as they wanted to keep their customer conversations well-segmented. Now what they needed was a solution that'd help them scale the communication.
As the brand started to explore solutions, they found that there were very few official WhatsApp Business API partners. So they started to seek recommendations and read through reviews, to look at what other DTC brands were making use of.
This is when they discovered Interakt and what the solution had to offer.
"WhatsApp was definitely going to be our primary channel of communication with customers. We needed an official WhatsApp partner to work with and from the references and reviews we started to research, we found Interakt. After going through its feature set, we also saw that it was solving most of our challenges. So we got onboard!"
The impact of using Interakt for WhatsApp marketing
After integrating Interakt with their Shopify store, Hustlemad was able to establish a proactive channel of communication with its customers and be there for them 24/7.
With a distributed team running different departments of marketing, support and sales, they were also able to streamline how they managed customer conversations with the help of the Shared Inbox feature that Interakt offered. Another feature that helped them stay on top of these conversations were the live notifications sent to the team.
Hustlemad also leveraged the templates offered by Interakt for customer support. This helped them initiate and actively converse with customers that reached out to them from different pages of their website, seeking information on products, policies and more.
"The whole experience of using Interakt as a distributed team has been so seamless. We are able to manage customer communication with so much ease and in a much more streamlined manner owing to the Shared Inbox, live notifications and templates. Really happy we chose to go with Interakt as our WhatsApp solution!"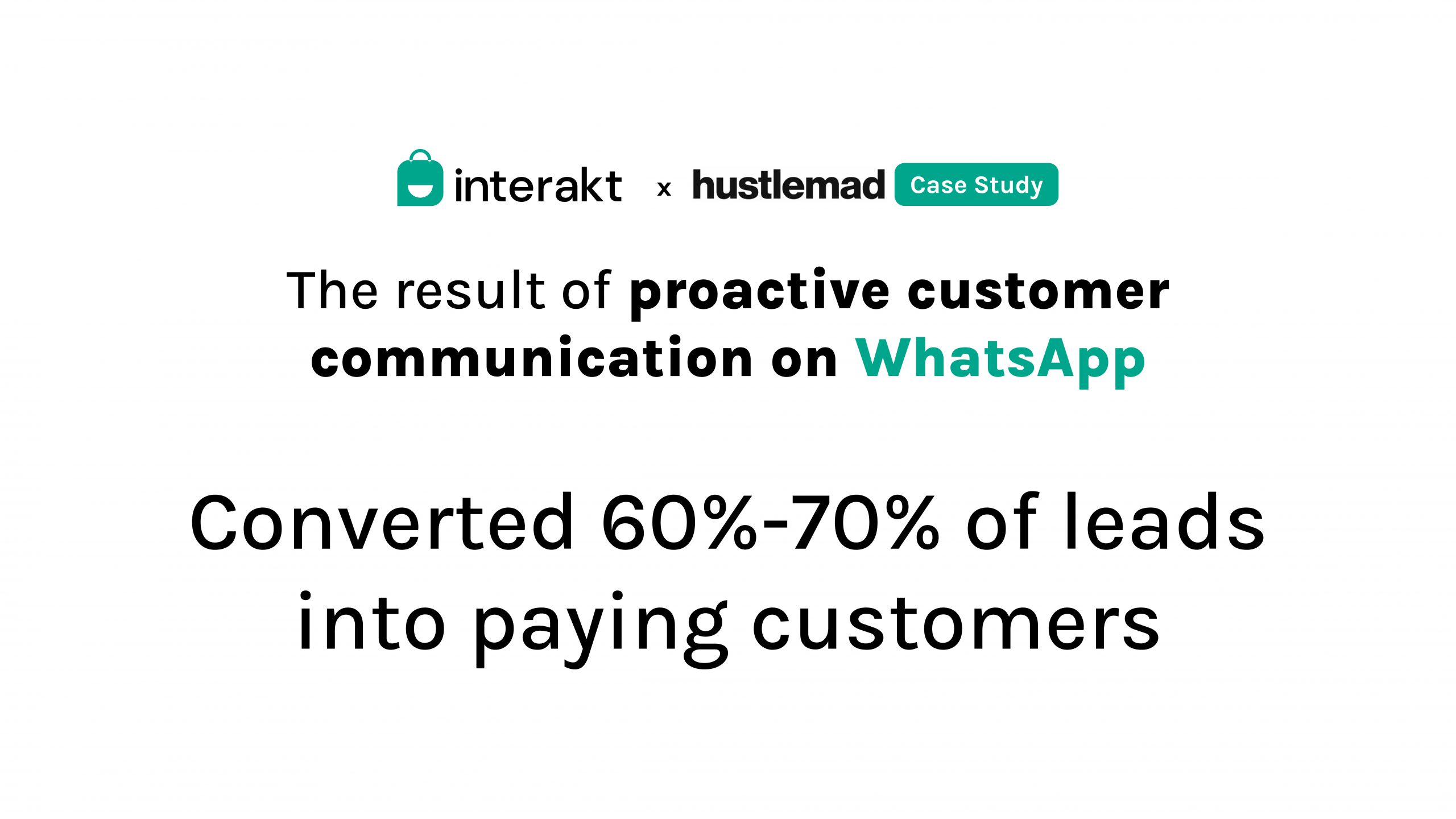 ‍Hustlemad was able to establish a proactive channel of communication with its customers by bringing in WhatsApp into the stack.
With the help of Interakt, Hustlemad was able to streamline the conversations happening on the website throughout the customer's buying journey. It also helped them proactively communicate with the customers post-purchase.
This helped the brand establish a stronger relationship with its customers, and instill trust in those that were exploring their products for the first time.
Apart from being able to communicate seamlessly and build trust in buyers, they were also able to tackle abandoned cart recovery with Interakt's templates and automations. The brand is actively recovering 50-60% of their abandoned carts as of today with the help of WhatsApp marketing.
"Interakt has really helped us be there for customers before, during and after their purchase. This has helped us boost the trust they have in our brand, establish stronger relationships with them and at the same time, really help us understand their expectations from us; helping us become better."‍
Ready to experience the power of WhatsApp Business API?
Explore smart automations for customer support, marketing and sales with Interakt.