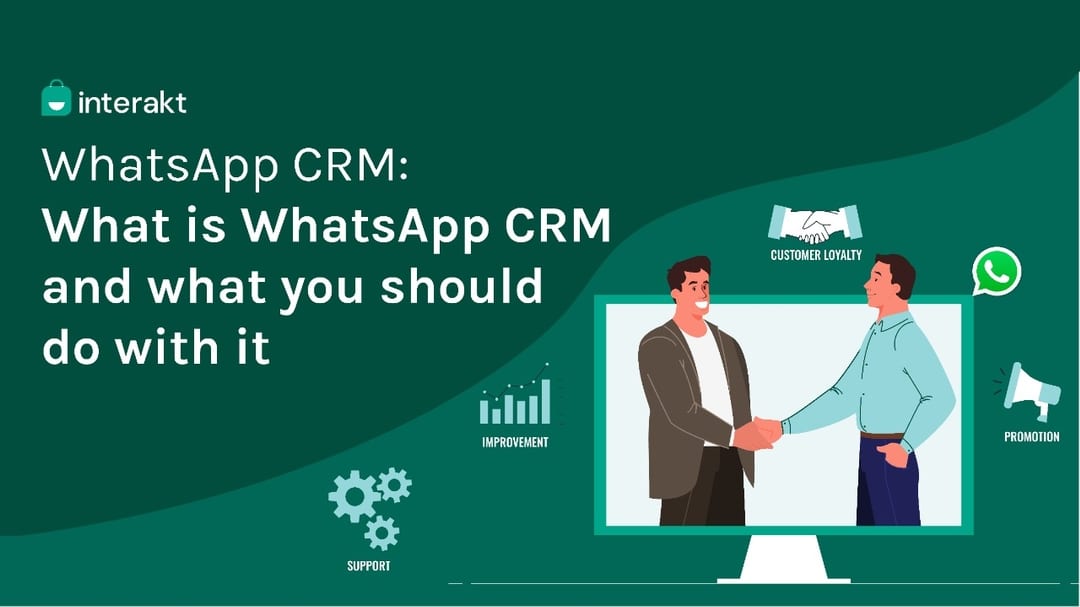 WhatsApp CRM: What is WhatsApp CRM and what you should do with it
Customers form an integral part of a business and you need to maintain strong ties with them. Customer Relationship Management tools may have helped your business and countless others to achieve this. Additionally, as technology is constantly evolving you will find more and more businesses and consumers shifting to instant messaging apps to communicate effectively and WhatsApp happens to be the most popular one of them all.
The business version of WhatsApp has over 5 million users worldwide. Now the big question is if we can integrate WhatsApp Business with CRM
Yes, absolutely! The benefits of integrating your CRM with WhatsApp are aplenty! The integration will make your business more visible to customers by creating a more accessible means of communication which will help you build a closer bond with customers. That's what every business aims to achieve. In this post, we will take you through what WhatsApp CRM is and how to use WhatsApp CRM for business. ‍
What is WhatsApp CRM? 
If you have been using WhatsApp to engage with customers, then you need to know how you can combine all the tools you have at your disposal and integrate the information from your CRM to WhatsApp Business.
A customer relationship management or a CRM is popularly known as a system that helps you organize customer information and improve customer service and relationships.
WhatsApp Business is used by businesses to connect with customers at scale. WhatsApp has an enormous user base and not tapping into it would mean that you're losing out on a massive opportunity to nurture your customers.
Let's get this straight! Imagine having all the data from your WhatsApp linked to your CRM and being able to track your leads database efficiently? We are talking about managing negotiations, metrics and results. The whole works! That's what a WhatsApp CRM integration can do for you. By integrating your CRM with WhatsApp Business you can cut down the chances of forgetting any sales data and more importantly it's less tedious for you to manage operations.‍
We will unpack the benefits a WhatsApp CRM can bring to your organization-
a) It will help streamline the sales process which in turn translates to more sales. By adding a click to chat button on your website you invite customers to initiate a conversation with you on WhatsApp. This is a great opportunity for you to convert a lead into a customer.
b) It will help you offer seamless after-sale service. For instance, the WhatsApp template messages feature on WhatsApp Business API will allow you to send messages to obtain direct feedback from customers or notify them of the discounts and offers that they can redeem in the future.
c) Effortless marketing automation to retain your existing customers. Bulk campaigns can be sent out using the bulk notifications feature on WhatsApp Business API to engage with existing customers and boost conversions.
‍How to use WhatsApp for Business CRM? 
WhatsApp CRM integration lets you send and receive WhatsApp messages from your CRM tool to offer exceptional customer service through WhatsApp.
To integrate with WhatsApp you need to have access to WhatsApp Business API. Since WhatsApp Business API accounts are linked to a phone number, you must use a number that's valid and one that is owned by your business.
Getting access to WhatsApp Business API can be a time-consuming process but not with official WhatsApp Business API solution providers like Interakt who are entitled to help you with the process of getting your business approved for WhatsApp Business API access.
Once you are on board, you can proceed with setting up your CRM integration with the number that you provided for WhatsApp Business API access and start connecting with your customers on WhatsApp.
‍WhatsApp as a tool for customer service 
Wider reach 
WhatsApp has over 2 billion users worldwide. By adding it to your client engagement strategy you widen your scope to reach larger audiences across 180 countries.
‍Reduces reaction time
WhatsApp helps you reduce reaction time drastically. Since WhatsApp is a platform that supports real-time conversations, your agents will have the option to address all customer queries swiftly. Moreover, the quick replies feature on WhatsApp Business API lets you send automated responses to take care of frequently asked customer questions.
‍Data privacy 
WhatsApp offers utmost privacy to its users. All conversations that take place on WhatsApp are end to end encrypted, which means that only you and the person whom you are communicating with can view and read the messages being shared.
Integrating WhatsApp with CRM is a great way to allow your business to have direct access to a larger audience. Incorporating WhatsApp into your communication strategy will enable you to have engaging interactions with your customers on a platform they are most comfortable with! Sign up on Interakt today for a 14-day free trial.