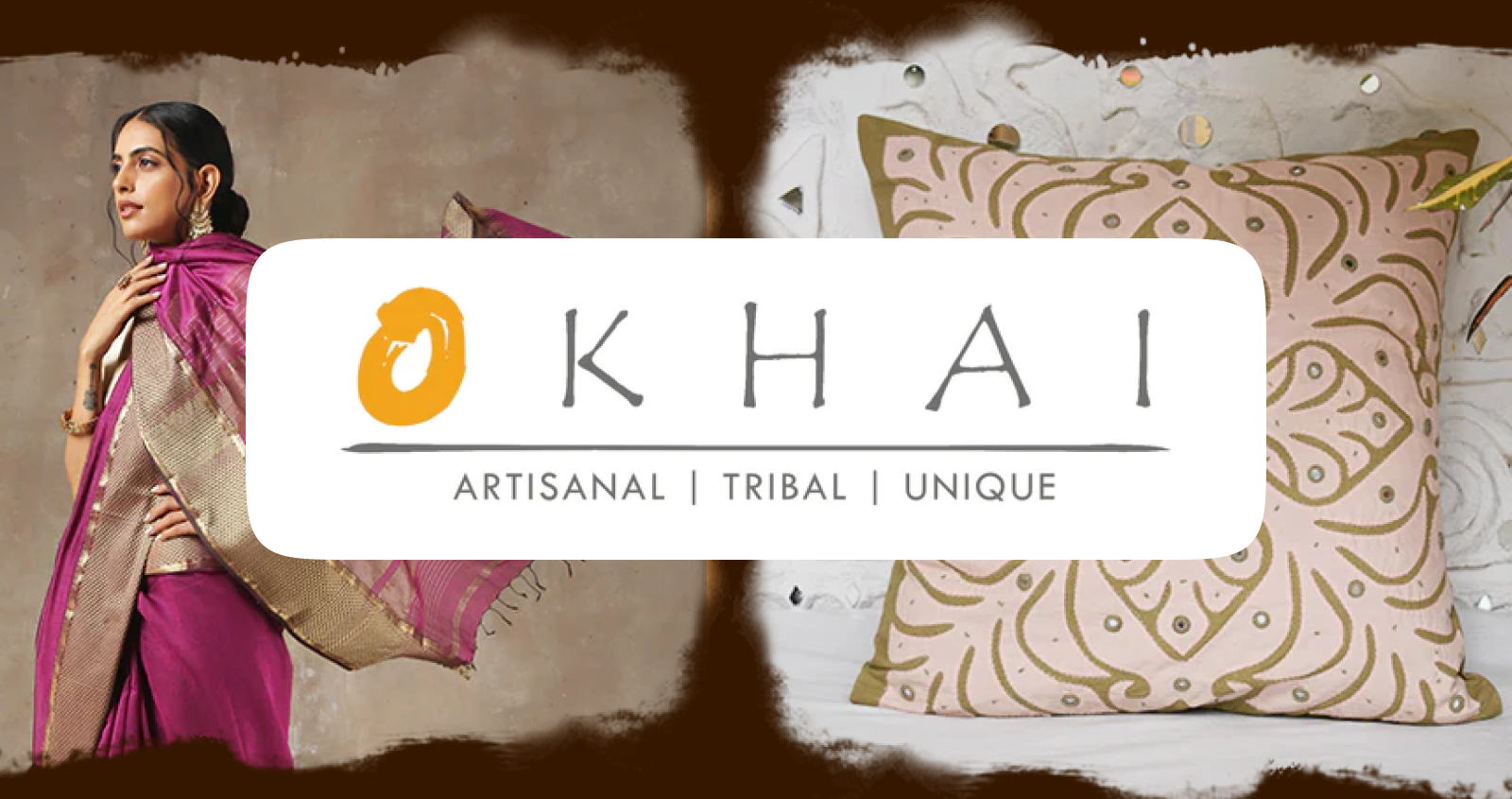 Okhai Boosts Sales & Combats Shopping Cart Abandonment using the WhatsApp Business Platform on Interakt
When we think of 'India', we reflect on the colors, food, rich history, heritage and vibrant traditions that seeped and entwined into the existence of the country. It is not surprising to find glimpses of the legacy, richness, and diversity of our heritage woven into the spindles, molded into the potter's clay, and captured in the artists' creations.
But, how much and how far do we support our artisans who work relentlessly to sustain our culture and heritage? With industrialization coming to the fore, some art form or the other takes its last breath somewhere in an unknown place. Artisans struggle to sustain themselves with 2 square meals a day and it won't be long before they are forced to give up their craft in lieu of basic amenities.
Okhai, was born out of the need to support such artisans all across India and to provide them with a means of sustainable livelihood. In 2015, during the e-commerce boom in India; Okhai wanted to introduce artisans and their art forms to customers via their e-commerce platform.
They wanted to develop a symbiotic relationship with traditional art forms and contemporary designs— a mélange of heritage and modern elements. They successfully inculcated this element in their handcrafted apparel and lifestyle products such as home décor and accessories and presented it to customers. This set the stage for artisans to sell their products not just nationally but internationally as well.
The need for a one-stop solution that made business communication simpler
"There were a lot of gaps on the platform we were on before. It wasn't evolving with the times and we needed a lot more from an e-commerce platform. I mean, essentially it is your entire store." says Manorath Dhillon, CEO of Okhai.
The brand faced cart abandonment issues and numerous customer queries which weren't being addressed as quickly as they liked it to be.
On integrating with Shopify, the brand witnessed a growth that shot from 500 artisans to 27,000 artisans getting active on the website. Shopify has allowed businesses to add apps to integrate into their business modules and this is where Interakt steps into the picture.
Using the WhatsApp Business Platform on Interakt
– Interakt has helped Okhai in changing the way they communicate with their patrons. The 2-way communication now flows easily between the brand and the customer and here are a few salient pointers to take into account:
Interakt was extremely proactive in helping Okhai set up their account smoothly and within a week, Okhai was already sending out product catalogs to their customers.
– Okhai started using WhatsApp to boost their sales, embracing the channel as a boon for the business.
– Interakt helped bridge the gap between customers and artisans enabling artisans to be more accessible to their customers. Customers know that they are only a message away from getting their queries resolved by the brand.
– Interakt helped Okhai target specific customers and offered a better understanding of consumer buying behavior. For example, Interakt helped the brand curate databases based on customers who have purchased just once or customers who are dormant. With this available data, Okhai was able to draft out lucrative strategies to propel sales.
Interakt has helped in increasing cart abandoned conversions by churning out customer data which were then used in making targeted sales.
– Interakt has simplified WhatsApp API integration for Okhai streamlining business communication like never before.
"The need of the hour is to be available to the customers 24/7 on mobile. And that is Interakt. WhatsApp is something that you can not move away from. It is something that is an important part of every business now. The Interakt team makes it extremely easy for you to get onto WhatsApp, make that first sale, make that catalog and send it out to your customers" adds Manorath Dhillon, CEO Okhai.
The impact of partnering with Interakt
Cart abandonment recovery goes up to 60%
Interakt has helped in reducing the response time by 15-20%
Interakt has boosted sales by 15%
Real-time sale conversions take place
Increased customer interactions
"After Interakt over 60% of our orders are completed. Our cart abandonment is almost like empty. Every day we find orders in the abandoned carts, we hit at it and we get conversions. We get real-time sales from there" claims Manorath Dhillon, CEO Okhai.
In conclusion
Interakt is a tool that when used in conjunction with business strategies can not only help boost sales but also attract new customers building brand loyalty and advocacy along the way. For brands like Okhai, where a major part of their business revolves around attracting and retaining a niche audience, it's imperative that brand awareness is also kept on a rolling boil, so that people understand and connect with the brand from the word go.
What better way than using WhatsApp to keep your customers actively fed with rich content that creates sales opportunities? Get your customer business interactions simplified with Interakt.