Perfora is a new-age DTC oral care brand that aims at bringing new science, technology and design to an industry that has remained too conventional for years. They're focusing on elevating everyday oral care products to promote better health and make consumers aware of its importance.
"Oral care has been an industry that has remained the same for years. When you look around for products, you stumble across the same names continually, with no improvements made to what they offer. We are a brand that wants to bring in science and new design to every day oral care and that makes us different. This difference is exactly what requires us to continually educate and communicate with our potential buyers to help them see the need of what we're bringing to the market."‍
The challenge of communication with shoppers across the entire buying journey online
As a new brand, with a different offering in a traditional market, actively communicating with potential buyers is extremely important. There are many consumers who want to know more about the products before making a purchase and that's where Perfora started to notice a challenge.
Perfora noticed that people were not very responsive to their messages on email and SMS, and a segment of their target audience wasn't as digitally sound to use those channels for even transactional communication like order confirmation.
The brand realised that not being able to communicate seamlessly with their customers, was leading to a drop in the experience they wanted to offer. That's when they started to research channels that their target audience was actively making use of on a daily basis.
After having spoken to other businesses in the DTC ecosystem and running surveys, Perfora found that WhatsApp was a popular choice amongst their target audience. They realised that the chat app offered a more intimate and intuitive way of communication between the brand and the consumer.
They actively started to seek out WhatsApp Business API solution providers available in the market, discovering many that were complex to get started with and required development efforts from the team that the brand wanted to evade.
The brand came across Interakt through a post made by another DTC professional, who spoke of its ease of use and positive impact on conversions.
"We wanted a WhatsApp Business API solution provider who could help us really simplify customer service. When we reached out to Interakt, their customer service team made us feel at home. Their proactiveness in helping us understand WhatsApp marketing, gave us the confidence of trying the solution for ourselves!"
The impact of using Interakt for communication on WhatsApp at scale
Starting out with a free trial, Perfora quickly noticed that they could use Interakt's WhatsApp Business API features to solve multiple aspects of their communication challenges.
The easy integration of Interakt with their Shopify store further simplified the process of them starting to use WhatsApp marketing. With the help of a proactive customer service team from Interakt, smart templates and automation capabilities, Perfora was able to go live with using WhatsApp for customer communication in less than an hour.
As the brand states, the automations have helped them reach out to the right people at the right time, with the right message. This helps them actively communicate and convert online shoppers, irrespective of where they are in their buying journey.
"We wanted a WhatsApp marketing solution that would be easy to use and would seamlessly integrate with our Shopify store. Interakt's templates and automation workflows are so intuitive that we're able to create and manage campaigns on our own. Their customer support team has been proactively helping us get better at it as well. Our decision to go with Interakt for WhatsApp marketing has been a game changer!"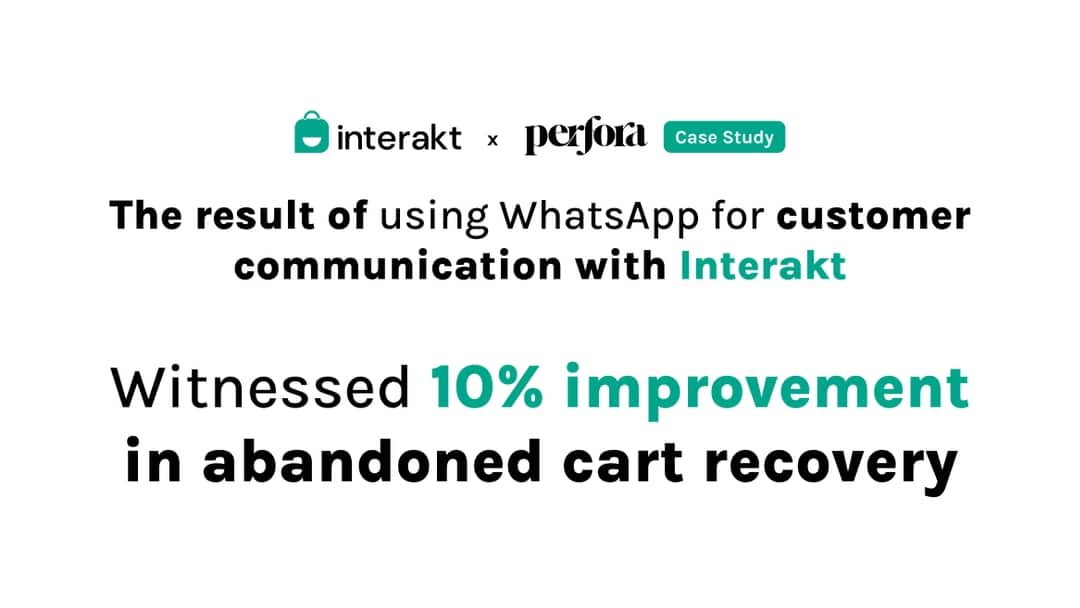 ‍
Perfora has been using Interakt for diverse use cases, including customer support, customer engagement and abandoned cart recovery.
The brand has been able to see a 10% improvement in the number of abandoned carts recovered. As compared to email and SMS abandoned cart reminders, WhatsApp alerts and follow-ups have been seen getting a better response both in terms of click-through rates and eventual conversions.
Perfora has also noted a dramatic increase in the number of customer interactions. From receiving about one to two queries a day from their chatbot on the website, the brand sees at least seven people reach out to them every day on WhatsApp requesting more information about the products. This has helped the brand nurture first time visitors towards making purchases and also better understanding their need for making informed purchases from the brand, as it is comparatively new in the market.
Another use case that has helped Perfora improve customer interactions and experience is personalization of messages. They have been able to personalize and run automated campaigns for customer feedback and other similar use cases, seeing 2X response from customers as compared to email and SMS.
"Thank you Interakt for simplifying customer conversations and sales for Perfora. WhatsApp is now one of our most used and leading channels to actively communicate with your potential and existing customers, helping us understand them better."‍
Ready to experience the power of WhatsApp Business API?
Explore smart automations for customer support, marketing and sales with Interakt.