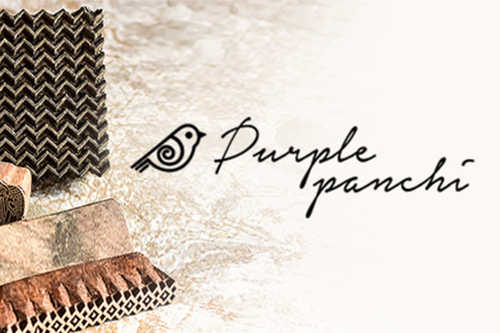 Purple Panchi is a premium ethnic wear label that specializes in creating custom-made outfits. Their work entails a good blend of classic Indian motifs with some of the most beautiful and vibrant colors out there. Purple Panchi celebrates the crafts and colors of India and sources their work from some of the best artisans in the country.
The brand is extremely experimental in nature, creating some of the quirkiest, yet classy designs. The brand has come a long way and carved a place out for itself in the industry, thanks to the sheer grit and determination of its founder, Malvika Gupta, and her team.
"I am glad WhatsApp opened its doors to Commerce as that seemed like the logical next step to me. A lot of our audience is reliant on WhatsApp for their primary communication. With the help of Interakt, we were able to share our catalog with a wider audience with minimum agent involvement. This has helped our conversions since customers coming to our website are more aware of the brand and the products."‍
The need to connect with customers on WhatsApp— a platform that most people are familiar with
WhatsApp is the go-to instant messaging platform for billions across the world. People use the app to stay in touch with their peers and family. Besides that, the channel is being widely used by customers to reach out to businesses. 89% of customers say that they prefer messaging a business to any other form of communication. WhatsApp with its high open and engagement rates has climbed the ranks to become the most preferred channel for communication.
Purple Panchi realized early on that most of its customers were active on WhatsApp and wanted to tap into the power of this channel. They began their hunt for the perfect platform that could help them connect with their customers at scale. Their search ended with finding Interakt, a leading WhatsApp Business API solutions provider. Interakt was just the platform they were looking for.
"Great product. WA Business API has made our customer experience flows quite easy."‍
Using the WhatsApp Business platform on Interakt
Not only did Interakt help the brand streamline its communications but it was instrumental in getting the sales and profits of the brand soaring using WhatsApp for Commerce.
All this without the need to hire more employees. Let's find out how.
1.WhatsApp commerce
WhatsApp Commerce is a solution offered on Interakt that allows you to promote and sell easily to your customers on WhatsApp. Interakt allows you to share product 'Collection Lists' and 'catalogs' that showcase your products, allowing customers to browse through them and place their orders on WhatsApp.
‍
2. Shopify Integration
When a customer adds various items of their choice and sends them across to you as a cart, the next thing you need to do is close the sale. Since Interakt supports Shopify integration, if you have a Shopify store you can quickly convert a WhatsApp shopping cart to a Shopify shopping cart and configure it to be sent as a WhatsApp auto-reply message, allowing the customer to key in their details and pay for the purchase on your Shopify store!
Let's take a quick look at the step-by-step guide on how to help your customers place orders on WhatsApp–
1. The first step in the process is to submit business compliance info which will add credibility to your store. This information includes the legal name of your business, your business type, and whether it has been registered or not.
2. The next step involves setting up the Facebook Catalog on your Facebook Commerce Manager
‍3. Once you have created the Facebook Catalog, it's time to create your product Collections which will help customers find your products
4. Next up, you need to add Interakt as a partner in the Catalog, allowing our team to send the product catalogs to your customers on WhatsApp.
5. Then, enter your Catalog ID in Interakt, which can be obtained from FB Commerce Manager
6. After connecting your catalog to Interakt, set up the list message containing the product collections and the catalog message with products within a particular Collection
7. Share catalogs from the Interakt Inbox, as a one-time campaign or through your auto-reply messages.
3. Bulk Automated Notifications
Interakt allows you to send bulk automated notifications and alerts to thousands of customers at one go, who have opted-in to receive communication from your end.4. Shipping Updates
Apart from exploring WhatsApp commerce and automated notifications on WhatsApp, Purple Panchi was able to send timely shipping updates to its customers to keep them informed on the status of their orders through pre-approved WhatsApp template messages. These messages are intended to provide customers with order status right from the order confirmation, to order shipping and order delivery.

5. COD Confirmation
With Interakt, you can cross verify the authenticity of COD orders, by automatically reaching out to customers seeking another round of confirmation through WhatsApp, just to be sure! By giving customers the option to pay on delivery, you have a great chance to increase sales but it is also a breeding ground for fake orders. The best way to tackle this issue is to get direct confirmation from customers on these orders, right through WhatsApp. Purple Panchi put this feature of Interakt to adequate use to keep fake orders at bay.
The Result
The brand had repeat customers reaching out to them for new product launches and feedback on past purchases. Most often these customers go on to place new orders on WhatsApp
By using WhatsApp as their primary CRM tool the brand witnessed a drastic reduction in their customer experience spending by a whopping 80%.
7-8 % of their monthly revenue comes from orders placed on WhatsApp.
Their orders on WhatsApp are up by 20% in AOV, when compared to online orders
Interakt and power your business communication. Explore its top-notch features that include chat automation for customs support, a shared team inbox, personalized bulk notifications, and Ready to engage with customers like never before? Get started with WhatsApp Business Platform much more.
‍
Sign up today and enjoy a 14-day free trial.