The State Plate is an ecommerce website on a mission to bring authentic food products from different states of India to common households. From daily snacks like papads to sweets, pickles, drinks and more, their online store has everything your taste bud desires.
"As an online store that sells food, we have a vast target audience that we need to proactively communicate with. But as our customer base grew, we realized that traditional email marketing wasn't as effective at reaching consumers at the right time with the right message – in fact, most of them did not even access their inbox as actively. That's when we decided it was time to switch to a more conversational and day-to-day channel like WhatsApp."
‍
Raghav Jhawar, Co-Founder, The State Plate‍
The challenge of scaling proactive communication over emails
As a food brand, The State Plate is always adding new products to their catalog, along with new deals and discounts on the same. But to be able to get their authentic food products noticed, they needed to proactively communicate with their customers.
Using a traditional approach to marketing, the brand set up email campaigns to run their promotions. But as they started to learn more about their target market, they realized they were catering to segments like homemakers who did not access their emails on a day-to-day basis. This resulted in lower open rates on campaigns and in many cases, consumers missing out on all the goodness they introduced on the store.
"We were sending out emails pretty actively to our customers. Even when we sent them out to a big list of customers, we only saw a mere 25% open rate. That was indicative of the fact that we were targeting a segment that did not choose to use emails on a regular basis. We noticed the same problem across all types of campaigns – be it promotions, cart recovery or customer support."
The brand noticed that a lot of their customers wanted assistance in making the right purchase. This involved answering questions around the food ingredients, shipping and delivery. The back and forth on emails was not just tedious for the customers, but also the brand's customer support team. This resulted in an increase in resolution time and an overwhelming experience for customers.
That's when the team started to explore channels that were proven to be used more actively by their target customers. They identified that WhatsApp was a common channel of preference for most of their customers; across all demographics and started to look for solutions that could help them put it to use.
After spending months on research and discussions with other ecommerce businesses, they discovered Interakt for WhatsApp marketing.
Using WhatsApp Business API with Interakt
"WhatsApp was definitely going to be our primary channel of communication with customers. We needed an official WhatsApp partner to work with and from the references and reviews we started to research, we found Interakt. After going through its feature set, we also saw that it was solving most of our challenges. So we got onboard!"
Getting started with the WhatsApp Business API requires completing a few formalities. This includes getting your phone number verified on Facebook and integrating with your Shopify store.
The Interakt team assisted the brand in finding their way through Facebook and WhatsApp policies, to speed up the process. Our plug and play solution also made it much simpler to integrate seamlessly with their Shopify storefront, for easy access to product data.
The impact of using Interakt for WhatsApp marketing
After exploring the automations and features available on Interakt, the brand decided to tackle their three core problems upfront – marketing and promotions, cart recovery, and customer support.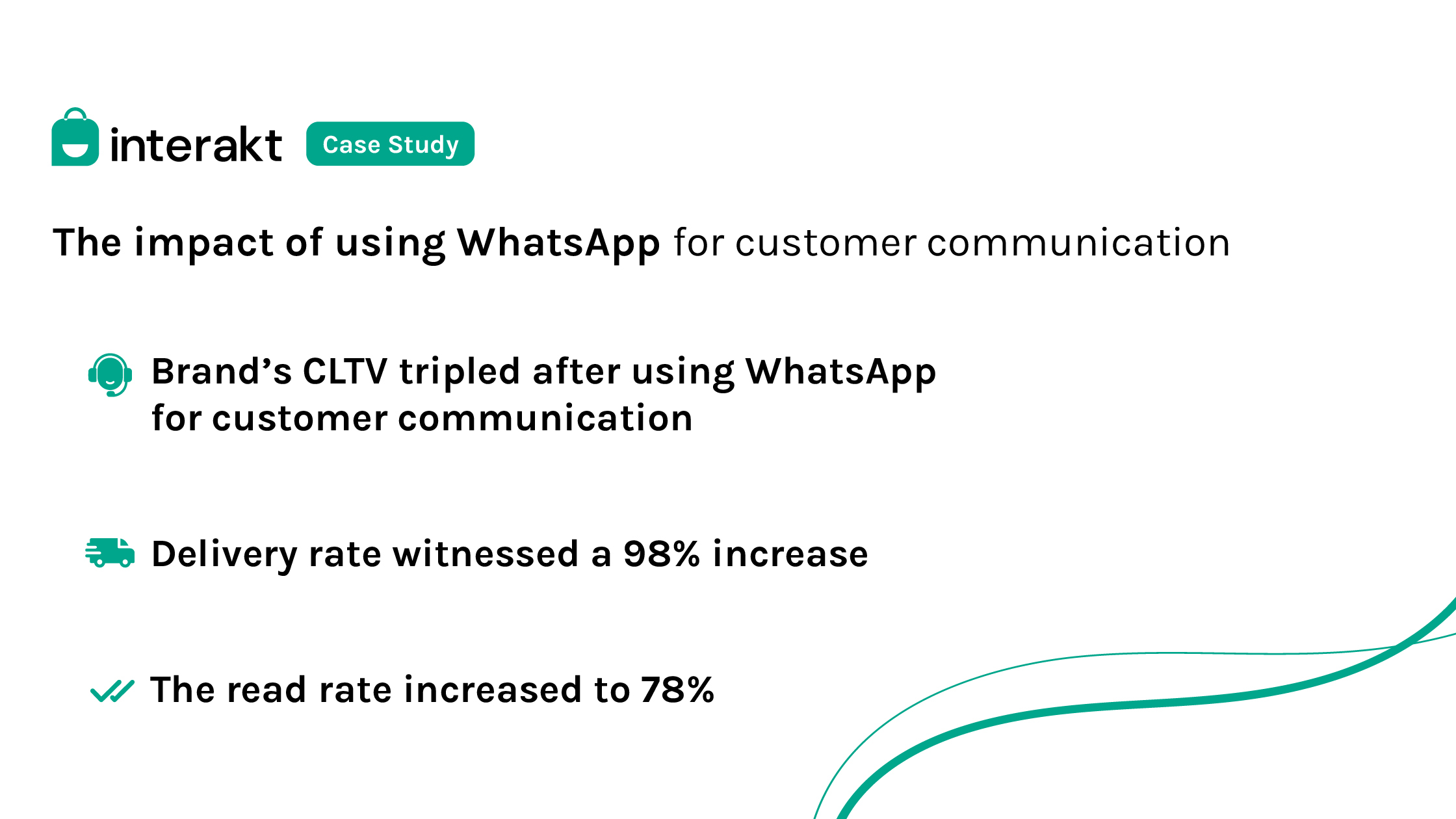 Promotional campaigns – The brand set up automated promotional campaigns to announce new product launches, deals and discounts using the bulk notifications feature on Interakt. As a result of which, as quoted by the brand, they saw their open and read rate of campaigns triple with time.Added to the same, the brand also started to notice an increase in the response rate on their promotions. From a customer base of thousands of people, they started to see about 700-800 consumers reach out to them more regularly.
Customer support campaigns/ automations – With the help of customer support automations using the Interakt chatbot, the brand was able to also tackle the queries much faster, turning conversations into conversions in no time. Their support team was able to resolve 1.5X more customer queries, and much faster.They also used the Shared Inbox feature to tackle customer queries in a smarter way. The brand leverages automated ticket assignment to route customer questions to the right team, to get them the right answers, faster.
 Abandoned cart recovery campaigns – The brand also set up cart recovery campaigns on WhatsApp using Interakt's templates and automations. They were able to not just send out timely reminders to cart abandoners, but also follow up with them to ask for feedback and offer help in making the right purchase.As compared to emails, they saw a much better response to abandoned cart reminders on WhatsApp. Their cart recovery rate doubled using the conversational channel to re-engage lost customers.
• Feedback campaigns – Knowing how important customer feedback is to their products, the brand also set up post-purchase automations to get insights from buyers. From their shopping experience to how they found the products to be, the brand has been able to gather customer feedback more proactively on WhatsApp using Interakt.
This has helped the brand not just make better business decisions, but also build stronger customer relationships.
"Interakt is like that all-in-one solution we needed to scale our customer communication on all fronts. As of today, WhatsApp has become an active channel for not just running promotional campaigns, but also proactive customer support and engagement, and that has helped us dramatically improve the overall experience we offer to consumers. The team has been of immense help throughout the process, understanding our challenges, needs and coming up with the best solutions to address them. In fact, they are the only WhatsApp marketing tool we recommend to anyone who asks us about customer communication!"‍
Ready to experience the power of WhatsApp Business API?
Explore smart automations for customer support, marketing and sales with Interakt. Sign up for a 14-day free trial today!