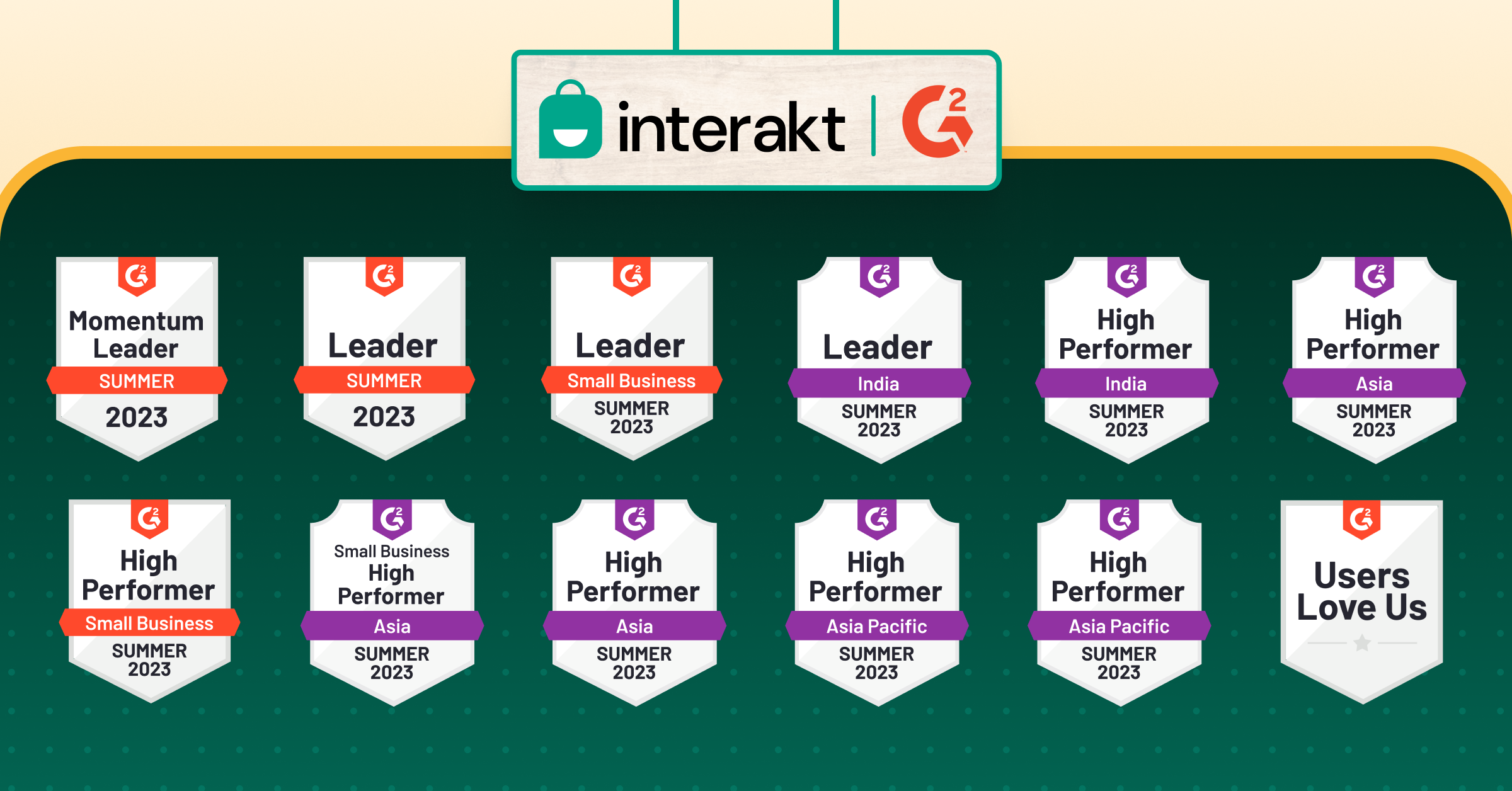 Interakt recognized as a leader in the G2 Summer Reports
The journey of Interakt on G2 began last year and since then the platform has recognized Interakt's amazing work as a full-scale WhatsApp Business Platform for SMBs.
Interakt is again recognized as a leader in the E-commerce category and a high performer in the customer communication category!
We couldn't have achieved this milestone without the constant support of our customers, partners, and users who believe in us and help us provide the best WhatsApp Business API solution to SMBs globally!
Our customers have been showering us with praises on G2 and that's the reason why we have won in these 12 categories & 20 other mentions across E-commerce Tools and Customer Communication Management reports and our most beloved – 'Users Love Us' badge
This win would've been impossible without you. It was teamwork in its purest form.
About Interakt
Built on the official WhatsApp Business Platform, Interakt is trusted by more than 7000+ SMBs including prominent Indian E-commerce & D2C brands such as Okhai, CellBell, Get a Way, The State Plate, YourStory, Bombay Sweet Shop, TravClan, & more. to promote and sell products by engaging customers on WhatsApp.Interakt was launched by Jio Haptik with a vision to be the de-facto platform of choice for SMBs, looking to leverage conversational commerce. Since its inception in 2020, approx 506 Mn+ conversations have been exchanged via Interakt.
Interakt provides seamless integration with popular eStores, CRMs, Payment Gateways, and business apps like Shopify, WooCommerce, Zoho, Google Sheets, Razorpay & more for end-to-end sales support, making it the only full-stack solution available in the market for SMBs.