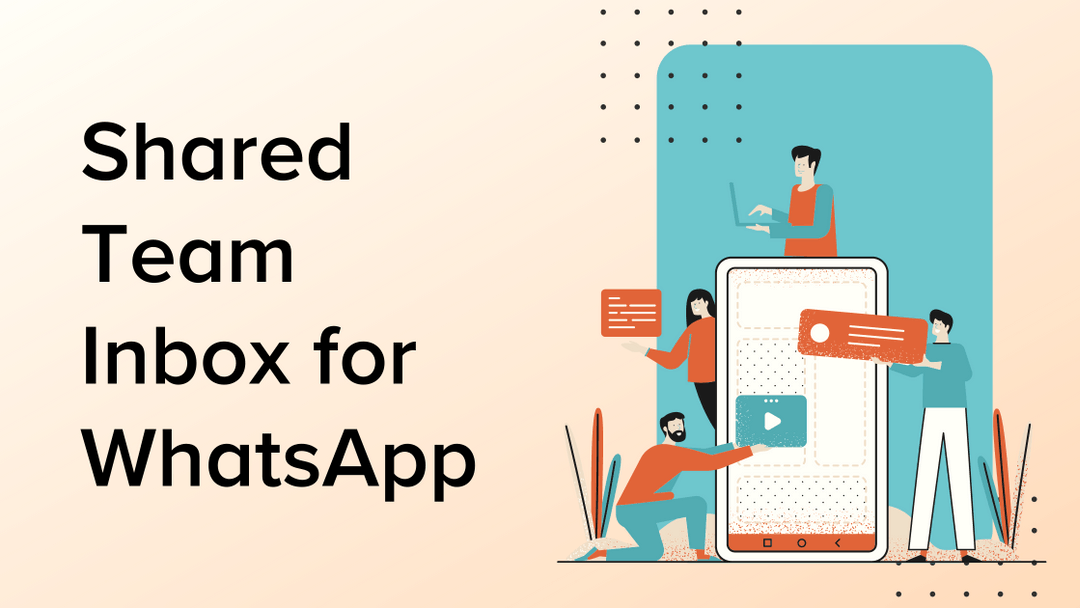 Built For Teams: interakt's Shared Inbox For WhatsApp
Have you been thinking about getting access to WhatsApp API for your business but are confused about how it can help your business? You've come to the right place! In this article, we're going to be discussing how Shared Team Inbox – one amongst the many other top-notch features on interakt that can help you grow your business. Let's cut to the chase!‍‍
What is a Shared Team Inbox?‍
If you've had a look at our previous articles on ultimate guide on WhatsApp Business API transformed communication for businesses across the world, you are probably aware of the power it holds by now. WhatsApp has become a solution for businesses both big and small, who want to unify their efforts in responding to customer questions, queries, or complaints on WhatsApp.
Since its launch, more or less every business has a profile on the WhatsApp Business App. Dealing with an overwhelming amount of customer queries and messages on the business app is a sad reality for most of these businesses.
In the simplest terms, a Shared Team Inbox allows the whole team to send, track and receive messages in one place. But let's dive in deeper into how that happens. ‍
The Problem‍
Tools like WhatsApp, WeChat, Facebook Messenger were essentially built for one-on-one communication. But this brings a lot of inconvenience to businesses that want to distribute their efforts in communicating with their customers as a team.
Now, giving access to multiple teammates is just one of the many pressing issues. We dug deeper and here are some of the biggest worries troubling business teams who use WhatsApp today:
• Team Members not knowing who is attending to which customer query
• The team having trouble coordinating who amongst them would respond to a customer
• Not having context while you're chatting with a customer
• Chats probably getting missed because a team member is not aware of which chat has been resolved and which hasn't been resolved
• Switching between apps to retrieve information for the customer's order history
How much time do you think would be wasted on this whole process?
It would have a grave consequence on your response time and let's be honest, it is very likely that the customer is not going to stick around that long. This is where interakt's shared team inbox steps in. ‍
A Solution for India's Fastest Growing Businesses‍
Let's take the case of Home Canvas, a home decor and customized furniture brand that was quick to realize the magnitude of a shared team inbox as the ultimate solution for their team. Today, they handle 95% of their customer conversations on WhatsApp. They have much more flexibility as the shared inbox gives the entire team access for omnipresent communication with customers in addition to the ability to respond and take customer conversations forward seamlessly.
Of course, a team being able to respond to customer queries is just one amongst the many other advantages a shared inbox and interakt as a platform poses – and that's exactly what we're going to discuss further!
Let's deconstruct interakt's shared team inbox and learn how each meticulously thought-out feature plays a role in becoming the most sought-after solution for businesses today.‍
Skyrocket Team Productivity‍
interakt's shared inbox for WhatsApp enables you to add team members to your account for a collective effort to access, create and send WhatsApp messages. You can even assign and re-assign chats to the members of your team. This prevents your team from having one team member being overwhelmed by resolving a high volume of queries coming in daily, by distributing the task between team members evenly. This way, each team member can pay more attention to the customer and reply promptly, leading to happy customers at the end of the day!
Reduced Response Time ‍
No customer likes to be kept waiting, and certainly not on a messaging app that they use all day where they are bound to notice any delay in response. Being able to quickly respond to a customer plays a huge role in their decision to complete a purchase. Moreover, being agile and quick in your responses goes a long way towards building a loyal customer base. A shared team inbox helps you in doing that. Once a customer query has been resolved, a team member has the option to close the chat and clean up their view by having only open chats that need to be addressed in the inbox. You can also sort your conversations from 'Newest' to 'Oldest' or vice versa to understand which conversations need to be closed on priority – pretty neat, right?
Contextual Conversations 
Isn't it a hassle to communicate within your team via emails and phone calls to discuss customer queries and give them context about what's been resolved so far and what needs to be done next? It is not only inconvenient but extremely time-consuming. With interakt's Shared Team Inbox, you can use that time to respond to more customers and improve productivity. Here's where interakt's smart cards come into play:
• The Personal Details card gives you a complete overview of all your customer details. This includes Name (obviously), contact information, demographics, order history, sign-up date or any other parameters that may be relevant to your business.
• The Tags Card helps you to categorize your customer contacts with relevant and appropriate labels.
• Next up, we've got the Notes Card – you can simply jot down any information you want to communicate with the other team member and they will be able to view it! (No, customer's won't be able to view these notes)
• Your team members can also view the entire Conversation History so they have the full context of the customer – right from their very first purchase and chat!
Less Efforts, More Automation 
The composer section in your Shared Inbox gives you access to a bunch of capabilities to reduce your efforts and automate your responses as much as possible.
With the help of Quick Replies, you can address frequently asked questions a lot faster. Whether it's a welcome message or a reply to a refund policy, you can create rich, personalized responses and reply to your customers in a click. You can even add media and variables to your replies to make them engaging, attractive, and personalized. ‍
WhatsApp Templates allow you to initiate conversations with customers by sending them a notification. WhatsApp allows you to create various WhatsApp Business templates under 11 different use-cases which vary from shipping updates to relevant alerts for your customers. Of course, these have to be approved by WhatsApp so that they can ensure you're not sending out spam-like messages. But don't worry, we've got you covered for that as well!
We keep experimenting and creating different templates for various use-cases to help our users make the most of interakt.
Streamline hours of work with a Shared Team Inbox 
All in all, a Shared Team Inbox is a must for any business that wants to improve its productivity and truly leverage WhatsApp as a communication channel for its customers in the best way possible. After all, teamwork makes the dream work and there is no better time than now to get access to your shared inbox on interakt.
Sign up for interakt's 14-day free trial and experience its powerful features for yourself. It gets better – if you decide to come on board with us before June 30th, we are waiving off WhatsApp Notifications for the first 3 months under our new Accelerator Scheme. Get access today!