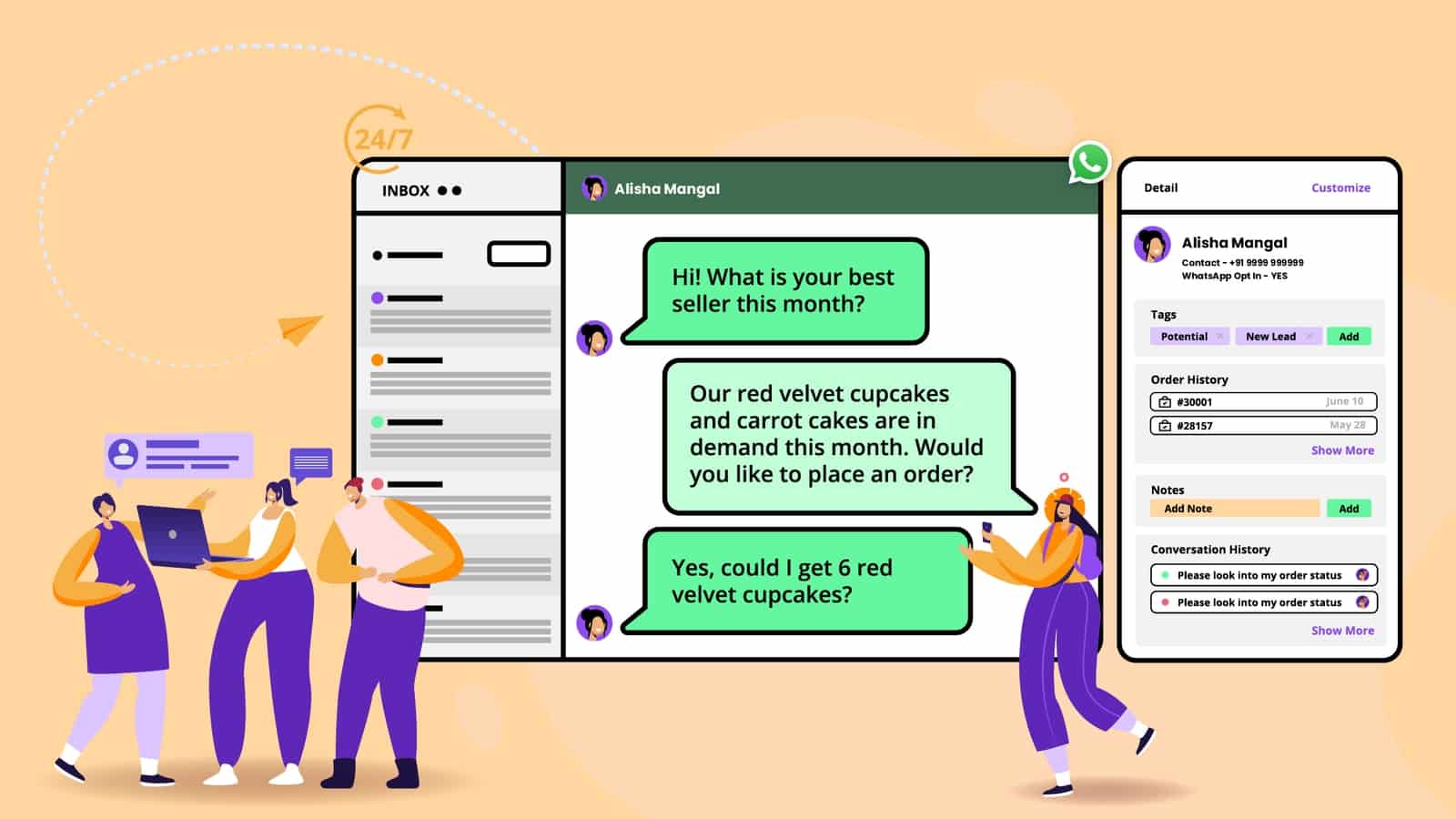 The Perfect Contact Management Solution For WhatsApp Business
If you run a business be it small or large, you sure know who matters the most. You've guessed it right, it's your contacts!
They are the lifeline of your business. Gone are the days of maintaining all your contact information in a detailed notebook, or of carefully holding on to the stack of business cards piling up on your desk. The system of storing contact information has evolved and how!
Why is there a need of contact management solution for WhatsApp?
With the digitalisation of data, many business owners have progressed to using spreadsheets, smartphones and email inboxes to manage their customer contact details. But this can get overwhelming as your business grows and as you have an increasing number of customers engaging with your business across channels. With an ever-increasing contact list, you will not be able to manage or organise all of the contact information on your own, let alone respond to customer queries on a real-time basis. You could also end up losing relevant information along the way.
The need to know who your customers are, have all their details stored in an organised and secure manner is more than ever! That's where the concept of a contact management solution comes into play. It is indispensable to the growth and success of your business. A contact management system allows you to organise your contacts efficiently and leverage them to meet the growing needs of your business.
Interakt's smart contact management solution for WhatsApp business
In today's world of text messages, live chats, tweets and posts, customers want solutions from businesses on a real-time basis. Messaging apps like WhatsApp are leading the way to become the most preferred channels of communication today. With a growing user base of over 2 billion users from over 180 countries and an impressive open rate of 80% – contemporary businesses across the globe are wasting no time in tapping into the potential of WhatsApp.
With the launch of WhatsApp business API, business communication has transformed to a whole new level allowing you to build effective customer engagements at scale. You can now add a personal touch to your messages with automated broadcasts, quick replies and much more. With features such as end-to-end encryption and verification of business accounts, WhatsApp business API offers the security that customers crave in this digital era.
Interakt's all-powerful WhatsApp business solution comes with its very own contact management solution that is designed to help you store and track prospect, customer and vendor contact details like a pro!
For starters, you can create, update and manage all your WhatsApp contacts in ONE place. The 'All-Users Tab' on interakt is built to function like your very own smart contact book. And with an intuitive dashboard that's simple-to-use, you get to access all your business contacts on a single dashboard.
Top contact management for WhatsApp features that will skyrocket your productivity
interakt's contact management solution comes packed with capabilities that will streamline your efforts and allow you to easily access and analyse customer data. It powers you to be well-informed and know everything about your customer while talking to them. Let's break it down one feature at a time.
• User-Specific Information: The All-Users Tab is a unified dashboard where you not only get to view basic user details like name, phone number and email address, but you also get to see user specific information such as tags that are assigned to each user on interakt or even notes that may have been added about them. From events, order history to the entire conversation thread – you get to access all that and more in one place.
• Customisation: Don't like what you're seeing? No problem! You can even get down to customising columns in the dashboard to include details that are relevant to your business.
‍
• Search & Filter: Being able to filter out user data using various parameters has been one of the most sought-after features! On interakt's All-User's Tab, you can easily filter and search for contacts based on a whole bunch of criteria. For example, if you wish to see all users who are tagged as new users, then you need to simply add a filter for tags and select the 'new user' tag.
• Send messages in a click: That's right, you can kick-start conversations with customers in just a click – you can simply click on the green icon as shown above, to initiate a conversation with a new user!
• Export Contact Details: You can also export the entire list of contacts or select a few contacts and export their details into a CSV file.
How can you add or upload contacts on contact management solution for WhatsApp on Interakt?
You can now bid adieu to saving each customer contact on your phone and have them all uploaded on interakt for easy access!
‍
There are two ways to go about it. If you have just a few contacts to add, you can head straight to the 'Add contacts' button and click on 'create new contact'. Type in the name and contact number of each contact as well as the country code of the place they belong to. These are mandatory fields that need to be filled in.
Now if a bulk upload is what you're looking for, then you can do it by either uploading the details using a CSV file – you can upload up to 1000 contacts at a time, or you could even opt to upload contacts in bulk via APIs.
Spend less time looking for your contacts & more time connecting with them!
One of the many advantages of using interakt is that if any of your users reach out to you on your WhatsApp number, their contact details get automatically stored in the 'All Users Tab' and you'll know who you're talking to!
A centralised contact management solution like that of interakt will provide your team members with easy access to all the information pertaining to your customers in one place. This will save them a lot of time and is sure to improve their efficiency and customer service on the whole. It will also keep your customer contacts separate from your personal contacts. Get WhatsApp Business API today and enjoy seamless contact management – start your free trial on interakt today!