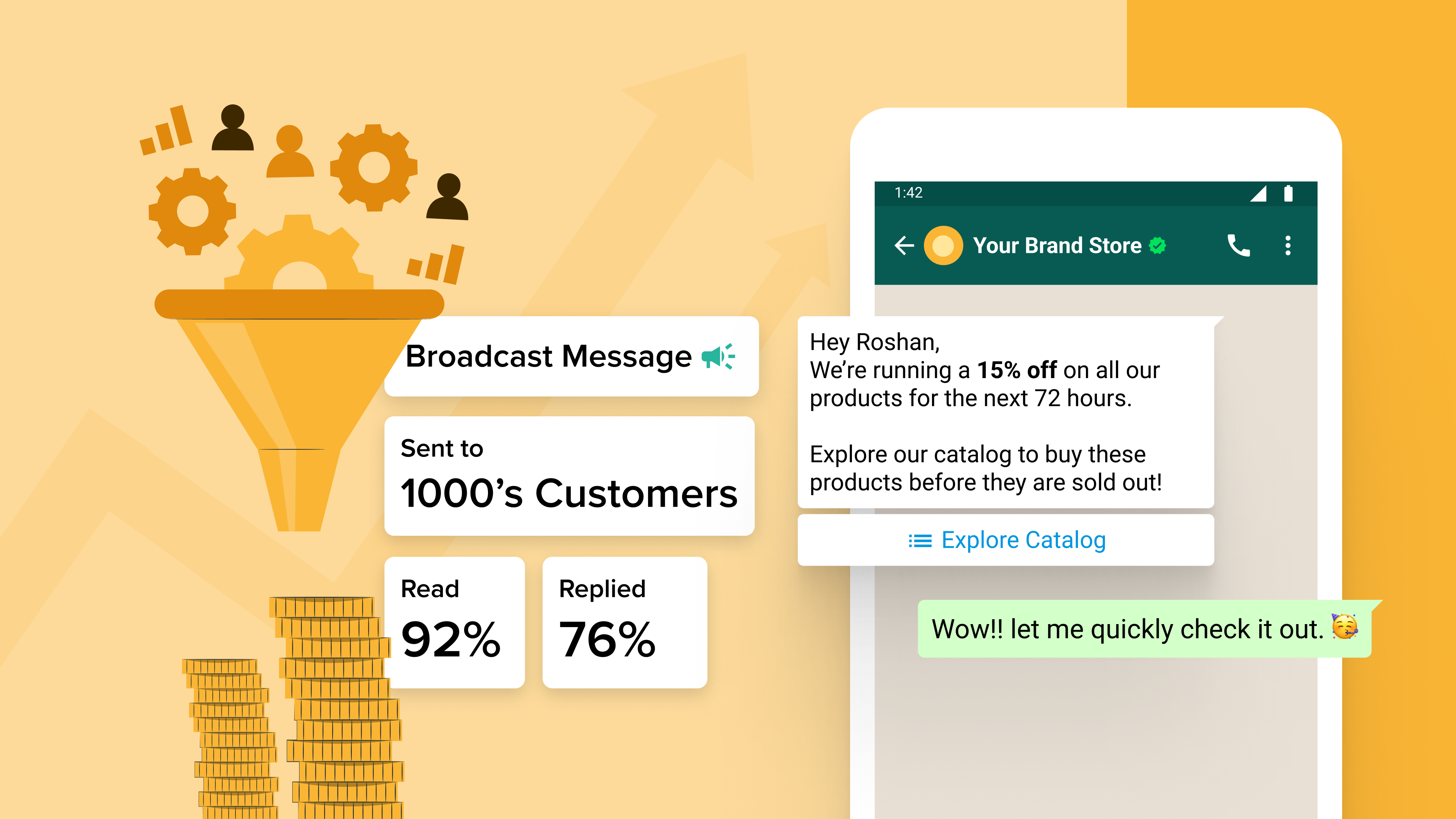 Smart ways to use WhatsApp to improve ROI of your campaigns
WhatsApp has quickly become a channel of preference for businesses across various industries to communicate with their customers. From running promotional broadcast campaigns to get their deals and discounts noticed to sending order notifications, WhatsApp is being used across functions – but not everyone is winning! 
While everyone is now aware of the benefits of using WhatsApp to improve ROI for the business, not everybody is aware of its full potential. 
In this blog, we aim to share some smart ways in which you can use WhatsApp to improve ROI of your campaigns. 
6 Ways to Use WhatsApp to Improve ROI 
We have been working with businesses across industries to meet different goals and objectives through WhatsApp. Here are some tactics that we realize are often untapped: 
1. Run click to WhatsApp ads to start conversations 
Too many companies are using click-to-WhatsApp ads to promote their ongoing deals and discounts – nothing wrong with that. But how many times do you see a brand's offer and make a purchase from their website right away? 
Instead of trying to sell to the consumer right away, use click-to-WhatsApp ads to strike conversations and generate qualified leads. We recommend starting the conversation with a greeting message that uses the interactive WhatsApp list message template to know more about them. For example, if you're running a discount, ask them if they're looking to explore products in the men, women or kids' collection.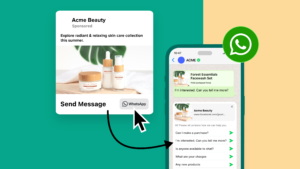 The more you know, the better you can personalize the campaigns to re-target and nurture the interested shopper into a customer. 
2. Set up WhatsApp automation across the customer lifecycle 
Don't just automate your order and shipping notifications. We recommend identifying key moments across the customer lifecycle with your brand – from the point of brand awareness to purchase and thereafter. This will help you automate communication across the customer's journey with your brand. 
With the help of a WhatsApp Business Platform like Interakt, you can set up key consumer milestones as triggers for WhatsApp Business Campaign Automation. This ensures that you reach out to them at the right time with the right message, keeping them engaged and giving you an opportunity to boost brand recall or drive repeat sales with upsell and cross-sell campaigns. 
3. Structure your WhatsApp catalog with collections 
Usually, brands can be seen creating a WhatsApp catalog by simply uploading their products' images. But the trick to selling more on WhatsApp is to structure your catalog for easy browsing and shopping. 
You can do this with the help of collections. You can organize different products into collections based on categories or types – for example, men, women, best-sellers, what's new, and so on. Moreover, you can customize your catalog and send it to a prospect for faster conversion.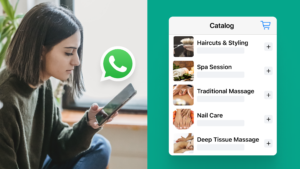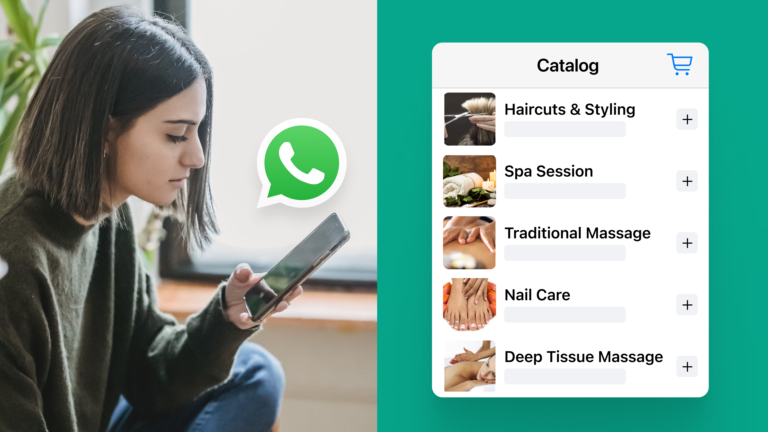 4. Actively segment and personalize your WhatsApp campaigns 
While getting an opt-in from the consumer is important to send WhatsApp broadcast campaigns, brands are still not actively segmenting their lists. We recommend treating your WhatsApp list like your email list! 
Use consumer point of opt-in, previous interactions, purchases, and engagement levels to actively segment your WhatsApp list. This can give your brand the ability to personalize your WhatsApp broadcast campaigns and remain contextual with your messages, promotions, the point at which you reach out to them, or even how frequently you message them. 
5. Experiment with WhatsApp media files 
The one thing that makes WhatsApp messages more engaging is the ability to send media files. This can include images, short videos or GIFs, or even PDFs – but more often than not, brands stick to just sending images. 
We recommend experimenting with different media formats based on your campaign goal. For example, if you're promoting a new collection, a good idea is to include a PDF lookbook instead of a static image that can showcase the new products better.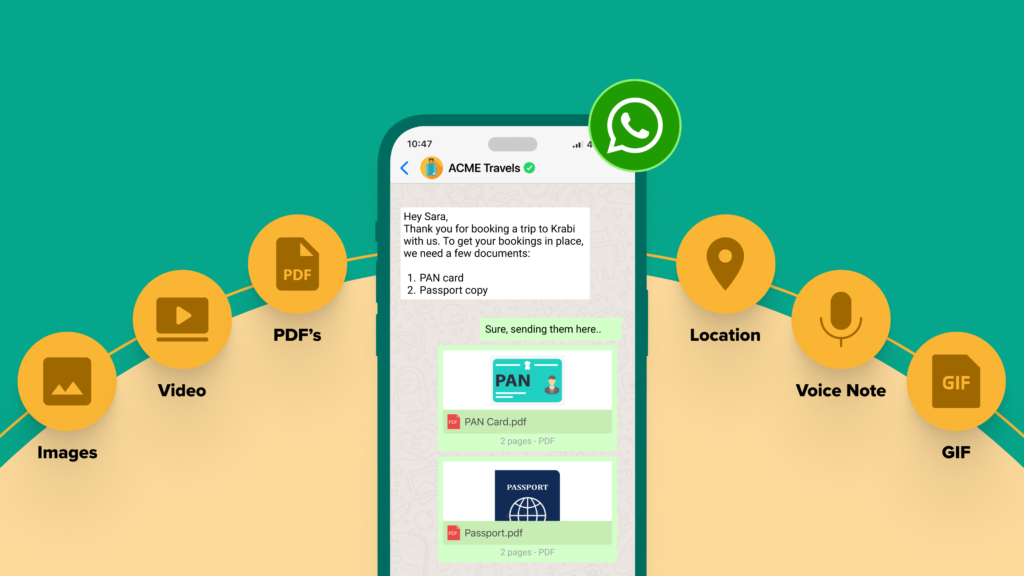 Another example would be including videos. If you have a best-seller or want to tease a new collection, include a short video in your WhatsApp broadcast message. 
6. Leverage WhatsApp drip campaigns 
Continuing on our point of automating WhatsApp messages, we also recommend setting up drip campaigns. Drip campaigns are basically following up on a message sent to the consumer in a strategic way – think of it as a follow-up on a reminder you receive to make a payment for a subscription you bought. 
WhatsApp marketing can be doubly effective when you set up drip campaigns. For example, when you send out a WhatsApp broadcast to promote your new discount, follow up with a message asking what type of products would the customer like to see from the discounted collection. 
Getting started with WhatsApp marketing 
WhatsApp is no longer just a platform for businesses to communicate with customers. When used strategically, it can turn into a revenue channel for your business! 
Leading brands across industries have been using WhatsApp with the help of the WhatsApp Business API to set up personalized campaigns across the customer lifecycle. From being able to streamline customer support and service, to doubling their ROI from WhatsApp broadcasts and recovering more abandoned carts with whatsapp business, brands are making the most of the various features available to them.  
Ready to use WhatsApp to improve ROI from marketing campaigns? Try our WhatApp Business API Demo of Interakt