Launched by Hunger Inc, the company that runs the famed Bombay Canteen and O Pedro restaurants in Mumbai, Bombay Sweet Shop is not your usual sweetmeat shop. Known for its innovative take on traditional Indian Sweets and the popular 'Mithai', Bombay Sweet Shop celebrates the diversity of sweets from different regions of India. They pick sweets that we are all familiar with and create something new and exquisite out of them.
The team spent nearly 2 ½ years travelling across India to understand traditional sweets and discover recipes and the flavours that went into them. They mastered the art of preparing the sweets in their authentic, traditional form and then thought of fun ways to recreate them.  By adding modern ingredients, they would revamp the appearance or flavour of the traditional delights.
Today people are not just looking for sweets to complement their happy occasions but experiences that can be cherished for a long time to come. This is exactly what Bombay Sweet Shop is hoping to deliver.
"Bombay Sweet shop is our re-imagined Indian sweet store where we take your traditional Indian sweets and recreate them in our own Willy Wonka way"
What was the brand looking for?
Within a few weeks of its inception in March 2020, the company faced the brunt of the covid -19 lockdowns that kept people confined to their homes. The sweet shop had initially started as a retail focussed brand but soon positioned itself as a D2C e-commerce brand eager to expand its customer base, online.
Though their products have a low shelf life, the brand always believed in delivering the freshest sweets to its customers. To make this happen, the whole buying process—right from the order confirmation, to shipment, to delivery must be carried out in a quick, timely and hassle-free manner. It is also crucial to keep customers informed on the status of their orders, at every step of the way.
During peak festive seasons, the sweet shop receives a tonne of queries from people who want to gift their products to friends or family. As a result, the queries keep piling up on WhatsApp. The core team found themselves spending way too much time responding to individual customer queries instead of focusing on ways to boost sales or getting the products delivered to those who needed them the most.
The brand soon felt the need for a WhatsApp-based tool (because most Indians are avid users of the app) that could not only help them connect with customers but manage conversations with ease. They also needed a platform that integrated seamlessly with Shopify. Their ongoing search led them to Haptik and Interakt, and from there on there was no looking back.
One of the key features that the brand wanted the tool to offer was to enable customers to get solutions in the fastest possible way and allow them to connect to a customer service executive instantly should they wish to speak to one. This is where Haptik and Interakt stepped in.
"Since day one, working with Interakt has been extremely smooth for us, it fully integrates with Shopify hence any customer who creates any transaction on our website gets instant communication on WhatsApp."‍
Their solution
How Boondi, a chatbot developed by Haptik helped manage customer queries with ease
Haptik, the leading conversational AI platform, helped create a chatbot that took over Bombay Sweet Shop's customer communication related to handling queries, answering questions about products, sharing order delivery details with customers who asked for it, or directing customers to the sweet shop's website. Boondi became the first point of contact for anyone who reached out to the brand over WhatsApp. The bot not only helped guests with information but contributed to creating a great experience for customers.
"Boondi the bot is our first level of interaction for anyone who WhatsApps us, she helps out any guest with any query they might have. Over the last year and a half Boondi has helped us close 40% of queries that come in."‍
How Interakt contributed to their success with automated notifications and Shopify integration
Interakt, a product of Haptik, was launched to cater to the growing communication needs of DTC brands. With Interakt on board, the Bombay Sweet Shop was able to scale its communication like never before, allowing them to reach out to its customers at large.
Interakt helped them send timely marketing notifications informing customers about their latest offering. The brand was also able to shoot out order-related notifications updating customers as soon as orders were placed or shipped out.
Interakt allowed the brand to create personalized messages containing fun elements like gifs and emojis that improved customer engagement. With Interakt the brand could reach out to customers who had placed orders with them on previous occasions, sharing information on new products that were launched in the same category.
One feature of Interakt that stood out for the brand was the ability to send abandoned cart recovery notifications. Most often emails are overloaded with marketing content from various brands. Abandoned cart recovery alerts can get lost in it. When cart recovery messages are sent over WhatsApp, your customers can easily click on it and proceed to complete the transaction, you may also include a discount offer encouraging customers to place their orders.
The brand found the process of creating template messages to be quick and seamless allowing them to create engaging messages that appealed to their customers.
"For me, a non-tech guy it is as easy as a two-step process which helps me sort out customers as per purchase preferences and then send out a marketing notification…With WhatsApp and Interakt what is great is we can send out a really nice marketing collateral like a GIF which people will like looking at."
How did Interakt help?
The brand witnessed astounding results on partnering with Haptik and Interakt-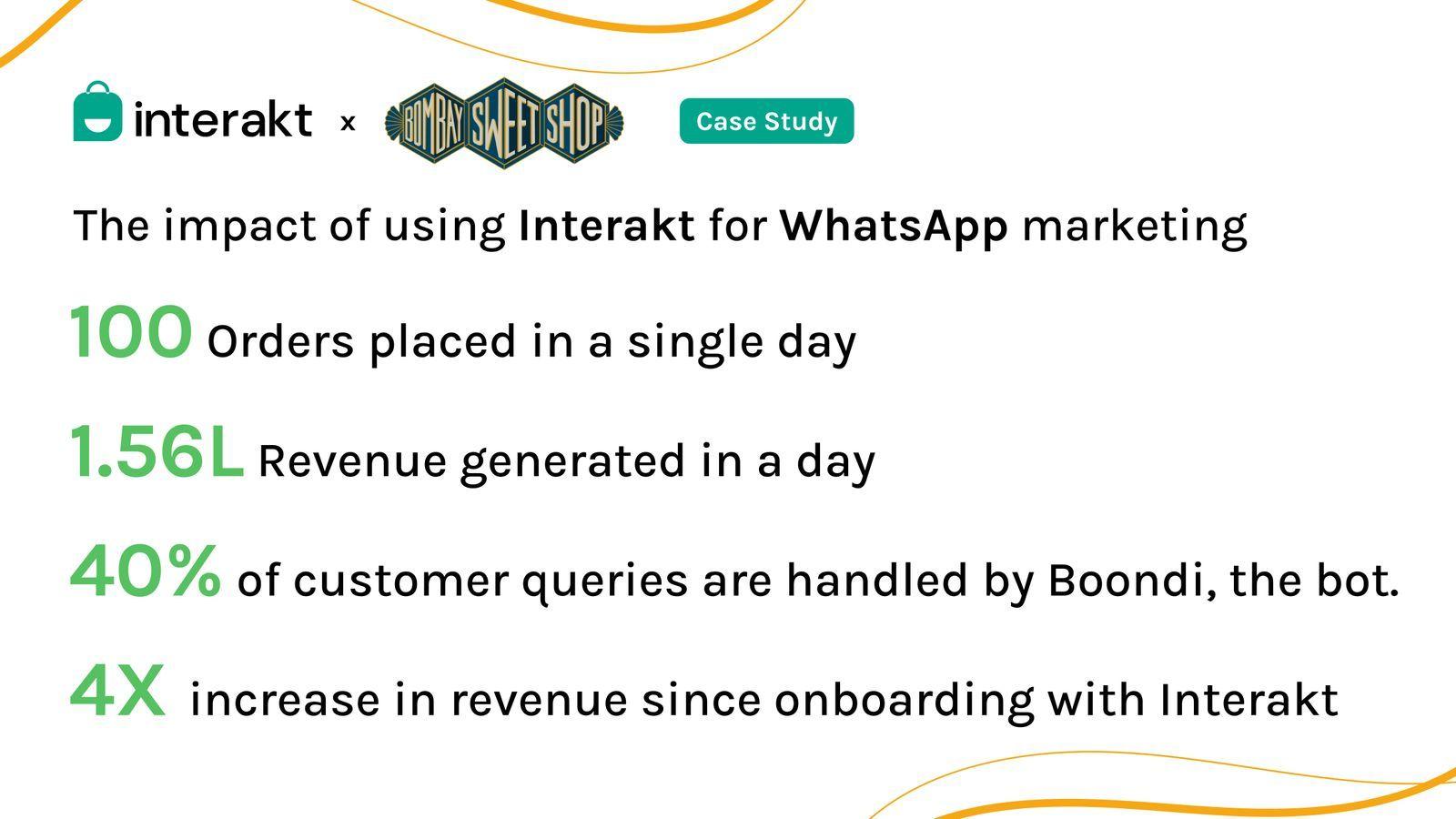 Interakt helped the brand streamline its communication and grow its business multifold.
"We were able to increase our revenue from the first Diwali to the second Diwali to approximately 4× of what we did and we couldn't have done this without the help of Interakt or Haptik."‍
Power your business communication with Interakt, today!
Partner with Interakt to get your sales and customer engagement soaring. Use the power of WhatsApp to reach out to 1000s of customers. Sign up with Interakt today and get a 14-day free trial.