How does sandbox mode work?
Interakt lets you connect your own number to WhatsApp Business APIs which allows you to interact with your customers for customer support, to send promotional campaigns, connect your own eCommerce store to automate transactional notifications and much more. Having your own number enables your brand identity and lets you market your number in the right places on your website, social media channels and more.
Having said that, we do realize that you might not be ready to connect your own number right away, hence we've built a sandbox (aka 'test') mode for you to experience Interakt's full range of features and functionalities without the hassle of connecting your number first.
What is Sandbox mode and how does it work?
Once you sign up on Interakt, as part of the 14 day free trial, we activate the sandbox mode for you. As part of sandbox mode, you're assigned
A temporary WhatsApp Business number
A sandbox code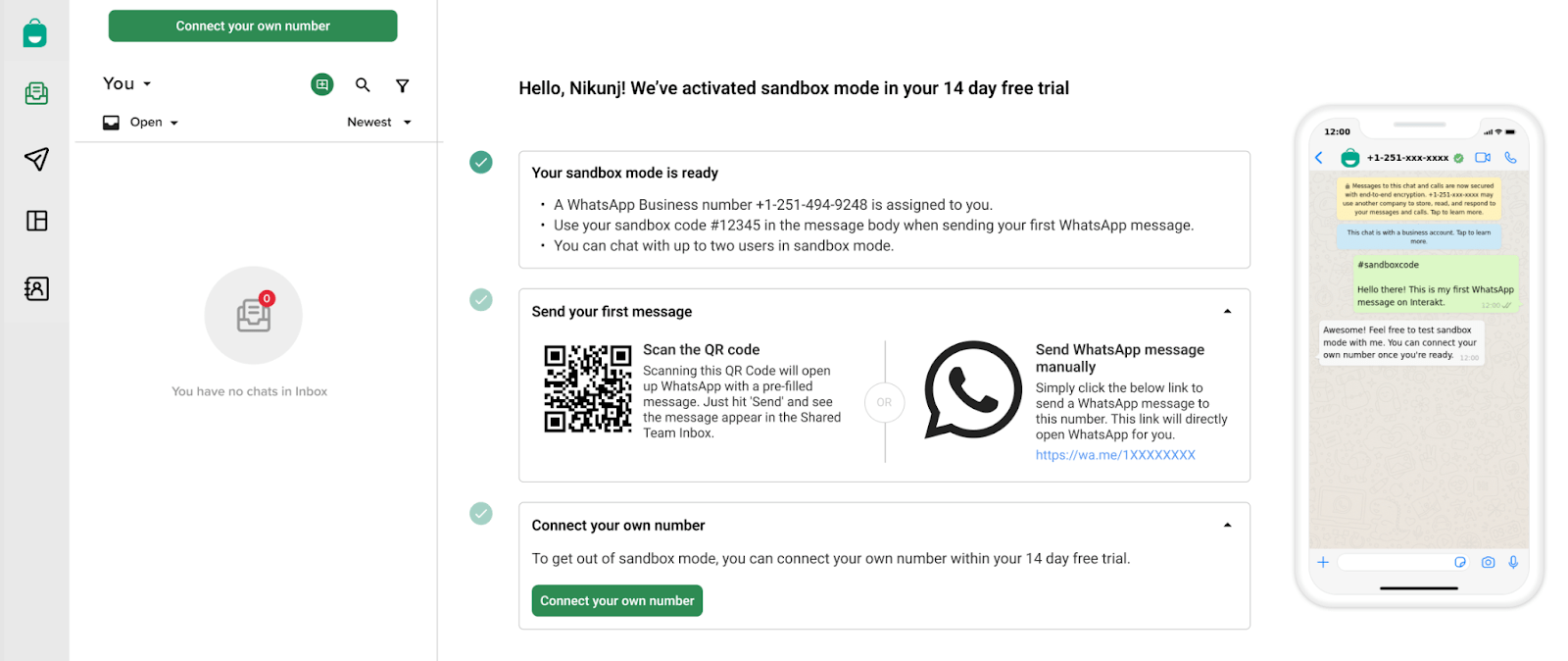 You can scan the QR code and send the pre-filled message (which includes your sandbox code) to send your first message and test Interakt's Shared-team Inbox. You can also explore campaigns, templates, auto-replies etc.
We assign a temporary WhatsApp Business number to you so that you don't need to connect your number before you get to fully understand Interakt's feature capabilities. The sandbox code is a unique code assigned to you which helps identify your Interakt account while anyone chats using their personal WhatsApp number with the temporary WhatsApp Business number assigned to you.
While you're in Sandbox mode, please note there are some messaging restrictions limits:
You can chat with up to 2 unique users per day
You can send up to 2 notifications per day
How to remove Sandbox mode restrictions?
To remove these sandbox mode restrictions, please connect your own number which allows unverified businesses to respond to unlimited user-initiated conversations and send business-initiated conversations to 50 unique customers in a 24 hour rolling period. Once you complete your Facebook business verification after connecting your own number, you get access to sending unlimited business-initiated conversations as per your messaging tier.
What are the benefits of using Sandbox mode during your free-trial period?
In sandbox mode, you can use the predefined WhatsApp templates while sending campaigns or in the Shared-team Inbox if you've not interacted with any customer in the last 24 hours. Once you connect your own number, you should be able to create any new templates as well.
If you're using Interakt with the Shopify Marketing app, you can also explore how automated notifications can improve your customer experience for events like abandoned checkout, order placed, order shipped, order canceled, etc.
Once you're ready to connect your own number, please visit Inbox and click on the button 'Connect your own number' which will guide you to the Embedded signup process of Facebook that helps you connect your Facebook Business Manager, WhatsApp Business Account and verify your mobile number. Once this is done, your sandbox mode will be deactivated and you'd be able to interact with your users with your own number.
If your 14 day trial expires and you still need more time to use Interakt in sandbox mode or connect your own number, you can start a paid subscription to continue exploring further.