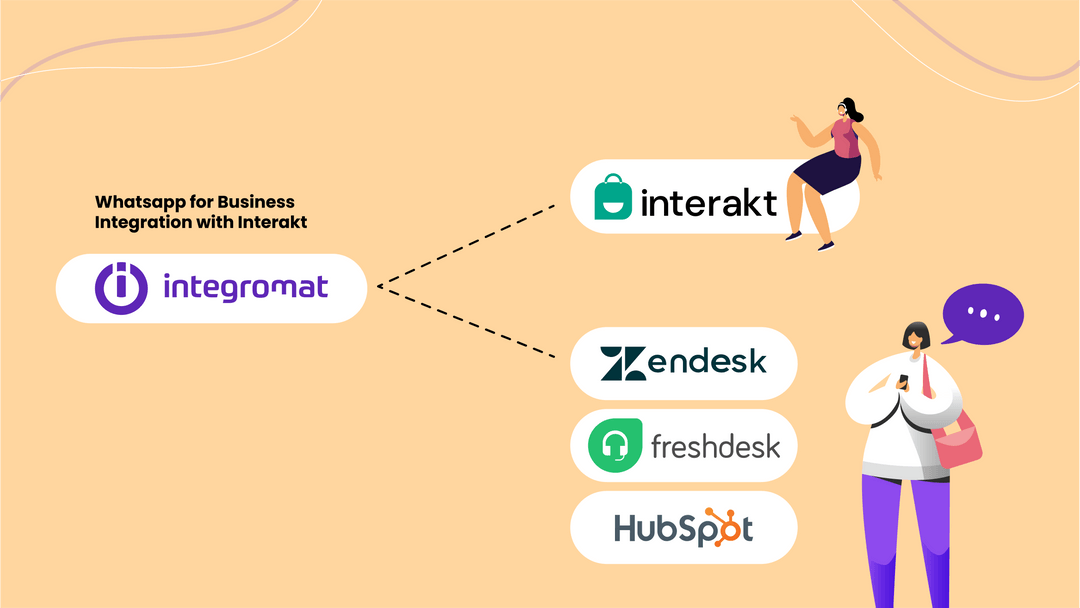 Connect your CRMs / EStores / Google Sheets to interakt via Integromat to send automatic WhatsApp Messages to customers!
Today, businesses rely heavily upon many software applications to manage their day-to-day tasks. Studies indicate that an average company uses more than 130 SAAS apps. Businesses depend on various apps and tools to get their work done. This is a time-consuming process particularly if the same data has to be recorded in several tools. It would save the business a lot of time if they could find a way to connect these apps.
When it comes to organising and optimising processes, automation is the need of the hour. Automation helps a business save valuable time and increases productivity. Here's where Integromat steps into the picture.
What is Integromat and how does it work with WhatsApp Business APIs? 
Integromat is a cloud automation tool that links apps and processes, automating workflows and saving a lot of time for your business which can otherwise be used for value creation. Best Part- All of this can be done without any coding.
Let's take a look at a simple example to understand how Integromat works.
A customer is shopping on your WooCommerce estore and adds all the items to the cart, enters the necessary details but at the last step doesn't buy and abandons the cart. Now you can easily remind them and try to recover many of these abandoned carts by sending automatic reminder messages on Whatsapp. Research states that you can recover upto 60% of your otherwise lost sales by sending these messages.
If you were to manually do all of this, it would eat into your time. The combination of interakt & Integromat simplifies the process and gets it done automatically. All you have to do is set a workflow on Integromat which should trigger whenever a customer of yours abandons a cart on WooCommerce. As soon as that happens, Integromat will automatically send over the details of that user to interakt and a message will automatically get sent to the customer.
Prerequisites of getting started with Integromat & WhatsApp Business APIs:
‍
How do I integrate WhatsApp for businesses? 
WhatsApp for business integration is made possible by a WhatsApp Business API provider like interakt.
By partnering with interakt, you can not only power your business communication but integrate WhatsApp with the existing software and tools that you use. Integromat makes this integration possible without any coding.
‍
Why switching to WhatsApp Business APIs is useful for any business?
WhatsApp Business API integration will help you to –
–  Communicate with customers at scale
–  Offer great customer support to customers through quick and personalised responses
–  Reach out to customers on their most preferred app – WhatsApp
–  Send timely message templates to convey important information during your customer's buying journey
‍
What kind of businesses can apply for WhatsApp Business API? 
Any business that is looking to scale its operations can apply for WhatsApp Business API integration. WhatsApp Business API will help you connect with customers located in any part of the world securely and reliably.
If you have a CRM in place like that of Hubspot, Zoho, Freshdesk or an estore like WooCommerce or Magento, you can link it to interakt via Integromat. You will then be able to tap into the power of WhatsApp and serve customers better by sending them automated notifications and order updates. A lot of your tasks can be automated, giving you ample time to focus on business development.
‍
Common use cases of how Integromat works to automate workflows between your CRM/Estores etc. and interakt:
a) Manage Facebook leads via interakt
Whenever a new user gives their contact details to you on your Facebook page, the details can be automatically updated on interakt via Integromat and you can immediately send a WhatsApp message to that user.
‍
b) Automate Contact Management – Connect Google Sheets to interakt
Let's say your Google Sheet has customer data stored in it and you want to link this to interakt. Intergromat links them up so that any updates or changes made on the Google Sheet will automatically reflect on your interakt account.
‍
c) Send Timely Updates – Link WooCommerce/ Magento with interakt
A client who has a website on WooCommerce or Magento wants a WhatsApp message sent out to a customer, as soon as an order is placed. This can be done by linking WooCommerce/ Magento to interakt through Integromat. Once the integration has been done, whenever a customer places an order – automatically he will get timely updates on orders placed, payment confirmations, and delivery details on WhatsApp via interact. Infact, you can also send out WhatsApp alerts to customers about cart abandonment or about a product being back in stock.
‍
d) Lead Management – Connect Zoho to interakt
Whenever a new lead is added to your Zoho account, the integration through Integromat will allow the new user details to automatically reflect on your interakt account and you can instantly start engaging with them via WhatsApp.
‍
e) Link Hubspot with interakt
An activity related to a customer e.g. a call made or a meeting attended can be easily added to interakt as soon as it is entered on your Hubspot CRM making it extremely easy to track and stay on top of everyday tasks.This will allow you to connect with that customer on whatsapp as well.
Get started with interakt and unravel the power of WhatsApp Business APIs!