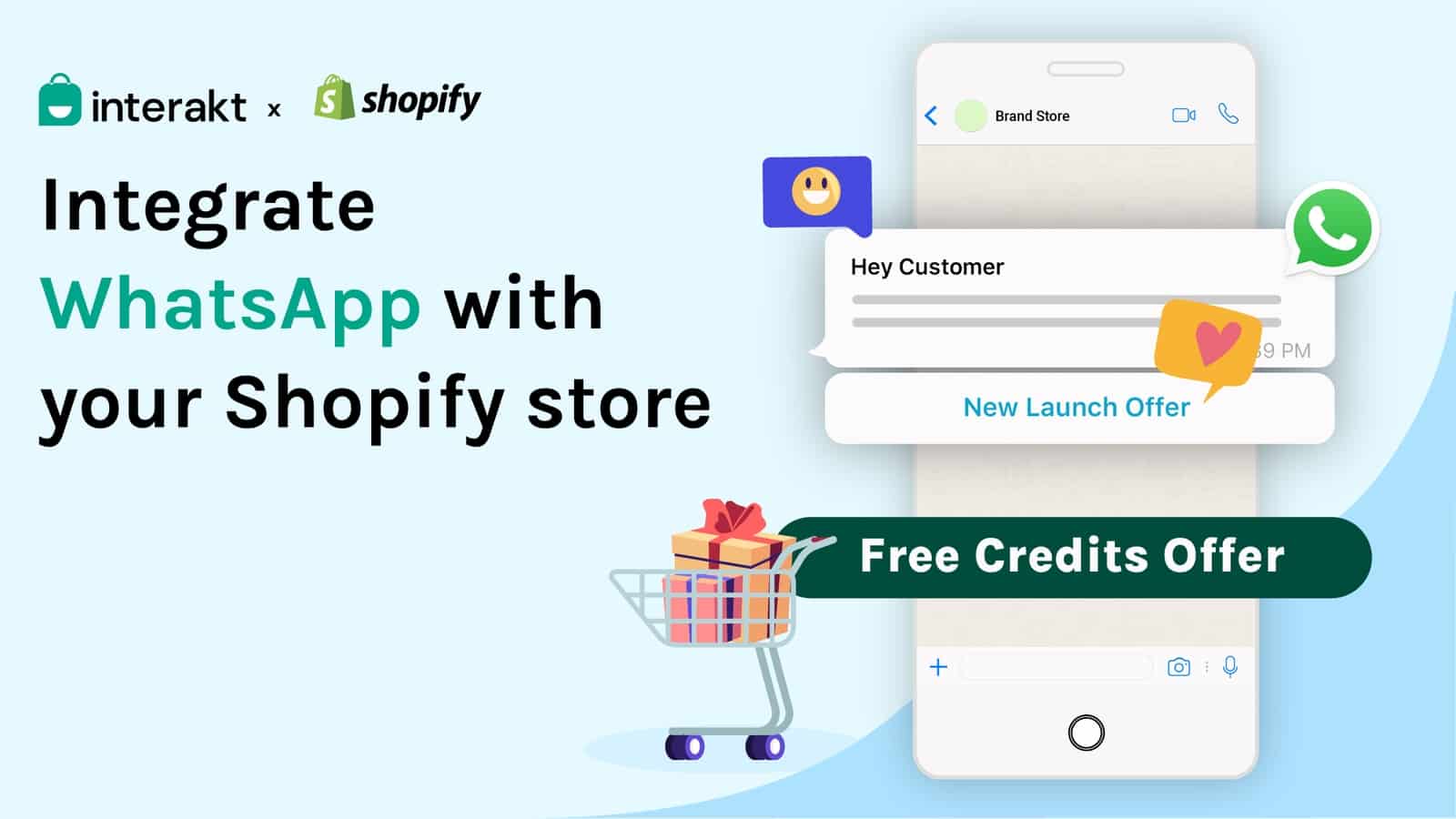 How to increase Sales and Conversions with WhatsApp on Shopify store | Interakt
Shopify is one of the largest e-commerce platforms in the world today. Due to its global reach and huge popularity, businesses around the world are using the platform to improve their sales. Shopify lets you create and manage an online store with great ease. It lets you customize the store to your choice to offer the best experiences to customers. One of the top advantages of using the platform is that it supports integrations with other tools and apps. If you are looking to succeed in the ever-advancing digital space, you need to integrate your business with the best tools to enhance customer engagement and satisfaction.
‍
Like Shopify, WhatsApp is another immensely popular platform among business owners and consumers alike for the sheer efficiency and convenience it offers its users. Today nearly 90% of online shoppers seek quick and proactive customer support, something that WhatsApp is capable of offering. By integrating WhatsApp with your Shopify store, you gain the benefits of both platforms.
‍
As a Shopify store owner, increasing your store's conversion rate is probably on the top of your list. After all, when your conversion rate is higher, it results in growth and expansion. In this post, we will take you through tactics to improve sales and increase your customer base.
That's right, WhatsApp Business API on Interakt will help you crush your goals.
‍
Interakt on Shopify 
Interakt is the official WhatsApp Business API Solution Provider launched to cater to the growing communication needs of SMBs and D2C businesses. The platform offers seamless integrations with Shopify, and in turn, enables online store owners to tap into the growing power of WhatsApp.
The Interakt app is available for download on the Shopify App Store.
Here are 3 simple ways to get started with Interakt:
Firstly, download the Interakt app from the Shopify App Store
Next, connect your verified Facebook Business Account with Interakt
Lastly, verify the phone number you wish to link with Interakt
‍
Green Tick Verification 
After you have signed up, Interakt will apply for an official WhatsApp Business API approval for your store. You will obtain the green tick verification, that will take your business credibility to a whole new level and showcase your business as being reliable and trustworthy. The green tick verification lets your customers know that they are indeed communicating with a verified, official business entity.
Now that we have seen how you can connect Interakt to your Shopify store, let's take a quick look at its top use cases.
‍
Top Use cases of WhatsApp Business API on Interakt 
By incorporating Interakt into your Shopify store's communication strategy, you will be able to:
‍
1. Reduce cart abandonment 
Cart abandonment is a pressing issue affecting e-commerce businesses. The average cart abandonment rate is at a staggering 69.8% across all sectors which means that 7 out of 10 potential customers visiting a store leave without making a purchase.
To combat this issue, Interakt allows you to send automated WhatsApp business notifications alerting your customers to return to their abandoned carts and complete the checkout process. You may also send discount codes or make product recommendations through pre-approved WhatsApp Business Templates messages. WhatsApp cart recovery notifications can help you reduce cart abandonment and recover lost sales
‍
2. Send timely notifications on back-in-stock products 
Back-in-stock notifications are a great way to boost sales for Shopify stores. On Interakt you can create automated notifications on WhatsApp informing customers that their desired product is back-in-stock and available for purchase. Sending timely back-in-stock alerts will win back customers and recover lost sales for your store.
‍
3. Send intent-based WhatsApp messages to increase engagement 
Interakt allows you to send automated, intent-based WhatsApp messages to keep your customers informed on the go.
Here are 3 kinds of messages that you can set:
‍
Greeting Messages 
Create greeting messages to welcome and introduce your store to a new customer.
‍
Away or out-of-office messages
Set 'away' or 'out-of-office messages' to be sent out to customers when they contact your business during non-business hours.
‍
Delayed Messages
 If a customer has reached out to you and you are unable to attend to them immediately, send a WhatsApp message acknowledging their message and letting them know that you will attend to their needs at the earliest possible time.
‍
4. Offer great post-purchase service 
The WhatsApp Shopify integration can help you offer excellent post-purchase customer support to your customers.
‍
Send timely order confirmation and delivery updates
Use Interakt 's pre-approved WhatsApp templates messages to keep customers informed at every step- right from order placement and confirmation to shipping details and delivery updates.
‍
Set automated reminders for COD confirmations
Send WhatsApp messages to share verification links to customers to prevent order cancellation.
‍
Gain direct feedback from customers 
Through pre-approved WhatsApp notifications, you can ask your customers to share  feedback on products and services purchased or on their experience with your brand.
‍
Notify customers of discounts and offers 
With Interakt you can send WhatsApp notifications to keep customers informed on the discounts and offers that are available to them.
‍
5. Easily handle large volumes of incoming messages
Your Shopify store may be receiving a large number of customer requests and queries. To successfully manage all of the incoming chats, what you need is a platform where your whole team can work together. Interakt's shared team inbox supports multi-login allowing your agents to log in from different devices to collaborate, manage and handle large chat volumes effectively.
‍
6. Trigger automated quick replies 
Quick Replies let you set automated responses to take care of commonly asked customer questions giving ample time to your team to focus on more important tasks.
‍
7. Gain actionable insights through conversational analytics 
Interakt lets you track key chat metrics like Average Response Time and Average Resolution Time to understand how quickly your agents resolve customer queries. Conversational analytics on Interakt will help you improve the quality of your chat process and customer experience.
‍
8. Effortlessly integrate with third-party solutions 
Interakt enables quick and seamless integrations with leading CRMs, e-stores and business Apps. Automate and manage your daily tasks effortlessly with the WhatsApp Shopify integration.
‍
9. Send bulk campaigns and broadcasts to boost conversion
Create one-time or recurring campaigns to engage your customers and sell effectively. Monitor your campaign's performance and optimise it to boost conversion.
‍
10. Connect with customers on their favourite messaging App
Add a WhatsApp chat button to your Shopify store to offer delightful customer service and engage with your customers like never before.
‍
Install the Interakt App Today! 
Boost your conversion rates and drive sales with Interakt. Sign up and get $250 worth of free notifications, an offer valid till 31st Dec. Check out our free plan available exclusively for Shopify store owners here.