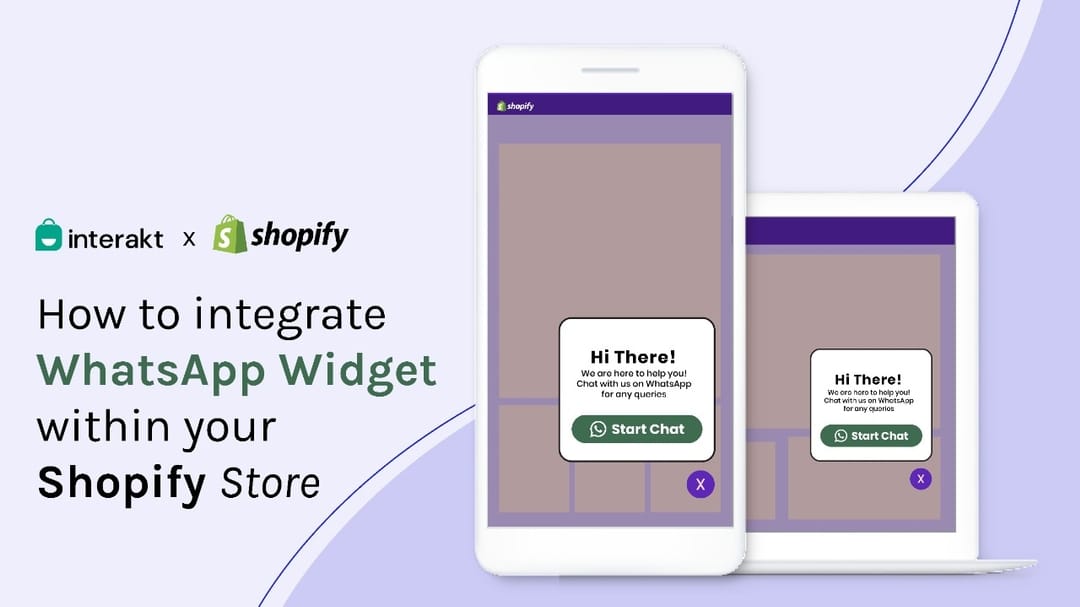 Integrate WhatsApp with Shopify Store: Step by step guide on how to seamlessly integrate WhatsApp with Shopify
Over the last couple of years, the E-commerce industry has been booming and has paved the way for online sales to scale and expand unimaginably. Today, shoppers have a plethora of options available to them to choose the right products and services that satisfy their needs.
What is Shopify?
Shopify is one of the best E-commerce platforms in the world, designed to help you create, build and manage your very own online store without needing any technical expertise from your end. Shopify has all the tools to help you set up and run your store successfully.
Not only can you set up a store with great ease but Shopify presents your business with an excellent opportunity to connect with your customers and leads. Today, communication with customers often means talking to them and this E-commerce platform is ideal for that.
Let's take a quick look at the benefits of integrating your WhatsApp with Shopify store.
Can you integrate WhatsApp with Shopify?
Absolutely! You can add WhatsApp to your Shopify Store by integrating with a WhatsApp Business API solutions provider like Interakt.
WhatsApp Business API is the business version of WhatsApp launched to cater to the growing communication needs of SMBs. The WhatsApp Business API allows your support teams to connect with customers from a single WhatsApp number and a unified dashboard. You can access the WhatsApp Business API via Interakt. The Interakt App is available for download on the Shopify App Store.
The WhatsApp Business API on Shopify is an effective technique for increasing customer engagement from the users who visit your ecommerce store.
Why should businesses integrate WhatsApp with shopify?
It allows you to create and build your online store quickly and easily
Provides good customer service
It supports payment facilities in more than 70 currencies from all over the world
You can even sell products that aren't yours on Shopify because of its integration with drop shipping websites
It's secure and reliable
If you have a store on Shopify, you need to establish channels that will allow customers to contact your business.
Customers may want to contact your business for various reasons. It might be to ask you questions about products and services they are interested in or to know the status of their orders. You can provide contact details of your business on a web page or add a contact form to your online store. You can also consider setting up a live chat or a messaging service.
When it comes to chats it's impossible to not think of WhatsApp given that it's the most popular instant messaging platform and has over 2 billion users around the world.
Your customers are sure to have WhatsApp accounts. That's why reaching out to your Shopify customers on WhatsApp via Interakt is a great proposition.
How to integrate WhatsApp with Shopify?
Add a WhatsApp icon to your Shopify website
You can add a WhatsApp icon by adding a WhatsApp chat button to your Shopify store website. A chat button allows your customers to connect with your business on WhatsApp Business with Shopify in just a click of the button. By incorporating a live chat button on your website, you can talk to your customers directly and engage in real-time conversations where you can provide instant replies to their questions.
Instead of opting for an unknown chat widget, choose WhatsApp and add the WhatsApp live chat button on your Shopify store.
Add the WhatsApp chat button on your Shopify store
To add the WhatsApp chat button for Shopify stores, download the Interakt app on the Shopify store. With Interakt you can install a customizable WhatsApp live chat widget that will appear as a pop up on your website. The chat widget can be styled to include the colour, text and layout of your choice.
What are the benefits to integrate WhatsApp with shopify?
While operating an online store, the most difficult task for any store owner is to convert the store visitors into long term faithful customers. By installing a WhatsApp live chat widget, you will simplify the process of solving customer queries. Some of its top benefits are that:
Customers can get instant solutions to their problems by engaging in real-time conversations with your customer support agents
You can offer great customer service and improve their shopping experience
It offers end-to-end encryption that provides utmost data privacy
Customers can take quick actions from the solutions they get through the chat widget
It builds trust and instills loyalty in customers.


Install the Interakt App Today!
Enable your store visitors to connect with you on WhatsApp. Power your business communication and drive sales with Interakt. Sign up to enjoy $250 worth of free notifications – this offer is valid till 31st Dec. Take a look at our free plan available only for Shopify merchants and Signup to WhatsApp Business API.