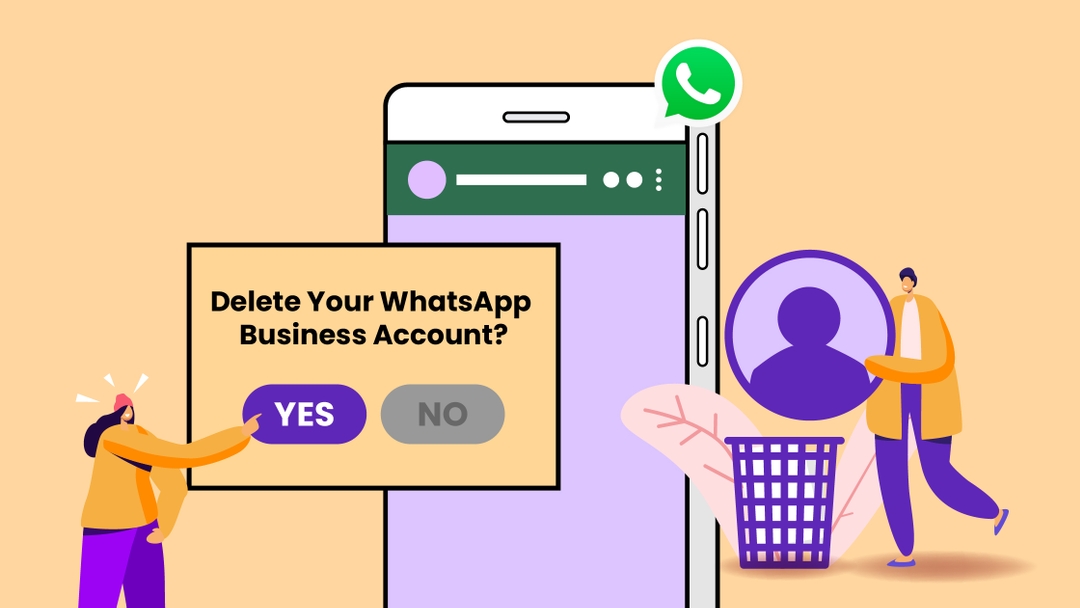 How To Delete a WhatsApp Business Account? | Step-by-step guide to delete a WhatsApp Business Account?
WhatsApp rolled out their business-centric solutions with an aim to help fast-growing businesses leverage WhatsApp for their growth. WhatsApp's huge popularity and vast business potential are reasons enough for businesses to take this route!
When compared to conventional methods of reaching out to customers (such as email, newsletters), business messages sent on WhatsApp garner higher open rates. Especially in countries like India where WhatsApp is widely used, it gives your business the perfect opportunity to use WhatsApp to reach customers.
Once you set up a WhatsApp Business account, there might be a need to delete WhatsApp Business account for certain reasons. These reasons could be technical, closure of business or setting up a new line of business altogether. In such cases, instead of going ahead and deleting your business account on whatsapp, you can opt to convert the business account to a regular personal WhatsApp account. Let's go over the options together.
‍Read this in-depth article to learn how to delete your WhatsApp Business Account.
What will happen if you delete your WhatsApp Business Account?
Deleting the WhatsApp Business account will remove the presence of your business from WhatsApp. All your chat history with customers will be deleted and your account will be removed from any groups, if any. To get your account completely deleted, you must stay off and deactivate your WhatsApp Business account for 90 days.
However, if you change your mind and want to take back control of your WhatsApp Business account, all you need to do is to log back into your account within 90 days of deleting the account. This will stop the deletion process.
How to convert a WhatsApp Business account to a normal account?
The alternate approach to deleting a WhatsApp Business account is to convert the WhatsApp Business account to a normal WhatsApp account by following the below steps. Before starting, make sure to back up the WhatsApp Business data. The data can be backed up either to Google Drive or iCloud.
Step 1 – Download the WhatsApp App (personal) from Google Play Store or iOS App Store and install the app
Step 2 – Open the WhatsApp application. When prompted to verify your phone number, enter the same number that you are using for the WhatsApp Business account.
If you haven't deleted the WhatsApp Business account, you will see a notification message stating that the number is currently being used with a WhatsApp Business account, and all the information associated with the business profile, labels and products will be deleted. Keep in mind that this process cannot be undone.
Step 3 – Continue with the verification process. Enter the 6-digit code (that you will receive either as SMS or as a call depending on your choice).
Step 4 – You can choose to restore a backup of your chats from Google Drive or iCloud to your personal account. Once permissions are granted, you can set up WhatsApp as per your convenience. You can continue to use the same number with your WhatsApp personal account.‍
How to delete your WhatsApp Business account via WhatsApp Business API?
For businesses using WhatsApp Business API, the process of deleting the WhatsApp Business account is different. The business should reach out to their WhatsApp Business Solution Provider (BSP) to cancel the WhatsApp Business subscription.
If you are an Interakt user, you can cancel the WhatsApp API billing subscription at any point of time by clicking the "Cancel Interakt subscription" button under the "Billing Details'' section. Our team will work with you to fulfill your request.
Get started with the 14-day free trial of Interakt
Are you using your personal WhatsApp for your business? Switch to WhatsApp Business API with Interakt, and take advantage of features like shared team inbox, automated notifications, better contacts management, effective integration with third-party applications for your business.
Take advantage of our Accelerator Scheme offer, Sign up for WhatsApp Business API  and get free WhatsApp notifications during your first 3 months with Interakt.