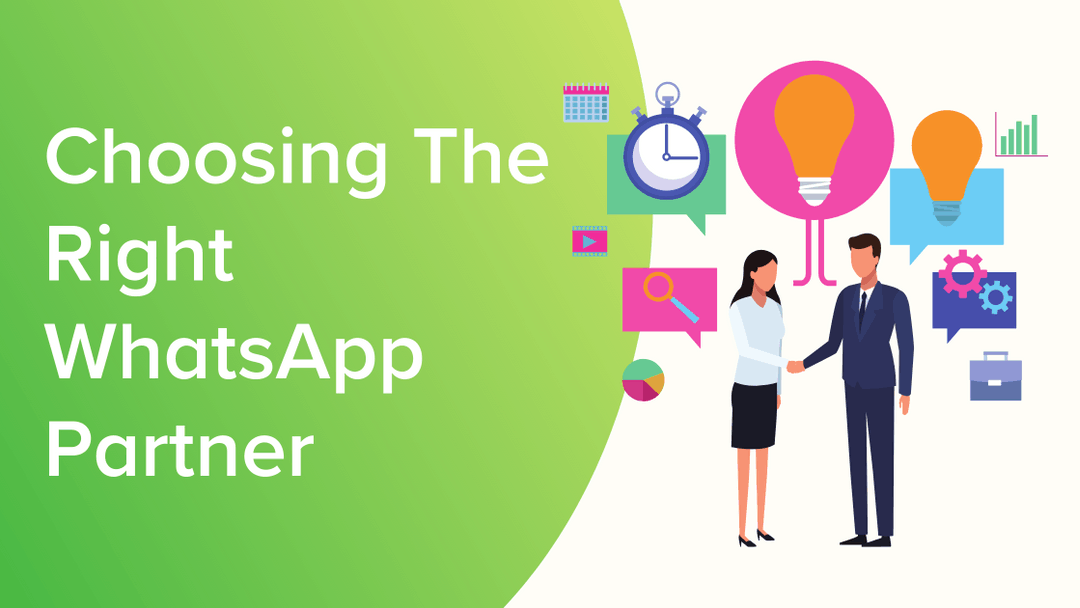 How To Choose A WhatsApp Business Partner Wisely?
Have you decided to use WhatsApp Business API to take your business and team management to the next level?
Good on you! You've taken the right step forward.
WhatsApp Business API allows your business to communicate with customers around the world in a simple and secure manner. It also provides the opportunity to integrate exclusive features that are not available in the WhatsApp Business version.
So, how to get these features for your business? This is where the WhatsApp Business Partner role kicks in. ‍
Who is a WhatsApp Business Partner?‍
WhatsApp Business Partners or WhatsApp Business Solution Providers (BSPs) are a global community of third-party solution providers who have proven experience working with WhatsApp Business API. The WhatsApp Business API solution is distributed through different BSPs to customers. WhatsApp BSPs have the required approvals to activate the telephone number (associated with WhatsApp Business) and send messages on behalf of your business.
So why do you need a WhatsApp Business Partner? WhatsApp does not manage business accounts directly. They instead have a list of approved partners who create and manage the APIs. In simple terms, WhatsApp Business Partners work like an intermediary to enable businesses to get started with using WhatsApp Business API quickly. They provide businesses with access to WhatsApp Business API and guide them to use WhatsApp in a professional manner to offer round-the-clock support to their customers. Let me break this down for you – this simply means that your business stands a chance to get approved faster with significantly less work on your part.
Haptik, a part of Jio Platforms Limited, is an Indian enterprise conversational AI business that aims at powering conversational assistants for businesses. Haptik is a WhatsApp Business Solution Provider and interakt is Haptik's exclusive offering for fast-growing businesses. interakt's game-changing features have been powering businesses big and small to leverage WhatsApp for growth.‍
‍
What should you keep in mind while choosing a WhatsApp Business Partner?‍
It's a given that every WhatsApp Business Partner out there will develop additional utilities on top of the WhatsApp Business API solution.
So before you dive in, you need to pick a partner based on the utility they offer and at what price point it is being offered. This is one of the major factors you must consider when choosing a partner.
That's not all – we're laying out some key points that you need to check off your list while you consider a WhatsApp Business Partner ?‍
‍
1. What are the supported API features?‍
Choosing a WhatsApp Business Partner depends on the API features they offer. Not every partner will offer all features or the same features that are available in WhatsApp Business API. For instance, WhatsApp API supports the ability to create template messages. If your business handles customers across different geographical regions, make sure to choose a business partner that supports template message localization capability. This allows you to send messages in different languages for each template.
One of the most critical features to keep an eye out for when choosing a provider is the messaging support that they offer. While messaging support is a basic requirement, businesses should aim at offering a delightful experience for users. Features like rich messaging by using images and videos, viewing messages sent/read status, quick replies to respond to customer queries, and template messages are supported by interakt to enrich the customer experience.‍
‍
2. Speed of onboarding process‍
The main purpose of choosing a business provider is to get WhatsApp approved and deployed as quickly as possible. The onboarding process shouldn't be a long and complicated one. You need to be able to get rolling and down to business in no time.
To get you up to speed, our team at interakt will take you through a seamless onboarding process that includes getting your business approved for WhatsApp Business API. We've also built a resource center – a knowledge pool of articles and videos on how you can make the best use of interakt and set your business up for success using WhatsApp.‍
‍
3. What are the supported integration capabilities?‍
As a business, you may have ideas to integrate WhatsApp with other solutions like a CRM or even a support ticket system. So when it comes to evaluating a business partner, keep in mind to see what integration services they offer. Do they have pre-built integrations that can be easily onboarded to your business? Are you able to connect with common apps that you regularly use?
With interakt, there are flexible integration options to connect with popular apps such as Shopify. You can also connect your interakt account with Zapier and automate your business workflows on interakt.‍
‍
4. Is it possible for me to use my own number?‍
Understandably, every business wants to use a single phone number to streamline their support operations. Therefore, choose a business partner that will allow you to use your own number to set up WhatsApp Business API.
Be it an existing WhatsApp number or a WhatsApp Business number, you can use that with interakt. Make sure you delete the account linked to the number prior to the onboarding process.‍
‍
5. What's the pricing model and strategy?‍
When it comes to pricing, it is always tempting to go with the business partner who offers everything at a particular price point. While this does look appealing, there's always a catch! You never know what the hidden charges are, and the margin of costs involved. Therefore, it's important to clearly understand the pricing model and the benefits that you will get at that price point.
interakt offers a transparent per-month WhatsApp Business API pricing model which aligns with the growth of your business. This includes all of our currently available features and access to new features that will be made available in the future. Your subscription charges will be levied only after the WhatsApp Business API approval process is completed. As the WhatsApp Business Solution Provider, we aim to reduce the costs to develop the solution and deliver benefits to users at a competitive price point.‍
‍
Convinced to choose the right Business Partner for your business?‍
So, which WhatsApp Business Solution Provider should you choose?
Your decision depends on which one offers the best for your business and fits your business needs. With interakt, it's not just about gaining easy access to WhatsApp Business API. There's lots more to it and nothing makes a deeper impact than the positive words of appreciation from our customers. As Karan Chechani, co-founder of Thrive puts it aptly, "With interakt, I had my account setup in less than 30 minutes and I was off to the races! The biggest advantage is that we can move really fast with interakt – everything from onboarding to launching templates and notifications to sending out to customers is super simplistic."
Want to have a similar amazing success story? Sign up for interakt today to get started with WhatsApp Business API.