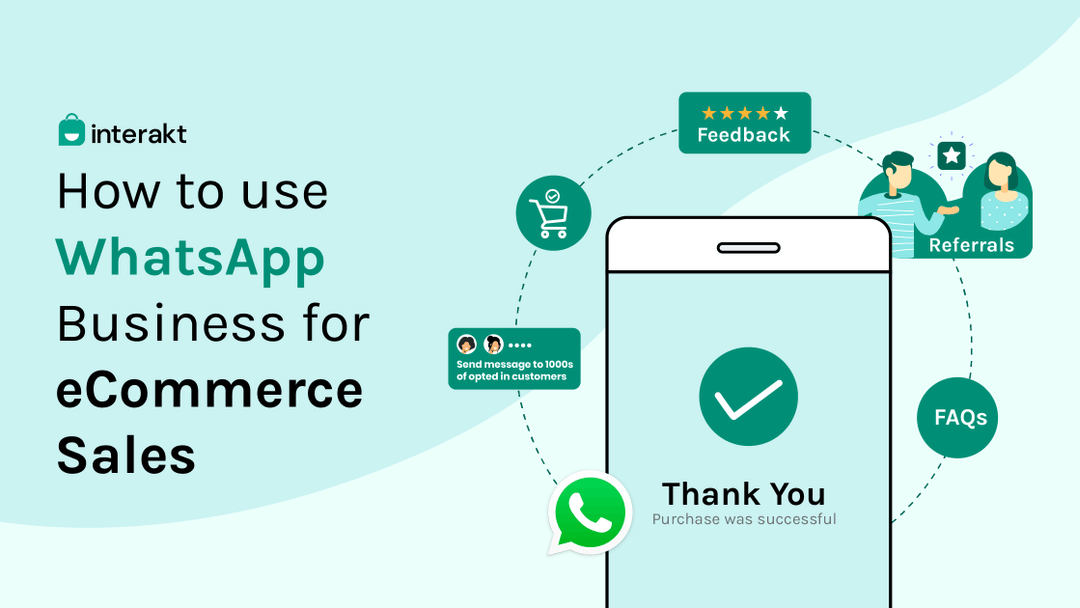 WhatsApp for e-Commerce Store: Quick tips to supercharge your sales in 2023
Here's what's up. WhatsApp is now the most popular messaging app having over 2 billion active users every month and over 1 billion active users each day! In India, WhatsApp user base went up 16% just in the span of a year!
These are gigantic numbers, and potentially, the user base for WhatsApp will keep mounting up to more gigantic proportions. So what does that mean to you and the growth of your eCommerce venture?
That means, it's time to consider WhatsApp as the channel for your eCommerce store, and with it, grow your sales effectively.
Marketers have always tended to overlook WhatsApp's potential in eCommerce due to lack of any real tools dedicated to businesses.  But that is not the case after WhatsApp Business came out in 2018, offering more varied and effective tools tailored for businesses of all sizes.
So how can you really put the WhatsApp Business API to work? After running thousands of campaigns, we have some tips for you. First of all, let's start from the basics.

What is WhatsApp e-commerce?
WhatsApp for e-commerce is used as a messaging platform, for conducting business communications & commerce, such as buying & selling products or services via WhatsApp. This can involve using a WhatsApp Business platform to communicate with customers, make sales, and potentially integrate WhatsApp with other e-commerce tools and payment gateways to streamline the shopping experience for your customers.

In the context of e-commerce, the WhatsApp Business API can be used to send order confirmations, shipping updates, and other customer service messages, as well as provide a convenient channel for customers to ask questions or initiate a purchase. By using the WhatsApp Business API for e-commerce, brands can improve the sales, marketing and support of their businesses. Earlier, growing e-commerce businesses faced many challenges in setting up their e-commerce store on WhatsApp. However, the WhatsApp Business API solution for e-commerce has made the job way easier.
What are the challenges faced by ecommerce business stores? 
Competition
:
With the expanding e-commerce industry, there is an increase in competition among online businesses too, making it harder for new D2C brands to stand out and attract customers.

Scalability
:
As a growing e-commerce brand, one of the biggest challenges is to scale and expand your business to a wider audience and amplify conversions. A powerful WhatsApp Business solution helps you scale your business via WhatsApp by reaching out to 1000s of opt-in customers in 1 click.
Payment security
:
Ensuring the security of customer payment information is a major concern for e-commerce businesses today. As data breaches can result in loss of customer trust and legal consequences, WhatsApp for e-commerce enables an end-to-end secure and encrypted payment processing for your customers, without having to worry about any kind of data compromise.
Customer acquisition and retention
:
Attracting new customers and retaining the existing ones can be a challenge for e-commerce businesses, as there are many options for consumers on websites, social media and other platforms. However, engaging your customers over WhatsApp can certainly make a difference.
Marketing and advertising
:
E-commerce businesses must effectively market and advertise their products to reach their target audience. In today's competition, it is a tough terrain for brands to implement the perfect marketing and ad strategy to scale their business growth.


Customer Support
:
One of the most common business challenges for e-commerce brands is to deliver a top-notch customer experience to their customers. Right from product recommendation to post-purchase support, e-commerce businesses struggle a lot in guiding their customers through the complete buying journey.  And that's where, WhatsApp e-commerce solutions come into picture, that helps businesses sell while they chat with their customers.
What strategies can be used by e-commerce businesses stores to leverage WhatsApp?
Here are some ways in which you can utilize the features offered by the WhatsApp Business API with the help of tools like Interakt.
1. Create Broadcast Lists
Broadcasting lists provide you, the seller, a means to reach directly to your customer, communicating the value you provide. It is an ideal strategy on two levels- one, it's private and two, it's direct.
To increase engagement from potential customers craft creative and targeted one-way messages through broadcast lists. Have lists for specific subjects. Provide invitations, links to products or even updates of your ongoing/ upcoming discounts and sales; anything that you'd like 'everyone' to know about.
2. Shopping Assistance and Support
In eCommerce, nothing shouts 'reliability' and 'integrity' like a strong customer support system does. This is where WhatsApp for customer support comes in. Logging in from a desktop or a laptop opens up accessibility to powerful customer support applications that you can pair with WhatsApp to provide swift assistance and services.
With WhatsApp for e-commerce, it's easier for the customers to reach out to the business instantly, and for the business it provides a platform to resolve issues of the customer's privately.
For example, let's say an online shopper is about to make a purchase but isn't sure if the product will be delivered in a timely manner. They can use WhatsApp to reach out to you, getting clear answers that will put their pre-purchase anxiety at ease.
3. Create Exclusive Group Chat
WhatsApp group chat feature can be used to create the opposite result of Broadcast Lists. The information you want to communicate, reaches a select group of individuals together, instead of it reaching each individual privately. The messages you send or the ones that an individual member sends is all out in the open, making it an interactive medium.
Create an exclusive group chat for loyal customers. By doing so, you create a brand-loyal inner circle. You will be able to provide exclusive offers and discounts for this exclusive bunch. Being in direct contact with such a group helps you study market trends, and alter your strategies to drive repeat customers.
What's more? You can also use this group to gather feedback from your existing customers before launching new products, collections or deals.
You can create a WhatsApp group for 256 participants only. So this is a good strategy while you're small; but as you begin to grow, you need to use customer segmentation and leverage WhatsApp broadcast messages instead to execute the same strategy.
4. Nurture Your Buyers
Create and share informative content about your products so customers can make better buys suited to their needs. Let your customers know you care about their experiences with your products.
Nurturing your buyer's with instructive content and good product information builds personality to your brand. You can share "How to?" or "Do It Yourself" videos for products that require assembly, like Ikea.
The idea is to enable a great post-purchase experience by ensuring customers are able to put their purchase to optimal use. And at the same time, also nudge those who haven't made a purchase to explore products by sharing the value they have to offer.
5. Have Convincing and Creative Win-Back Campaigns
Now you have built your brand-loyal customer base. It is inevitable that a few of your buyers will stray off, fazed by your competitors, or they might just be inactive. Reach out to them with clever win-back schemes.
Similar to how businesses, Writing Clubs or gaming applications send you "We've missed you" emails, use WhatsApp to get back the attention of customers. You can give limited period discounts for those users returning to your brand or your business after a small period of absence.
6. Recover Abandoned Shopping Carts
Almost seven out of ten eCommerce shopping carts get abandoned. Some people use the shopping cart as an improvised wish-list, while others might abandon their carts after being put off by extra costs of shipping or maybe even the cart total.
This is one obstacle every eCommerce store needs to overcome, or at least address objectively, to grow sales numbers.
Put the WhatsApp Business API here to work with a platform like Interakt to send automated abandoned cart recovery with WhatsApp messages to your customer. You can also set up follow up messages to remind the cart abandoner of the deal they've left behind or make an exclusive offer on the cart total to nudge them to make the purchase.
7. Interactive Messages to Boost Engagement
WhatsApp's Interactive Message feature can be utilized for simple, quick and improved communications.  These messages allow you to tag quick reply options that customers can send by a single tap.
Embed call-to-action buttons in your Interactive messages, to increase user engagement, and inform the users. Well-crafted interactive messages can facilitate the whole process for buyers with time constraints, who will need a slick and fast experience.
When engagement is at the forefront of marketing success, you want it to be as intuitive as possible. And links are no longer a go-to!
8. Create a Feedback System
Usually the feedback systems across platforms like email, don't get many responses. Use WhatsApp Business API as customer support for better feedback collection. Create one touch interactive feedback system to allow customers to rate your product or/and services.
It is important to have a good feedback system to garner goodwill (and eventually better sales), by showing that you are genuinely concerned about your customer's experience and that you care for each one of your buyers.
Conversational channels like WhatsApp imitate physical, one-to-one conversations over a virtual medium and make the feedback look more natural.
9. Request Referrals
So far, you have managed to create an excellent feedback system, strong customer support and engaging interactions for buyers of your exceptional product. Your eCommerce store has everything that customers will talk about positively when they consider you.
Word of mouth marketing works better in increasing sales and growth than any form of advertising. People are four times more likely to make a buy when they receive suggestions from their peers and friends.
WhatsApp Chatbot features can be used to send out referral codes allowing customers to spread word about your business. You can also offer referral benefits to customers.
10. Address FAQs
Even with simplified and elegant sales funnel, and good support and assistance, it is inevitable that your customers will have questions. These frequently asked questions can range from payment options, about the product, companies return policies, size charts etc.
Traditionally FAQs have been addressed with long lists of questions in a dedicated section, or via emails.
With WhatsApp Chatbot, you can automate your customer support system. Engage customers with immediate solutions to their queries. And as a business benefit, save on the support costs required to address them on phone/ email.
Do you need WhatsApp to grow your eCommerce store?
We have established that WhatsApp is and could remain a supremely popular communication platform for day to day communication.
With the vast marketing potential that the WhatsApp Business Platform has to offer, it's time to make this channel work for you.
We all know how important it is for your eCommerce business to be where the customers are. So when they're WhatsApp-ing all day long, what's stopping you from becoming one of the conversations they're actively participating in?
Ready to leverage WhatsApp for eCommerce growth? Sign up for WhatsApp Business API  on Interakt today.