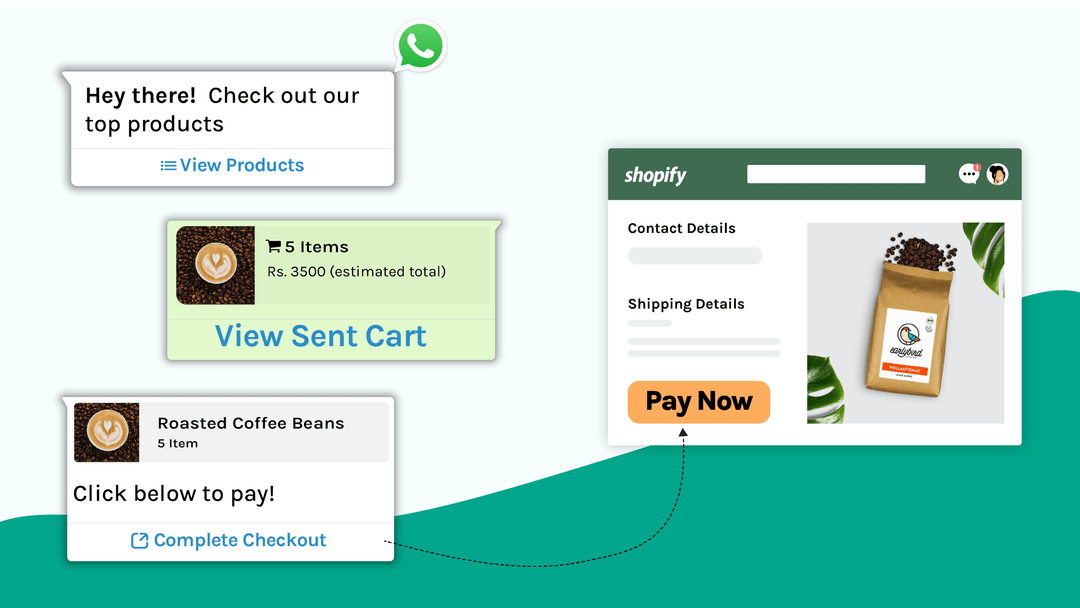 Interakt's WhatsApp Sales Channel: A Powerful App on Shopify for WhatsApp Commerce
In today's digitized world, most customers prefer to shop online. According to a study conducted by Statista, a whopping 75% of people shop online at least once a month. But, before they get their hands on their favorite products—customers want to connect with the businesses, learn more about the products, get their questions answered and then proceed to make the purchase. What better tool to achieve all this on than WhatsApp?
WhatsApp, a channel that facilitates quick and personalized communication has gained immense popularity over the years to become the most sought-after instant messaging platform of our times. Businesses can reach out to their customers instantly and vice versa! Besides that, with the messages being read within 5 minutes of it reaching an intended recipient's phone, WhatsApp messages boast of an extremely high open rate of 99%. This makes it one of the most reliable not to mention convenient forms of communication. Not only is it a great tool for communication but WhatsApp leads the pack as an excellent channel that drives sales and conversions.
If you are a Shopify store owner looking out for channels that can help you reach larger audiences, offer personalized services and sell more—then, by all means, WhatsApp is your best bet.
Here's why—businesses that have adopted WhatsApp into their sales strategy have noticed a:
1. 15% increase in overall sales
2. 10% rise in the online customer base
3. 40% hike in the number of new customer contacts added
If these statistics are anything to go by, WhatsApp is a powerful tool for selling. Let's now take a look at how you can get started with WhatsApp on Shopify.
WhatsApp commerce on Shopify
WhatsApp Commerce is a term that has gained prevalence in recent times. In simple words, it is the use of WhatsApp to sell your products and services. WhatsApp Commerce is now available to Shopify store owners. You can enjoy the benefits of this feature by partnering with Interakt, the official WhatsApp Business API provider.
‍
Interakt was launched by Jio Haptik to cater to the communication needs of SMBs and D2C brands. The platform supports effortless integration with Shopify, enabling Shopify merchants to improve sales and engage proactively with their customers.
‍
Interakt makes the WhatsApp API integration available to you at an affordable price. Once onboard with Interakt, you get to harness the power of WhatsApp to drive traffic to your store, engage in real-time conversations with customers, set automated replies to connect with customers (even while you are away), and respond to their queries instantly and lead them closer to a sale! All you have to do is download the Interakt App on the Shopify App store to kick start your journey with WhatsApp Business API.
The WhatsApp Sales Channel App
With Interakt's WhatsApp Commerce coming to the fore, customers can easily browse through their favorite products on your product catalogs, add items to a shopping cart, place their orders and pay for them, all while chatting with your team.
To enhance the customer experience and boost sales of your Shopify store, Interakt has launched the WhatsApp sales channel app. The app is a game-changer when it comes to boosting sales. Here is how you can get started:
1. Download Interakt's WhatsApp Sales Channel from the Shopify App store
2. Create an Interakt account for your business
3. Connect your verified Facebook Business Manager account and WhatsApp API account to Interakt
4. Verify the phone number you wish to link to Interakt
5. Provide the Business Compliance Information which will appear in your Business profile, visible to all your customers
You are now all set to start selling on WhatsApp!
Let's now move on to look at the top features of the app.
Key features of the WhatsApp Sales Channel App to watch out for
Here are 3 unique features that make this app one of a kind.
1. Auto Sync products to WhatsApp
This incredible feature ensures that your WhatsApp products catalog is always in sync with your products. Any changes that you make to your products list will sync automatically to a Facebook catalog which is linked to your WhatsApp API Account. This way, any alteration made to your products will sync automatically to WhatsApp and get updated in your products catalog.
2. Send product catalogs to 1000s of customers with ease
Sending product catalogs has never been easier. You can now share your product catalogs to 1000s of opted-in customers through Interakt's bulk messaging campaigns. The app also allows you to share product catalogs as auto-reply messages in response to messages received from customers.
3. Auto convert WhatsApp carts into Shopify carts
Customers can now send you their shopping carts on WhatsApp and place their orders with ease. With the WhatsApp sales App, you can easily convert the WhatsApp cart into a Shopify cart allowing customers to pay for their orders on your Shopify store.
Benefits of WhatsApp Commerce via the WhatsApp Sales Channel app on Shopify
Let's go over some of the benefits of installing the WhatsApp Sales Channel:
1. Seamless onboarding process and integration with your store in just a few minutes
2. It offers an intuitive and easy-to-understand interface
3. It enables customers to place orders directly on WhatsApp
4. It helps you automate and streamline your sales process on WhatsApp
5. It allows you to reach out to 1000s of opted-in customers with ease and grow your business multifold
That's not all, you also get:
1. The 'Green Tick' verification on your WhatsApp Business account, adds credibility to your business profile
2. WhatsApp notifications that let you share important updates, alerts, and reminders with customers at large
3. A shared team inbox where your whole team can collaborate to manage customer support efficiently
4. WhatsApp automation allows you to stay connected with customers at all times
Pricing
You can start with a 14-day free trial by Signingup with Interaktand continue with a Free plan or upgrade to the Starter plan and the Growth plan priced at $15 and $35 respectively.
Explore WhatsApp commerce on Shopify with Interakt's WhatsApp Sales Channel
Unlock a world of opportunities with the WhatsApp Sales Channel app. Win new customers, automate your sales process, and sell more. Head to the Shopify app store and install the app today!