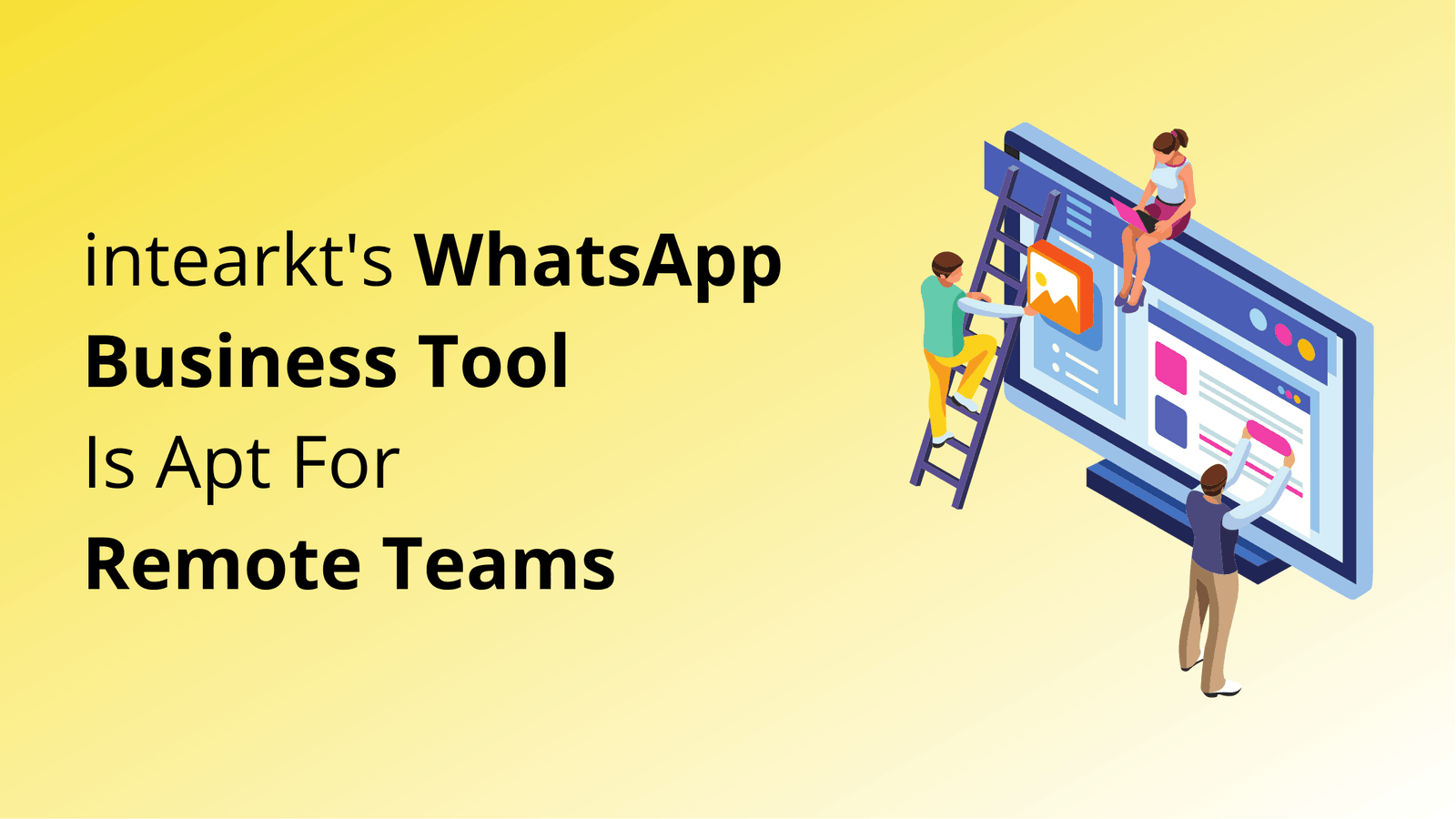 Power Your Remote Teams With interakt's WhatsApp Business Tool
The COVID-19 outbreak has changed the typical 9-6 jobs for most of us. Last year, we saw companies around the world, urging their teams to abandon traditional office spaces and socially distance themselves in their homes.
With the onset of the global pandemic, the work from home model has gained much popularity and as per a recent survey – majority of the workforce are now not mentally prepared to go back to the office.
This makes one thing clear – the remote work culture, is here to stay!
So are businesses really prepared for this?
While most of the larger tech companies were ready to take on this abrupt transition, some (and by that we mean, a good number) of the smaller businesses struggled to build smooth workflows and collaborate remotely. ‍
Remote work apps have been on the rise
The daily challenges of connecting with teams remotely, paved the way for a host of project management solutions and apps. Every company had their own remote work tool-kit to help them survive the new normal.
We saw the likes of Zoom, Slack and Google Hangouts powering teams to collaborate and battle out the drawbacks of going remote.
Having said all that, there is still room for improvement.
For startups and small businesses, it is undoubtedly crucial for teams to communicate and collaborate in a more cohesive manner, and even more when they are working remotely. We're talking particularly about customer support, sales and any other client-facing teams.
There may be instances to reach out across functions to solve customer queries – in such cases, it hurts to keep the customer waiting for a response. That's where WhatsApp steps in.
WhatsApp has come through as a sought-after channel for a large number of fast-growing businesses in the country, especially when they are just starting out. Take the case of Indiagold, they've recently revealed their product-growth stack as per Growthbug and WhatsApp is one of their key channels for engagement.
This comes as no surprise – being an instant messaging app, WhatsApp is considered superior to other channels primarily for the quick response and query resolution rates. With an increasing number of companies turning to WhatsApp to connect with their customers, if you're not on it – you're losing out in more ways than one!‍
Why do you need to use WhatsApp for business communications today?

Though WhatsApp was initially used as a tool for personal chat, with the rollout of business solutions like WhatsApp Business APIs, the possibilities for brands to engage and connect with customers are endless. ?
‍
Which means, it's time to:
• Be where your customers are: Connect with them on the world's most popular app and delight your customers with engaging conversations.
• Give your customer support a boost: On WhatsApp, you get to respond instantly and resolve complex customer queries a lot faster when compared to traditional channels like calls and email.
• Improve brand recall: Be among the few brands that care to engage with customers on the channel of their choice. Send highly personalized WhatsApp notifications and stay on top of their mind.
Now, with all those customer messages coming through on your WhatsApp business number, keeping a track of conversations can be quite a task – especially while working remotely.
You end up losing time in communicating with the team by forwarding customer chats. What's worse? You may even miss out on replying to a few messages.
So how do you scale your startup or small business on WhatsApp without overwhelming your team? ?
We've got this covered for you!‍
The need of the hour: interakt's shared team inbox for WhatsApp
We realized there was a growing need for teams to respond, track and manage WhatsApp chats in a more organized manner. In other words, a feature that has all your business' WhatsApp chats in one place, allowing multiple teammates to respond instantly and kill the customer wait time.
Another issue that most startups struggle with, is using a single device for one WhatsApp business number which ends up being shared by not just one or two, but sometimes even an entire team of customer support agents in the office. They might be passing on the mobile, forwarding messages or accessing WhatsApp web one-at-a-time, during the day. With no option for multi-login, this is certainly impossible to manage while working remotely!
This is one of the many problems that interakt solves. With WhatsApp shared team inbox that allows multi-logins from any location, remote teams can now easily manage all conversations on one single dashboard.
‍
‍Here are a few of the ways in which the shared team inbox can improve your remote teams' productivity:
• This multi-login support tool for WhatsApp will have all your chats in one place – which makes tracking and closing conversation threads much easier.
• With your teams spread out, reaching out to them to respond or even handle specific queries can be a hassle. With the shared team inbox, you can simply add multiple teammates, assign chats to them and resolve customer queries, a lot faster.
• But what about passing on customer data or giving context about a specific customer request? We've got that sorted as well. The shared team inbox comes packed with features like tags, notes, conversation threads, order history and more to give every teammate the full picture of the customer they are talking to.
• That's not all – with this intuitive inbox you get to engage and respond instantly to customers using rich media capabilities like quick replies and WhatsApp templates.
• This team inbox for WhatsApp also comes as a great relief for sales teams that are struggling to stay on top of leads while working remotely. You can now track and follow-up on every lead effortlessly with interakt.
‍
The all-in-one WhatsApp business tool for remote teams 
interakt's functionalities can be used overall to communicate seamlessly with remote teams and track their productivity.
Here's how you can overcome the challenges of managing a remote team with interakt:
• Automated WhatsApp notifications: At times like this, it is important to keep your team in the loop and make them feel involved. Send out timely company updates, internal communications, alerts about new product releases or even employee engagement messages as bulk automated notifications on WhatsApp.
• Contacts Management: Skip the old way of adding each WhatsApp contact manually and upload contacts in bulk. Be it your customers, vendors or your teammates – have them all in one place, access relevant user details, add tags and manage them easily.
‍
It's time to make the switch
For small businesses and startups in their early stages – WhatsApp as a business tool can be a game-changer when it comes to managing workflows remotely (or not) and building enriching customer interactions.
From bringing down customer wait-time to having multiple messaging capabilities, it's time you leveraged WhatsApp for your business growth. Go ahead – power your remote team, improve productivity and engage with customers on a whole new level – sign up with interakt today!