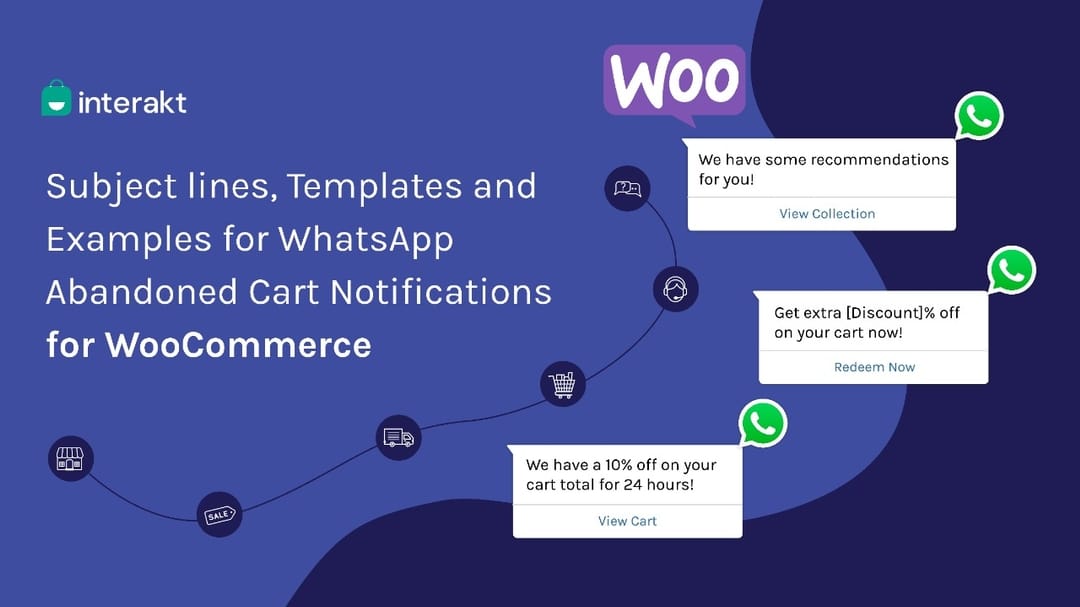 Subject lines, Templates, and Examples for WhatsApp Abandoned Cart Notifications for WooCommerce
Shopping cart abandonment is a problem that never seems to end for eCommerce businesses. For most online businesses, across various industries, the average cart abandonment rate fluctuates from 69% to an 80% in some scenarios, leading to most of the potential sales being lost in an instant to distractions, competing discounts or simply purchase anxiety that most consumers experience today.
A typical strategy that most online stores leverage to recover abandoned carts is running retargeting and remarketing campaigns, cart reminders on email and web push notifications. But considering how a typical internet user sees 5000 ads per day on average and receives 121 emails per day, there's a high chance that your WhatsApp abandoned cart recovery campaign isn't performing as it should be.
That's where WhatsApp marketing comes in, with a proven 98% open rate on messages and an average of 48% clickthrough rates.
But that doesn't happen unless your WooCommerce abandoned cart notification is compelling enough to even read.
Subject lines have a direct impact on the open rate of emails. And it is no different when it comes to WhatsApp abandoned cart notifications.
To spare you all the hit and trial, we have curated some of the best subject lines, templates and examples for WhatsApp abandoned cart notifications for your WooCommerce store.
WhatsApp abandoned cart notifications templates for WooCommerce
We're categorizing the following templates based on the type of message and the consumer psychology they put to work.
The friendly reminder (and nudge)
This is when you reach out to a cart abandoner to simply remind them of the product and the deal they've left behind. The idea is to give them a subtle nudge towards a product they were intent on buying.
• Looks like you forgot something
• A simple reminder
• Reminder: you left something behind
• There are still items left in your cart
• We saw you checking us out
• Hey, still deciding?
• Come back and complete your purchase!
• You forgot to complete the purchase! ‍
The ego-booster
Have you ever abandoned a product you were about to purchase simply because you weren't sure if it's good enough? This WhatsApp abandoned cart notifications is meant to pacify or praise the cart abandoners choice of products and reassure them to bring them back for the purchase.
• You've got a great choice!
• You have an amazing taste!
• <product name> looks good on you!
• You've picked a fantastic product!
The discount temptation
About 62% of online shoppers are deal-seekers. That's why discounts make for an enticing message to use in WhatsApp abandoned cart notifications. You could make an offer on the cart total or present them with an option for free shipping.
• Get extra [Discount]% off on your cart now!
• We have free shipping on your order ♥
• Enjoy free shipping today with your purchase!
• Here's Rs. [Amount] on us! ?
• Hi [Customer Name], would [Discount]% off help?
• Come back now to get [Discount]% off on your cart!
The FOMO campaign
About 69% of millennials experience FOMO and 60% have made purchases because of it within 24 hours. The fear of missing out on a good deal or a trending product is real and makes for one of the best strategies to use in WhatsApp abandoned cart notifications.
• [Product Name] is almost sold out!
• 53 people have already bought [product name]!
• Limited pieces remaining of your cart items!
• Your cart items are selling out fast!
• 28 people have bought [product name]. Hurry, come back to your cart!
The social proof (convincer)
Recommendations from friends, family and those like us remain the top most reliable source of information for most of us. Use that to your advantage by sharing social proof like product reviews, ratings, testimonials or even user generated content to show the cart abandoner how loved the item they left behind is!
• Over 50,000 people love the xyz product
• [product name] just got featured on xyz!
• Wow, look at <influencer name> styling [product name]
• [product name] just received another 5-star review!
• Your cart items are getting wishlisted!
The limited period offer (urgency)
Apart from FOMO, another technique that works really well on consumer psychology is creating an urgency. You can do this by offering time-sensitive offers, deals and discounts on the abandoned cart products to bring back the customer.
• We have a 10% off on your cart total for 24 hours!
• Hurry, get free shipping on your cart today!
• The discount on your cart items is running out!
• Discount on [product name] ends in 23 hours!
The shopping assistant
If a cart abandoner hasn't converted on any of your WhatsApp abandoned cart notifications, don't assume the worst. Take a step back and assess why they may not be making the purchase – and the best way is to ask them about it. Offer help instead and use the opportunity to recommend similar products.
• Need help making a decision?
• What can I help you with?
• Do you need help with [product name]?
• Would you like to know more about [product name]?
• We have some recommendations for you!
Ready to recover sales with WhatsApp abandoned cart notifications for WooCommerce?
Cart recovery is an ongoing challenge that needs a solution that consistently learns from the changing consumer behavior. Your notifications should not be a one-time activity; they need to take into account the distractions and motivations around the online shopper and leverage them to make the sale.
The above WhatsApp abandoned cart subject line templates and examples are sure to get your notification read. Put them to work today with Interakt! Sign up for your 14-day free trial.