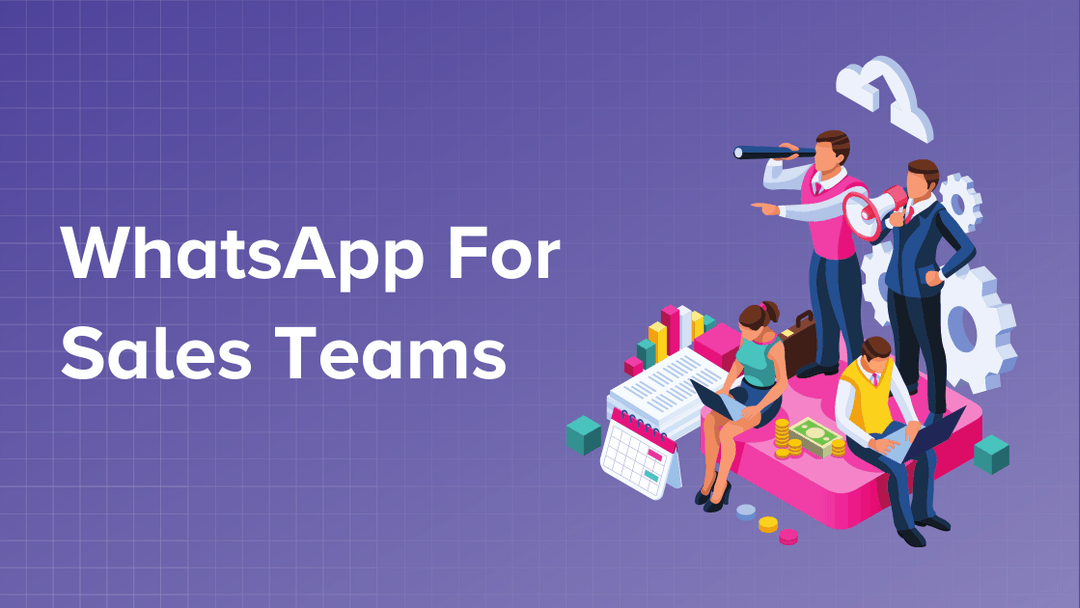 Why Should You Use WhatsApp For Your Sales Teams?
For every business, sales is the fundamental aspect that defines the success of the business. The sales cycle is not an overnight process. It is a steadily evolving process and takes weeks or months before the customer makes a decision. Sales teams are stacked with a bunch of activities from the time a lead moves into the sales funnel. Yet, statistics show that sales teams spend just over a third of the time in actually selling the products and services. Most of the time is spent on administrative tasks like managing customer records, drafting sales emails, organizing client interaction records, generating reports and so on. This is a huge challenge especially for small and medium businesses (SMBs) and it's vital that they implement a solution that will maximize their efforts and move leads faster through the sales funnel.
With a strong market penetration in recent years, WhatsApp today has a significant impact on the way most businesses function. Especially, in the lead stage of the sales funnel, businesses are taking advantage of WhatsApp's business-centric solutions to communicate with their customers.
Time to reimagine sales support with WhatsApp
In general, every sales manager is concerned about the effectiveness of their sales teams. One of the major contributing factors is using a single mobile for their WhatsApp business number. When there is a huge inflow of support queries, it becomes quite a task for the sales teams to respond to users within the stipulated time.
With WhatsApp Business API, the entire sales team can use the same number without any dependency and meet the service level agreements. Additionally, salespersons can use templates and quick replies to ensure instant resolution of queries. In this article, we will see how your business can take advantage of WhatsApp Business API for powering the salesforce and nurturing the leads.‍
1. Take your team's communication to the next level with Shared Team Inbox
One of the major limitations of the WhatsApp Business App is that there is no easy way for your sales teams to manage the incoming chats. Your business can have only one approved WhatsApp Business number. Especially, in cases of large sales teams, this is a serious problem for sales managers. There is very little collaboration effort amongst the team members. Also, it's tough for the team members to access the conversations from one place.
interakt's Shared Team Inbox capability provides access to all the leads' information in a single place.
Your sales team can collaborate easily and respond to all customers instantly. For example, if a salesperson handling a particular customer is unavailable, the conversation can be assigned to and taken over by another team member.
The Conversation History Card feature provides the complete details of the entire chat history with the user. It helps SMBs to effectively manage their customer information in a clean and structured manner.‍
2. Manage all your contacts in a single place
One of the main challenges faced by sales team managers is that customer information is spread across too many places. Being disorganized with the client information can result in severe inefficiency of your sales teams.
To address this challenge, interakt offers the 'Contacts Manager' functionality where the salesperson can manage the lead' contact details in a single place. Think of the Users tab as a smart contact book where the salesperson can create and manage all the users' details in one place easily.
All the information is well organized and easily accessible. Clicking on a particular contact will display the details of the lead, the entire list of conversations, tags assigned, notes specific to the lead, order history, specific events triggered and so on.
One of the many benefits of using interakt is that when a customer reaches out to your registered WhatsApp number for the first time, a new contact entry will be automatically created for that user.
3. Import your contacts in just a few steps
Another challenge faced by salespersons is that during high sales calls volume, they are forced to store the information of each lead on their personal mobile phone. interakt provides the option to add new contacts individually or perform a bulk upload (.csv) of contacts. After uploading the contact information, all you need to do is simply map the columns in the CSV file to the attributes that are specific to the user information. This helps them to keep the lead contacts separate from the personal contacts on their phone. With interakt, you can upload up to 1000 contacts at a time.
‍
4. Engage faster with leads by sending Automated Notifications
An important performance criteria for sales teams is how quickly they respond to leads. Businesses can deliver a great lead experience by sending automated alerts and notifications.
Your salespersons can use interakt to accelerate the sales process by sending automated and timely reminders. For example, when a new lead fills in your lead contact form or the contact us page, you can send automated personalized welcome messages even if the lead signed up during non-business hours. Talking about use cases, we've got a few more – your sales team could use automated notifications to send account updates, appointment reminders, hotel booking updates and so on. The salesperson can also customize these automated responses with variables to deliver a personal touch to the message.
Salespersons can create WhatsApp notification campaigns to either trigger a one-time broadcast message or send messages based on specific trigger occurrences. When the trigger event occurs, the notification message will be triggered automatically to the user. When you click on the campaign, you will see the details such as type of notification, message, number of notifications attempted, notifications sent successfully, notifications delivered successfully, number of messages read and failed and so on. Any responses to the campaign will be received in your team's shared team inbox.‍
5. Follow-up more effectively with leads and contacts
It's not easy for salespersons to remember the origin of the leads especially when they deal with a large number of contacts. For example, the lead might have filled up the details on the contact us page, responded to a campaign, or come from other avenues. It's important for the salesperson to note this information as it will be helpful when sending targeted marketing campaigns. Not just that, it also comes in handy when a different salesperson handles the communication with the lead.
interakt offers the capability for salespersons to manually add tags and label the leads using the WhatsApp Note card feature. This helps in effective follow-up and better engagement with the leads. For example, you tag a set of contacts under the name of a campaign that was organized as '2020BlackFridayCampaign'. You can easily retarget the same contacts for a new marketing campaign by filtering on the tag name. This is a time-saving and efficient process for sales teams and helps them in the long run.
Accelerate your sales journey with WhatsApp Business API
WhatsApp Business API helps businesses like yours to drive sales from leads by establishing a two-way communication medium. That's not all – it also helps the sales teams to manage most of the business communication in one place in an orderly fashion.‍
Are you ready to step up your sales game? Sign up for interakt today and power your sales teams to move leads faster through the sales funnel.