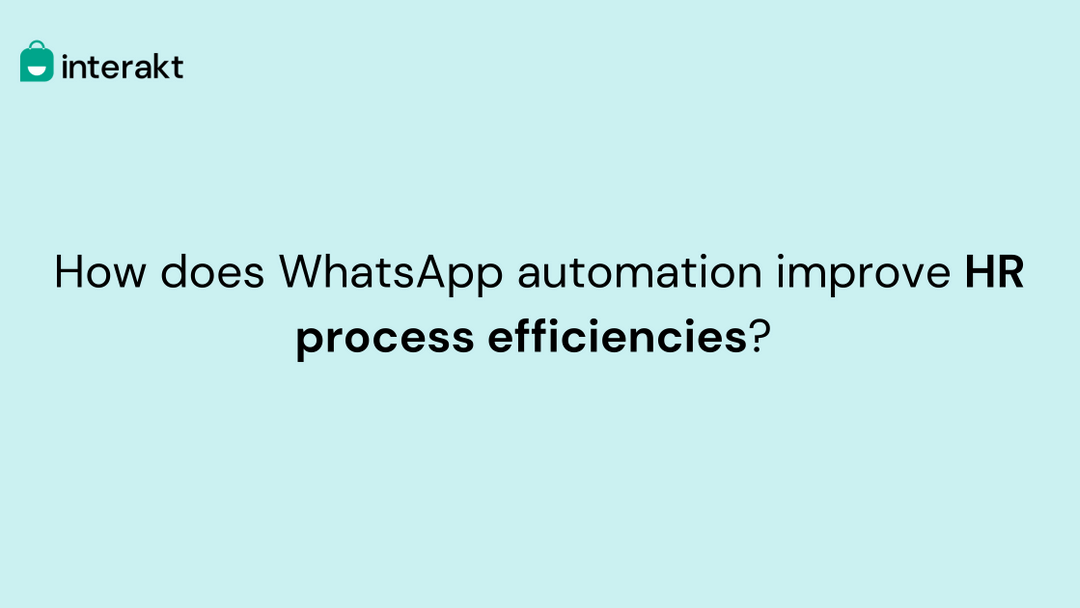 WhatsApp automation for HR: How does WhatsApp automation improve HR process efficiencies?
WhatsApp has become a popular channel for day to day communication in both personal and professional networks. But with WhatsApp Business API, it is also becoming a popular choice of communication across various departments for businesses.
After being extensively used for marketing, sales and customer support, businesses are exploring its feature sets and capabilities to solve another area that requires consistent communication – human resources.
If you have the WhatsApp Business API, let's take a look into some of the functions of HR that you can solve using a WhatsApp solution provider. ‍
What are the benefits of WhatsApp automation for HR?
WhatsApp can be used in a number of ways in HR. But let's take a look at some of the common use cases we're seeing organizations implement:
1. For making company wide announcements 
You can use the WhatsApp broadcast feature to notify all your employees about holidays, policy changes and other important information. Since such emails tend to get ignored more often than not between all the work communication, WhatsApp is more effective at getting the message conveyed.
2. Address common employee concerns 
HRs have to often address queries related to holidays, policies, salaries and other concerns. Some of the repetitive answers can be easily automated with the WhatsApp Business API by setting up FAQs. This can help save a lot of time for the HR, who can then focus on issues that require more human interaction or technical help as HR software.
3. Make document collection interactive 
HRs typically find it difficult to follow-up and collect documentation from employees on the traditional channels like email, where conversations run into lengthy email chains. With WhatsApp, an HR can make the process more streamlined, intuitive and faster – since most of us carry important documents on our smartphones. Using a WhatsApp Business API solution, you can combine multiple features to collect images, PDFs and videos from employees.
4. Make your preboarding engaging  
If you are currently recruiting, you can use WhatsApp to make the process more engaging for candidates. Keep your shortlisted candidates from dropping off by sending them information regarding your hiring process, your company vision and mission, team culture by using ChatGPT for WhatsApp Business. Since the best of talent is always comparing jobs at different organizations at any given time, it's important to stay on top of their minds.
5. Make onboarding more engaging 
Similarly, you can also reduce the churn during the onboarding process by making it more natural and easy to follow using WhatsApp. With the help of WhatsApp Business platform, you can also make your onboarding process more conversational. From laying out the first steps to take on the first day to making team introductions at scale, you can leverage multiple WhatsApp business features to onboard your employees. ‍
Conclusion
Using WhatsApp Business for HR processing can help bring back the human touch to conversations between employees and organizations, on a channel that's easy to use for both. With the help of WhatsApp Business API, HRs can set up workflows to keep employees engaged throughout their lifecycle and make company announcements more heard.
Ready to explore WhatsApp automation for HR? Sign up for your WhatsApp Business API live demo today.