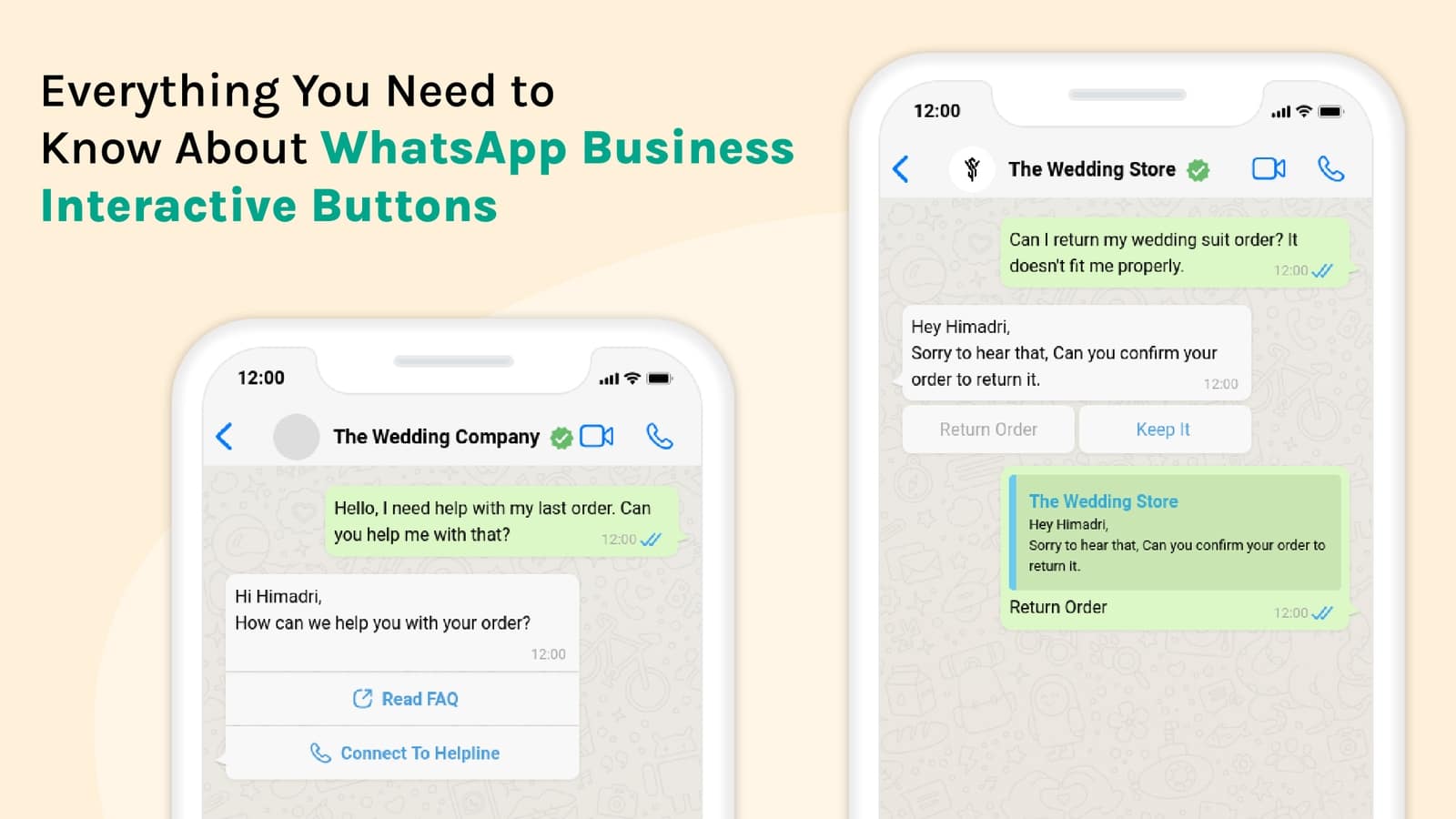 WhatsApp Interactive Message: Types & how to create Whatsapp button?
One of the latest offerings of WhatsApp business is the introduction of WhatsApp interactive message buttons which allows businesses to expand content beyond the basic text and media-based templates.
Let's learn more about the details of WhatsApp Business interactive messages.
‍What is WhatsApp interactive messages button?
While WhatsApp chat buttons or widgets embedded on your site give your customers the ease to connect with your business with just a click of the button, WhatsApp Business API Business  interactive buttons enable you to create simple interactive messages where customers don't have to type out their responses but only click to confirm their preference.
How to activate WhatsApp interactive buttons? 
To activate interactive buttons on WhatsApp, you need access to WhatsApp Business API. This is made available by WhatsApp Business API providers like Interakt. 
Interakt will not only help you gain access to WhatsApp business API features and tools that you can benefit from.
How do you add a button on WhatsApp? 
WhatsApp interactive buttons are added to WhatsApp template messages. These are pre-approved messages sent as notifications to customers.
You can add WhatsApp buttons when you create a WhatsApp template message adding it to text or media templates (which contain images or videos).
What are the types of WhatsApp interactive buttons?
There are two types of WhatsApp chat buttons that WhatsApp Business API currently offers-‍
a) Call to action:
With just a click, this button allows the user to visit a website or call a phone number.
When sending a notification, you can add up to 2 calls to action buttons with 25 characters each with a maximum of one phone number and one link to a website.
For example, if you want to share tracking details of products dispatched, you don't need to type out details such as the name of the delivery partner, the tracking number etc. You can simply share a "track package" button along with a "contact us" button. The customer doesn't have to type out any information, all they have to do is click on the "track package" button and they will be redirected to the delivery partner's website. By clicking on the "contact us" button, the user will be connected to your customer support team.
‍
b) Quick reply:
These are buttons that can be used to get a quick response from customers. You can create a maximum of 3 buttons that users can choose from to reply quickly to your message. Each button can contain up to 25 characters.
For example, if you wish to inform your customer that their order has been delivered, you can create a message that reads like this-
Dear XYZ, we have delivered your order. Did you receive your package?
And the quick reply button options can be "Yes" or "No".
Add quick reply buttons to your message templates on interakt and keep your dialogues short, simple and straightforward.
‍
What are the steps to activate WhatsApp interactive button?
All WhatsApp interactive buttons have to be added to WhatsApp template messages.
If you are new to WhatsApp Business API, you will need to sign up with a provider like Interakt. 
Once you have signed up on Interakt, follow these simple steps to add WhatsApp interactive buttons to your WhatsApp template messages.
Step 1. Log into your Interakt dashboard.
Step 2. Create a template by clicking on the 'create template' icon in the composer section.
Step 3. Pick a name for the template and choose the relevant category from a drop-down list whether it's a payment update or an update on an order shipped or an update on a reservation made by the customer.
Step 4. Fill in the other information like header, footer etc.
Step 5. The buttons section allows you to choose between a 'call to action' or a 'quick reply'.
Step 6. The WhatsApp template message which contains the button has to be approved by WhatsApp before it's sent out to users.
Step 7. Once approved, the button is automatically a part of the message that's sent to customers.
What are the benefits of the WhatsApp interactive button? 
With WhatsApp interactive message buttons, businesses can reach out to their customers, fast-track sales, and drive business growth at scale. By integrating Interakt into their communication channels, businesses can:
1. Recover abandoned carts with automated reminders on WhatsApp, which can help to increase sales and reduce lost revenue.
2. Sell more by sending product catalogs on WhatsApp, which can help businesses to showcase their products and services directly to customers.
3. Track, manage, and respond to customers faster with the multi-agent shared team inbox, which allows businesses to handle customer inquiries and support tickets more efficiently.
4. Confirm COD orders within a single click, which can streamline the order confirmation process and reduce delays.
5. Send timely and automated payments, orders, and shipping notifications, which can help to keep customers informed and improve the overall customer experience.
6. Respond to messages faster with rich-media files, quick replies, and pre-approved WhatsApp templates, which can help businesses to provide faster and more effective customer service.
7. WhatsApp interactive buttons provides a comprehensive set of features that can help businesses improve customer engagement, increase sales, and streamline their business operations.
Who can use WhatsApp Business API interactive message button? 
Only companies that use WhatsApp Business API can incorporate WhatsApp chat buttons into their messages.
Get access to WhatsApp Business API today and create interactive messaging templates that simplify your conversational flows.