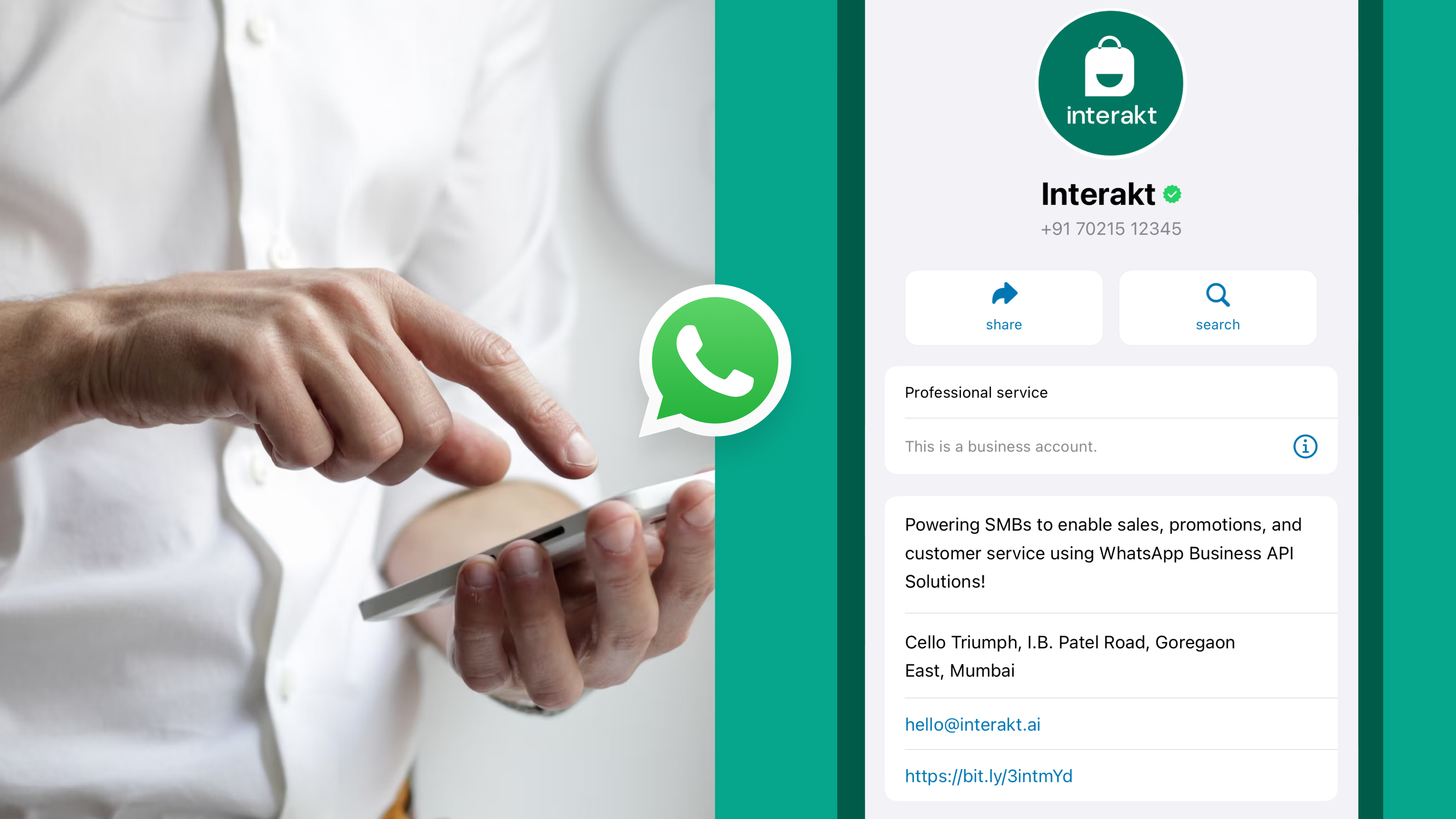 WhatsApp Business Description: How to effectively use it with best experiences, samples and templates
Creating a WhatsApp Business profile should be at the top of your to-do list if you haven't done so already. With competition increasing every day, using WhatsApp as a top marketing and customer service channel is crucial. However, many businesses overlook the importance of optimizing their profile, specifically the WhatsApp Business description.
Neglecting this essential area hinders effective communication, fails to convey your brand identity, and limits customer engagement and growth potential. To stand out from the competition and make a stunning first impression, it's vital to craft a clear and engaging WhatsApp Business description that captures the essence of your brand. So, let's explore the craft of writing a clear and engaging WhatsApp Business description to make the most of this platform. 
What is WhatsApp Business description?
A WhatsApp Business description is a brief yet impactful representation of your brand that appears in your WhatsApp Business Profile. It plays a vital role when customers view your contact details, so creating a strong and compelling description is important. 
With a well-crafted WhatsApp Business description you can instantly grab customers' attention, encourage them to engage further and leave a lasting impression. This increases your chances of attracting and retaining customers on the platform. 
Why should you work on your WhatsApp business description?
A compelling WhatsApp Business description is a powerful tool to engage customers and guide them through their buying journey. By investing time and effort into perfecting your description, you can effectively communicate your brand's unique value proposition, entice customers to explore your offerings, and ultimately drive conversions. Don't underestimate the impact of a well-crafted description—it's your opportunity to make a strong first impression and maximize your business's potential on WhatsApp.
Here are some more advantages of crafting a clear Whatsapp Business Description: 
• Build a professional image
A well-crafted business description gives your WhatsApp profile a professional and authentic look, establishing credibility and trustworthiness. Remember that customers only like engaging with brands that seem credible. 
• Help customers understand your brand better
With a concise and descriptive overview of your business, you can help potential customers quickly grasp what you offer and how it can benefit them. Let's be honest, no one likes browsing through multiple pages to get a hang of business offerings. 
• Increase engagement and conversions 
Customers who clearly understand your business through your description are more likely to reach out and engage with you, leading to potential conversions and business growth.
How to add a WhatsApp business description?
Incorporating a WhatsApp Business description into your profile is a simple and seamless process. Just follow these easy steps to include a description that reflects your brand and its unique value proposition:
• Begin by launching the WhatsApp Business app on your device.
• Access the "Settings" section by tapping on the three-dot menu at the screen's top-right corner.
• Inside the Settings menu, locate and select "Business settings."
• Look for the "Profile" option and tap on it.
• You'll find an option to add or edit your business description within the Profile section. Simply tap on that option.
• Craft a concise and compelling description that effectively captures the essence of your brand and its distinguishing characteristics. It's worth noting that the character limit for the description typically hovers around 139 characters.
• After entering your desired business description, tap on "Save" or the corresponding option to update your profile with the new description.
That's it! Your WhatsApp Business profile will now proudly showcase the description you provided. Remember to periodically review and update your description to ensure it accurately represents any changes or updates in your business offerings or messaging.
What are the best examples of Whatsapp business descriptions?
Now let's learn how to write a WhatsApp Business description from some of the top brands out there. You will find a touch of comfort, brand history, USP, top offerings and more in these descriptions. Make sure you get inspired and use a blend of these ideas to craft your next best WhatsApp description. 
1. Let's Dress Up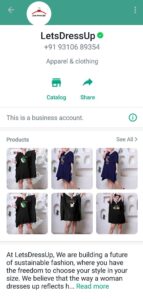 Let's Dress Up, a fashion clothing brand uses their WhatsApp Business description to not just share what they sell, but also reinforce their brand vision and mission. This brings in the interested buyer almost instantly by making them a part of the storyline. 
2. The Design Cart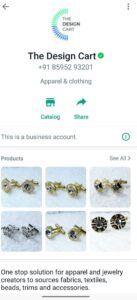 A brand known for enabling fashion and apparel businesses with the best of raw materials, The Design Cart uses the business description to highlight the category of products they sell. They also specifically mention who they're addressing with their products, making the description more effective. 
3. Yes Madam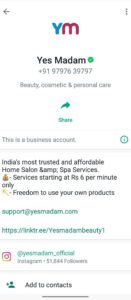 A business known to provide beauty, cosmetic and personal care services, Yes Madam uses the WhatsApp Business description to highlight their value proposition. They mentioned how affordable their services are and how the consumer can also use their own products with them!  
4. Cellbell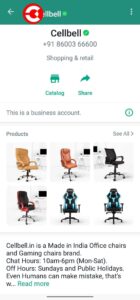 A popular office and gaming chairs brand, Cellbell actively uses WhatsApp to help consumers buy the right products. Their WhatsApp Business description clearly mentions the type of products they sell, and their availability to provide shopping assistance. 
5. Berrylush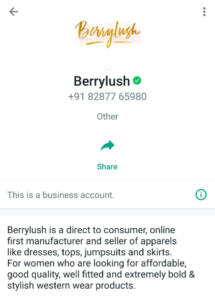 DTC companies like Berrylush rely heavily on WhatsApp marketing and thus need to have a well-detailed description. They showcase their major inventory of skirts, dresses, tops, and jumpsuits for women. They also highlight the quality and appearance of their products. They mention the 'affordable' factor, which makes it an instant YES for customers.
What are some WhatsApp description samples you can use to customize and create yours?
Now that you have been through some of the best ideas for WhatsApp descriptions, let's look at some customizable samples to help yours. 
1. A captivating sales pitch.
A powerful sales pitch and call-to-action are two crucial elements of a winning WhatsApp business description. Here are some samples you can refer to. Notice how they focus on telling a unique story and being environmental friendly. Mentioning such strong causes in your WhatsApp description catches instant attention.
• Unleash your creativity with our handcrafted artisanal jewelry. Each piece tells a unique story, allowing you to express your individuality and make a statement that is uniquely yours.
• Find the perfect blend of fashion and comfort with our sustainable clothing line. Embrace the style that doesn't compromise on ethical values and join the movement towards a greener fashion industry.
2. Using a friendly approach.

Keep your WhatsApp business description friendly and approachable by using simple, jargon-free language. Think of it as being business casual in your communication style. For instance, notice how we focused more on the experience rather than the product features in the following example. 
• Embark on thrilling outdoor adventures with our top-notch gear. Whether you're into hiking, camping, or any outdoor activity, we've got you covered. Discover a wide range of high-quality equipment and essentials that will make your outdoor escapades truly unforgettable. Get ready to explore the great outdoors like never before!
• Transform your home into a sanctuary of comfort and style. Discover our curated selection of furniture and décor that reflects your personal aesthetic.
3. WhatsApp Business Descriptions targeting special events 
During festivals and special events, make your business stand out with a creative description that reflects what you offer and what you believe in. With these descriptions, you can instantly capture customer attention and make these occasions truly unforgettable.
• Kindle romance on Valentine's Day with our handcrafted chocolates. Indulge in divine flavors and beautifully packaged treats that will captivate your loved one's heart. It's the perfect way to express your affection.
• Make birthdays unforgettable with our expert party planning services. From themed decorations to delicious treats, we handle every detail for a stress-free and memorable celebration. Sit back, relax, and let us bring the magic while you enjoy the special day!
4. Prioritizing Customers for Business Success
Make your customers your top priority. Show them that providing excellent customer service is your brand's core value. For instance, if you provide overnight delivery, mention it in your WhatsApp Business description. Here are some more examples for your reference: 
• Experience hassle-free customer service on WhatsApp. Connect with us for personalized recommendations and prompt responses. We're here to make your shopping experience seamless and satisfying.
• Tired of the extra waiting time after ordering your favorite products? Enjoy our overnight deliveries and surprise your loved ones on special occasions. We are here to update you with all your questions, concerns, and tracking details. Reach out to us and discover the difference of personalized support.
5. Consistency: The Key to Brand Success
Consistency is key for a shining brand. Your business description is the friendly face that greets users, building trust and loyalty. Infuse your brand personality consistently to create a lasting impression. Let your brand take the spotlight and leave its mark. 
• Step into the captivating world of our handcrafted jewelry. Each piece is carefully crafted with attention to detail, featuring beautiful gemstones and intricate designs. Discover the perfect accessory to enhance your style, and place your order today!
• Explore our collection of organic skincare products, specially created to nourish and rejuvenate your skin. Each product is made with natural ingredients, from cleansers to moisturizers, to give you a luxurious self-care routine. Treat yourself and order now for a pampering experience!
Remember to tailor these samples to align with your business offerings, values, and target audience. Craft a description that accurately represents your brand and captivates your customers, enticing them to engage with your business on WhatsApp.
Wrapping up
In conclusion, the WhatsApp Business description is crucial for creating a trustworthy and reputable impression of your company. It's more than just a straightforward text box; it's a significant chance to establish credibility with clients. You may grab your audience's interest and persuade them to learn more about your goods by writing an intriguing and distinctive description.
Book a demo with Interakt today, and let us guide you in harnessing the true impact of a well-crafted WhatsApp Business description. Our team of professionals is committed to assisting companies like yours in optimizing their profiles, coming up with appealing descriptions, and maximizing WhatsApp Business. Don't pass up this fantastic opportunity to grow your company.