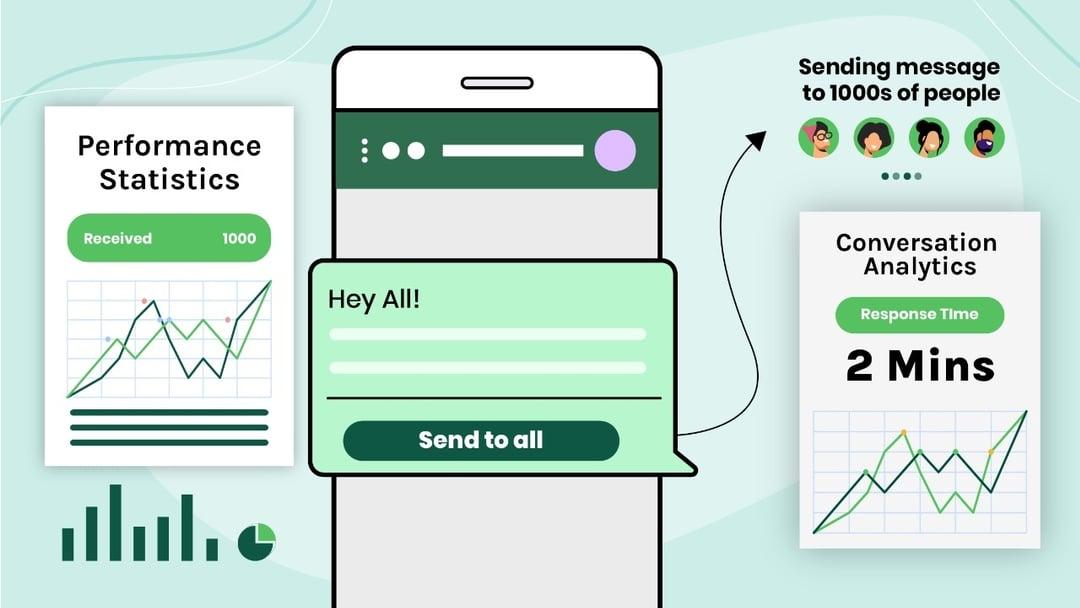 WhatsApp Chat Metrics tracking: Know important metrics to track performance and efficiency
Important WhatsApp Chat Metrics to Track
Today, many companies are using messaging apps like WhatsApp for customer support. When people want to communicate with brands, they want it most convenient and that is made possible by platforms like WhatsApp.
Customers want solutions and they need them quickly- if your business can provide that, customers will be pleased to transact with you.
WhatsApp live chats facilitate real-time conversations for businesses allowing them to build lasting relationships with customers.
How do you check if your live chat is working effectively? In other words, how is live chat effectiveness measured?  
Deploying a live chat is only the first step towards improving customer service and customer satisfaction. To continuously improve the quality of your chat support, you need to measure its performance. Without this, it is difficult to know what's working in your favour, what's not and how you can improve the process.
Enter live chat KPIs.
‍
What are the KPIs in WhatsApp chat process? 
Key performance indicators or KPIs are performance measurements that indicate the effectiveness of your WhatsApp chat process. Measuring KPIs involve tracking important WhatsApp live chat statistics to make sure that goals and benchmarks set are achieved and your customers are happy.
‍
How is WhatsApp performance measured? 
Here is a list of the most important performance metrics that you must keep a watch on to measure the effectiveness of your customer support team.
‍
1) Total Number of Chats
This is one of the easiest metrics used to determine success. It is the total number of chats that you have had with your customers on WhatsApp during a specific period- it could be a day, a week or a month. It also helps gauge the effectiveness of a WhatsApp campaign as that will lead to a direct increase in the total number of chats.
‍
How to improve chat quality on WhatsApp?
Try to segregate the number of live chats into the following categories and set goals for each:
• Responded- The number of chats which your agents have responded to.
• Resolved- The number of customer queries that were resolved and closed.
• Missed- These are chats that have not been attended to. Research shows that 21% of all live chats go unanswered. You must follow up on missed chats as soon as possible.
‍
Tips to improve chat quality on WhatsApp-
If your chat volume on WhatsApp is low, it could mean that your customers prefer an alternate channel for communication or that you aren't easily accessible. You can consider adding the WhatsApp chat button in places like your homepage, product page or pricing page. You could also add the WhatsApp chat button to Facebook posts and Ads that click to WhatsApp.
2) First Response Time 
The first response time, also known as the First Reply Time is the amount of time it takes for an agent to respond to a chat request. This is an important metric to measure as the whole purpose of using WhatsApp is to facilitate instant communication between you and your customers.
This metric is a direct indicator of customer satisfaction. The longer your first response time is, the unhappier your customers will be. It simply means that customers are made to wait longer to get a response from one of your agents.
What is the ideal live chat response time on WhatsApp? 
The ideal live chat response time is between 6-15 seconds. That's right, your customers expect a response from your business in less than 15 seconds.
Tip to improve live chat response time on WhatsApp: 
1. If a customer has reached out to you and you do not have an immediate solution to their problem, send out a simple message letting them know that their request is received and will be looked into at the earliest. This will assure them that someone is attending to their query and it will also give you time to work out a solution.
2. Set up automated WhatsApp template messages to reduce response time. These are messages that are pre-approved by WhatsApp and sent out as automated personalised notifications keeping customers informed on the go. You can also create 'away messages' to be sent out if a customer messages you when you are out of office. It will let them know that you are unavailable to attend to them immediately but will get back to them.
3. Ensure you have enough trained agents to handle the expected chat volume. You may need to add more agents if chat volumes increase at a specific time of the day or during weekends.
3) Average Response Time 
It is the average amount of time taken by an agent to respond to a message.
This metric is calculated by dividing 'the total time that has passed till a chat reply was sent' by the 'total number of chats held'.
If the average chat response time is long it could either mean that your agents are overwhelmed with the number of chats coming through or that they are struggling to find solutions to customer queries. On the other hand, faster response time leads to increased customer satisfaction and lower cart abandonment rates.
‍
Tips to improve Average response time on WhatsApp-
1. Ensure that your agents are well trained to address customer queries.
2. Make sure you have enough agents to handle peak hours.
4) Average Resolution Time
Average resolution time is the time taken by your agents to successfully resolve a customer's query. Live chat agents are handling between 1 to 3 conversations at a time. Even if they can multitask, customers connecting with a business still expect a faster resolution time. And so, this metric is one of the most important metrics to track as it's a direct indicator of an agent's preparedness and operational efficiency.
The ideal resolution time across all industries is under 8.30 minutes. If your average resolution time is low, it implies that your agents are well trained, possess good knowledge about your products or services and are able to manage their workload well.
‍
How to measure Average Resolution Time on WhatsApp? 
Here is the simple formula to calculate the Average Resolution Time.
ART = Total resolution time across all chats ÷ Total number of resolved chats.
‍
Tips to improve Average Resolution Time on WhatsApp–
1. Ensure that your agents are well trained to handle chats effectively.
2. Provide training to your agents to develop empathy towards customer issues.
3. Use the Whatsapp quick replies features to deliver faster replies to customer FAQs
4. Assign chats to the right team for faster response.
5) Chat to Conversion Rate 
Another key performance metric to calculate is the chat to conversion rate. It is the total number of people who have performed a specific action (that indicates a conversion) out of the total number of people who have chatted.
The definition of conversion would vary from company to company depending on its business goals- it could be a purchase, a sign up for a newsletter or a repeat purchase. For example, if a customer messages you regarding a product query and ends up buying it- that would mean a converted customer.
Greeting messages sent out at the right time enables visitors to start a conversation with you. Shoppers who are invited to a chat are more likely to convert into a buyer. According to a survey conducted, 38% of shoppers said that a good live chat session led them to make a purchase.
By tracking this metric you will get to know if the efforts of your agents are fruitful and if they are leading to a conversion.
Tips to improve Chat to Conversion Rate–
1. Prepare product knowledge articles that your agents can refer to while addressing queries
2. Train your support team on product and upselling practices
6) WhatsApp Business Statistics
This is probably one of the most basic of all chat performance metrics to monitor. It is a feature that is available on the WhatsApp Business App which allows you to track the total number of messages that were sent, delivered, read and received. To check the chat statistics on the WhatsApp Business App, follow the simple instructions given.
The chat statistics indicate how your agents are performing with reference to customer interactions and conversations.
What is the importance of monitoring WhatsApp live chats 
• Live chat metrics help you evaluate how well your sales agents are performing
• It gives you an understanding of whether your agents are providing the right solutions to your customers and how quickly they are able to resolve issues
• Live chat performance metrics give you insights into the quality and effectiveness of your chat process, highlighting what is working for you, what is not and what areas need improvement
• It also provides you with opportunities to serve your customers better
By keeping a close track of your customer service agents and the chat process, you can deliver an outstanding customer chat experience, get more happy customers and accelerate your business growth.
‍
How to track sales chat performance metrics on WhatsApp API?
Some of the chat metrics that we have covered here cannot be tracked easily on the free version of the WhatsApp Business – the WhatsApp Business App. However, it is possible to monitor them if you have access to WhatsApp Business API like Interakt. You can not only view but track and analyse these metrics to evaluate how well your agents respond and resolve customer chats.
If you are interested in getting the WhatsApp Business API, Interakt, the official WhatsApp Business API provider will help you get onboard seamlessly. With access to WhatsApp Business API, you can delight your customers with excellent customer service. Sign up with Interakt today to get your 14-day free trial.