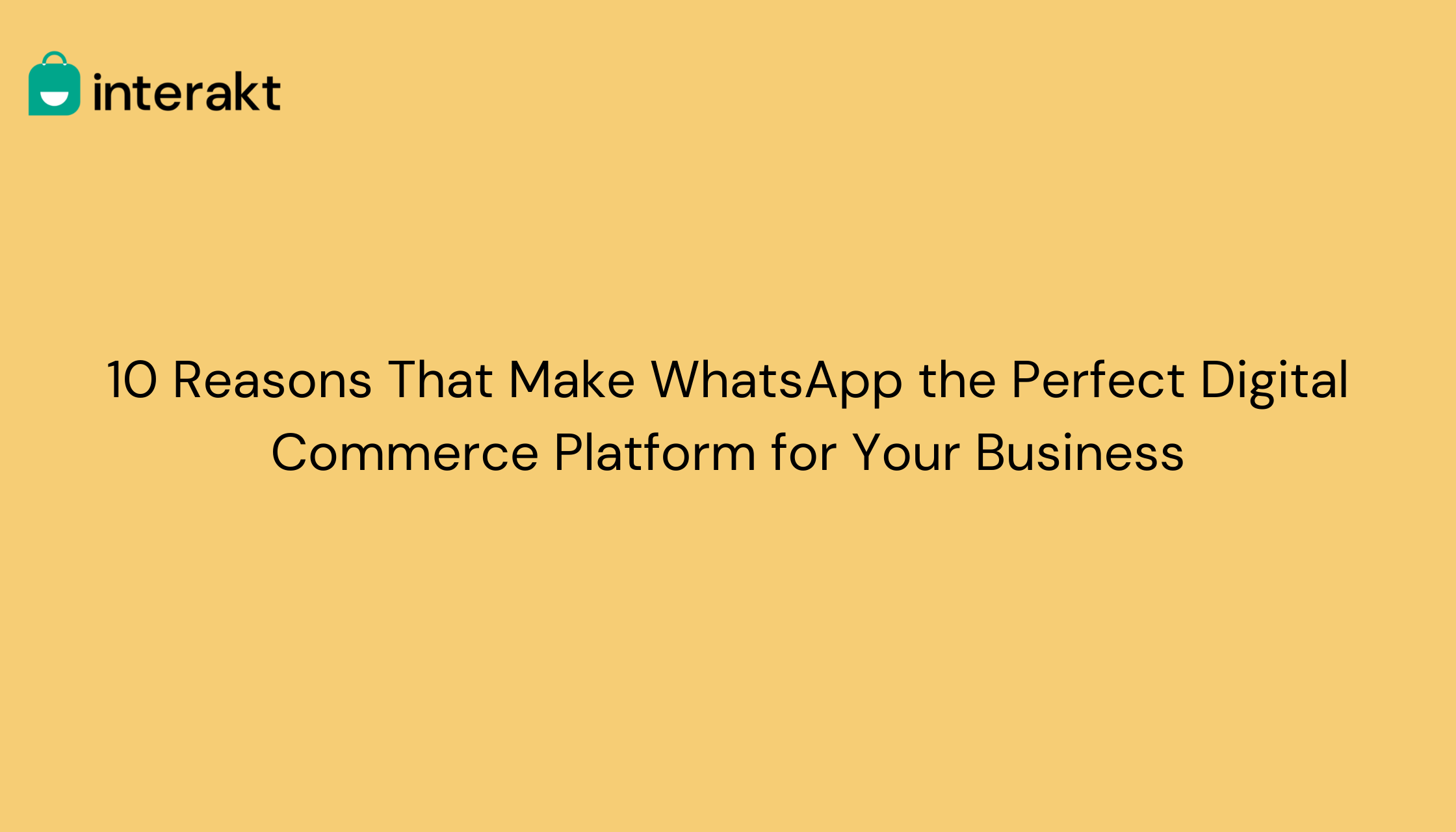 10 Reasons That Make WhatsApp the Perfect Digital Commerce Platform for Your Business
Over the last couple of years, we have witnessed a significant transition in the way people interact with businesses. They prefer to message a business rather than call or email. As we are still reeling from the effects of the pandemic, more and more people prefer to transact online rather than head to physical stores. Messaging apps like WhatsApp have become the go-to platforms for businesses and individuals to connect. One of WhatsApp's top priorities is to become a platform that helps businesses of all sizes to widen their reach and distribution. The Facebook-owned platform is immensely popular with a massive user base of over 2 billion users worldwide. An average user is believed to check WhatsApp 23 times a day! It has become a quick and convenient way for people to stay in touch.
With the launch of WhatsApp for Business, businesses can now make the most of WhatsApp's top notch solutions for customer engagement.
WhatsApp provides two options for businesses to support their customers and attain growth; both of which have seen tremendous acceptance and growth in the last couple of years.
WhatsApp Business & WhatsApp Business API
The free version of the WhatsApp Business called the WhatsApp Business App was launched keeping small businesses in mind. It was designed to help you reach out and promote your products or services to customers. Its key features include a business profile, a 'shopping button' which makes it possible for customers to browse through your products; and the recently launched 'carts button' which allows customers to add items to a cart and send it as a message to the business.
The WhatsApp Business API is an end-to-end solution launched to help fast-growing SMBs engage effortlessly with their customers. This is an advanced version of the WhatsApp Business solution, which can be accessed and managed by multiple users using multiple devices. It's designed to help you grow at scale even at an international level. Now if you are game on taking the WhatsApp Business API route, it's best to partner with a WhatsApp Business API Solution Provider like Interakt.
Interakt was developed to help you manage all your customer interactions in a single place — WhatsApp. Its top-notch features will give you the ability to:
• Reach out to customers instantly
• Manage customer expectations with ease
• Provide quick responses to customer questions
• Maintain a record of customer conversations and transactions
• Sell your products effectively
• Recover abandoned carts
• Send timely alerts and notifications
• Build loyalty and trust among customers
Interakt will act as your growth partner, supporting you to stand your ground amidst tough competition from the likes of e-commerce giants like Amazon.
What is WhatsApp Commerce?
As WhatsApp continues to introduce new services to cater to the growing needs of businesses, it is perceived not just as a tool for engagement but a platform that supports conversational commerce. This has led to the creation of the term WhatsApp Commerce. Simply put, it refers to the use of WhatsApp as a channel to sell products and services. Multiple reasons hint that WhatsApp is the future of Commerce.
Today, WhatsApp Commerce is extremely useful for DTC brands looking to scale their customer experiences. That said, WhatsApp only charges you for the services it renders. It doesn't charge you commissions on listing products or demand a share of your profits. It is a channel that connects you with people on a platform they are most comfortable and familiar with, thus opening up opportunities to turn simple conversations into personalized experiences.
Top reasons why WhatsApp is the preferred platform for commerce
Let's now dive into the reasons why WhatsApp is the right commerce platform for your business.
‍
1. WhatsApp's immense popularity 
For starters, WhatsApp is an extremely popular channel, it is the most popular instant messaging platform out there. It is being used in more than 180 countries and is available in nearly 60 languages. An average user spends about 38 minutes on the app daily. Apart from that, there are 175 million people who message or interact with a WhatsApp Business Account. Any message sent on WhatsApp is hard to go unnoticed. WhatsApp messages get read within the first 5 minutes of it reaching an individual.
‍
2. It is a channel for effective two-way communication 
This essentially means that customers can directly reach out to you if they have any questions or need assistance through WhatsApp. They no longer need to call your business, send an email or wait in long queues to get in touch with your customer service reps.
‍
3. Share rich and engaging content 
Delight your customers by sharing rich media in the form of images, videos, audio files, PDF files and more. This way you can effectively converse with customers and add context to your chats. For example, if a customer has reached out to you with an issue they are facing, you may choose to send video tutorials or screenshots to help them troubleshoot the issue instead of sending detailed messages or instruction sheets which would be tough to follow.
4. Sell products and services using WhatsApp Catalogs and carts 
With the help of WhatsApp for Business, you can share your products and services with customers through a product catalog, let them select and add items to a cart and send their list as an order in a message. All this can be done without leaving the chat.
By introducing the carts feature, WhatsApp had made it convenient for people to shop on the app. In addition, this feature helps you track orders, close sales and offer better customer service.
‍
5. Drive sales by offering discount coupons 
Use WhatsApp Business API to send template messages that include discounts, coupons and offers. This is a great way to draw the attention of existing and prospective customers to your business and its products.
6. Collaborate efficiently with a shared team inbox
A shared team inbox allows multiple agents to log in from multiple devices and work from a single WhatsApp account. This is extremely beneficial if you are having to deal with a large number of incoming messages. This feature gives you the ability to manage customer conversations efficiently by assigning chats to the right people. It ensures that no conversation is left unattended for too long. With a shared team inbox, your team members can work together seamlessly to resolve customer queries and complaints.
7. Gain valuable insights through chat metrics 
WhatsApp Business API on Interakt enables you to track key performance metrics like Average Resolution Time and First Response Time to measure how quickly your agents respond to customers. Monitoring these metrics will provide you with actionable insights to make sound decisions.
‍
8. Seamless integration with 15+ third-party solutions
Interakt supports seamless integrations with leading CRMs and e-stores. The integration will help you manage your daily tasks more efficiently and help you generate more leads.
9. Upcoming features to look out for 
WhatsApp intends to roll out additional features for the benefit of its users, to further empower them in their quest to improve customer service. Two powerful features that we can look forward to are 'Order Placement' and 'Order Fulfilment' which will be carried out entirely on WhatsApp. These new features will support the existing ones to boost sales through WhatsApp.
10. Send custom replies and intent-based WhatsApp messages to increase engagement 
After a customer has reached out to your businesses, send them automated messages to keep them informed on the go.
4 types of messages that you can set & automate:
1. Welcome messages
Use these messages to greet and introduce your business to new customers.
2. Out of Office messages
Send this message when a customer has reached out to you beyond your office hours.
3. Delayed messages
In case you are facing overwhelming chat volumes and are unable to attend to a customer message immediately, let your customer know that you will attend to them shortly with a 'delayed message'.
4. Custom auto replies
Sometimes customers may have a few standard questions to ask which are easy to predict. With the 'custom replies' feature, you can set automated responses to take care of such basic questions. This way customers get instant answers to their questions and your team saves time and effort.
‍
Wait no more, get started with WhatsApp Business API today!
If yours is a growing business looking to expand its reach and engage with customers like never before, WhatsApp Business API is the way forward. Get access to Interakt and power your business growth. Sign up today and get a 14-day free trial.