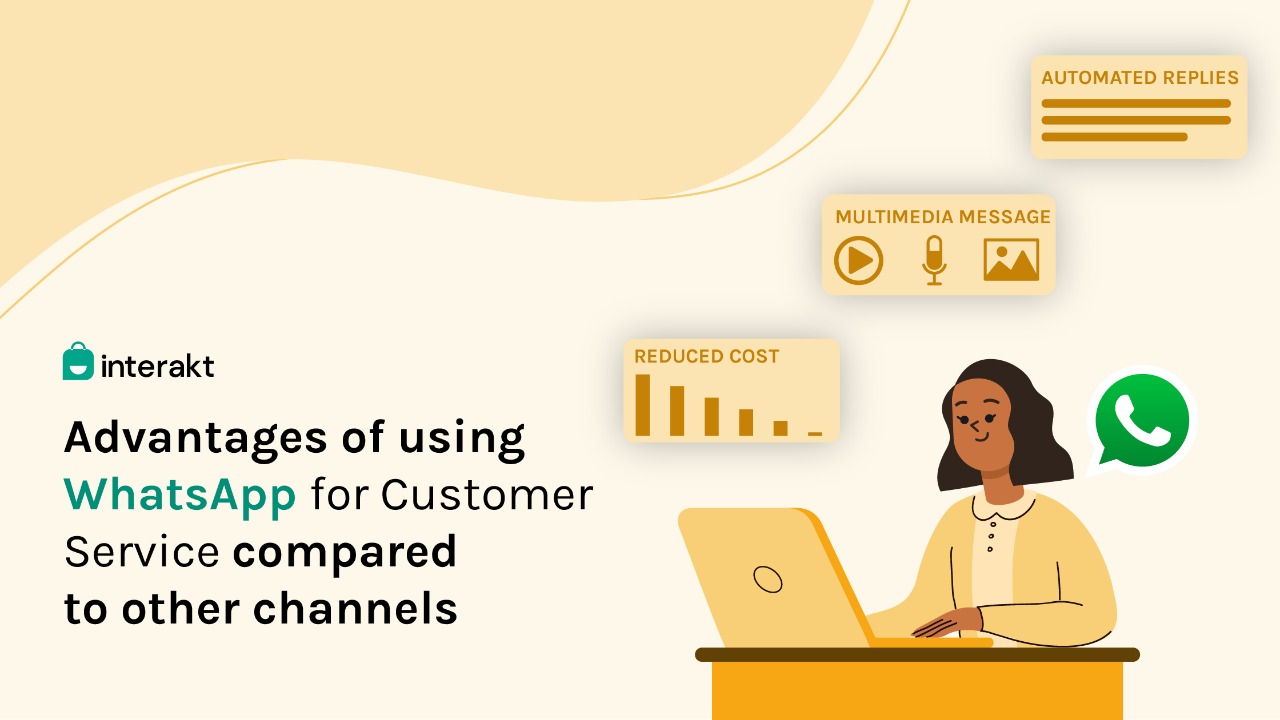 Advantages of using WhatsApp for Customer Service compared to other channels
Running a successful brand today means understanding the importance of having proactive two-way communication with your customers.
Today, consumers do not base their loyalty on just price or product offered by a company. Instead, they prioritise the experience they receive.  It is interesting to note that close to 86% of buyers are willing to pay more for a great customer experience. If you cannot provide them with the best support, they will leave you.
This also means you need to be easily accessible. So, having a multichannel approach is also just as important! However, it can get quite difficult to manage all these multiple channels while also ensuring the same degree of customer service is delivered across them all.
This is where a more instantaneous channel like WhatsApp comes into play. Let's dive deeper into WhatsApp Vs other customer support channels.
WhatsApp vs phone calls for customer service 
‍1. Reduced costs
The major advantage of WhatsApp Business for customer support is that you can create a company profile that helps you display information including your company name, address, business description, email address, website, business hours and also a catalog. All for absolutely no charges at all!
2. Less frustration
No one likes to be kept waiting. Customers want a quick reply to their queries. However, with phone calls, the waiting periods are usually long which can be quite frustrating.
With your WhatsApp Business account however, you can send out instantaneous replies to all incoming messages. This means less frustration so happier customers!
3. It's easier to type it out than to speak
It's always easier to explain something by writing/typing it because you have the ability to edit the text as needed, unlike a phone call, where you have to be as coherent as possible to deliver your concern right to the person on the other side.
It lets you take your time to organize your thoughts and frame it coherently. So, chatting reduces the chances of misunderstanding what the person is trying to say.
4. Automating WhatsApp replies
To provide excellent customer service, you will have to be there for them at almost all times. Well, that can seem quite a task. That is, if you don't automate most of your load.
From triggering automatic WhatsApp messages when your customer takes an action (or doesn't!), to answering gene ric queries about, let's say, faster delivery requests, you can easily automate it all on WhatsApp as compared to conventional phone class.
Interakt can help you grow your business faster with WhatsApp Business API. Check it out today!
5. Clear visual communication
Let's say, a damaged product gets delivered to your customer by mistake. If you use WhatsApp instead of phone calls, the customer can easily share a picture and show what the damage is, which is obviously not possible through a phone call.
Using rich media templates (images, videos, PDFs) with interactive elements like CTA / Quick Reply Buttons, you can grow your business faster with WhatsApp Business API.
WhatsApp vs email for customer service 
1. Modern and flexible
Adaptability is key to survival in the market. Customer's convenience should be your number one priority.
Today, everyone is always on their phones. So leverage that.
One might argue that emails can also be accessed from mobile phones, it is not something that consumers constantly keep checking. Think about the number of times you open WhatApp to check your messages in a day alone!
2. Multimedia
Files shared through emails have to be downloaded first, then scanned for viruses, followed by opening it in different apps depending on the format of the file sent. That is a pretty long task!
Instead you can easily share rich media templates (images, videos, PDFs) on WhatsApp along with interactive elements with no hassle at all.
3. Faster reply rates
A recent survey revealed that 75% of consumers consider fast response rates an important attribute of customer experience.  Now, the average response rate of an email is about 12 hours and can go upto 8 days! And customers expect a speedy response from brands!
Yes, you can automate emails and reduce the response rate, but automated email responses are mainly just standard generic text content with no personalization whatsoever.
WhatsApp, on the other hand, lets you provide immediate responses along with automating personalized replies.
4. Consistency is key
Sometimes, emails can get messy and disorganized.
While some companies might require consumers to fill out a form first and then get back to them through email, others will send their response from a separate email ID, thus breaking the thread of the conversation.
With WhatsApp, consumers and brands will definitely not be facing this issue, since all conversations will be flowing in one dedicated chat window.
WhatsApp vs SMS for customer service
1. Free
Sending or receiving messages on WhatsApp come with no additional carrier charges.
2. Multimedia
As mentioned earlier, sending multiple pictures, files, audio files, documents, etc. on WhatsApp is a breeze. This is unlike SMS.
3. Status of the message
You can easily check if the recipient has received and/or opened the message you sent. With SMS, you cannot even conclude if your message got delivered at all!
4. Identification 
As mentioned in the previous section, the major advantage of WhatsApp Business for customer support is that you can create a company profile that helps you display all necessary information about you.
5. Activity status
You can easily check the last active hours of the user on WhatsApp. Additionally, you can also check if a person is online or is typing a message at a particular time.
WhatsApp vs social media channels for customer service
1. Popularity
As of 2021, WhatsApp has more than 2 billion monthly active users worldwide, becoming the world's most popular mobile messenger app. It ranks Facebook Messenger at 1.3 billion and WeChat at 1.2 billion users each.
2. Features and integration capabilities
Businesses can connect Interakt WhatsApp Business API with Integromat or their existing CRM systems. Similarly, if you have been using Zapier to automate common business workflows, you can also sync the Interakt WhatsApp Business account with Zapier. This will help you easily configure automated WhatsApp notifications. 
Should you be using whatsapp for customer service?
Yes, it is a good practice to continue offering multichannel support. But at the same time WhatsApp has started to lead here because of its instantaneous nature. Additionally, this is an app that has become a part of our day-to-day lives – so we're spending more time on it as well!
Interakt can help you leverage the most of WhatsApp API. It lets you –
• Collaborate with unlimited teammates (agents) to provide superior customer support using a single WhatsApp Business Number
• Reply instantly with quick replies & pre-configured templates
• Enable team collaboration with conversation labels & private notes
• Manage customer expectations with Welcome messages, OOO messages, and delayed response messages
• Track response & resolution times of agents
Sign up for Interakt today and get access to WhatsApp Business API!