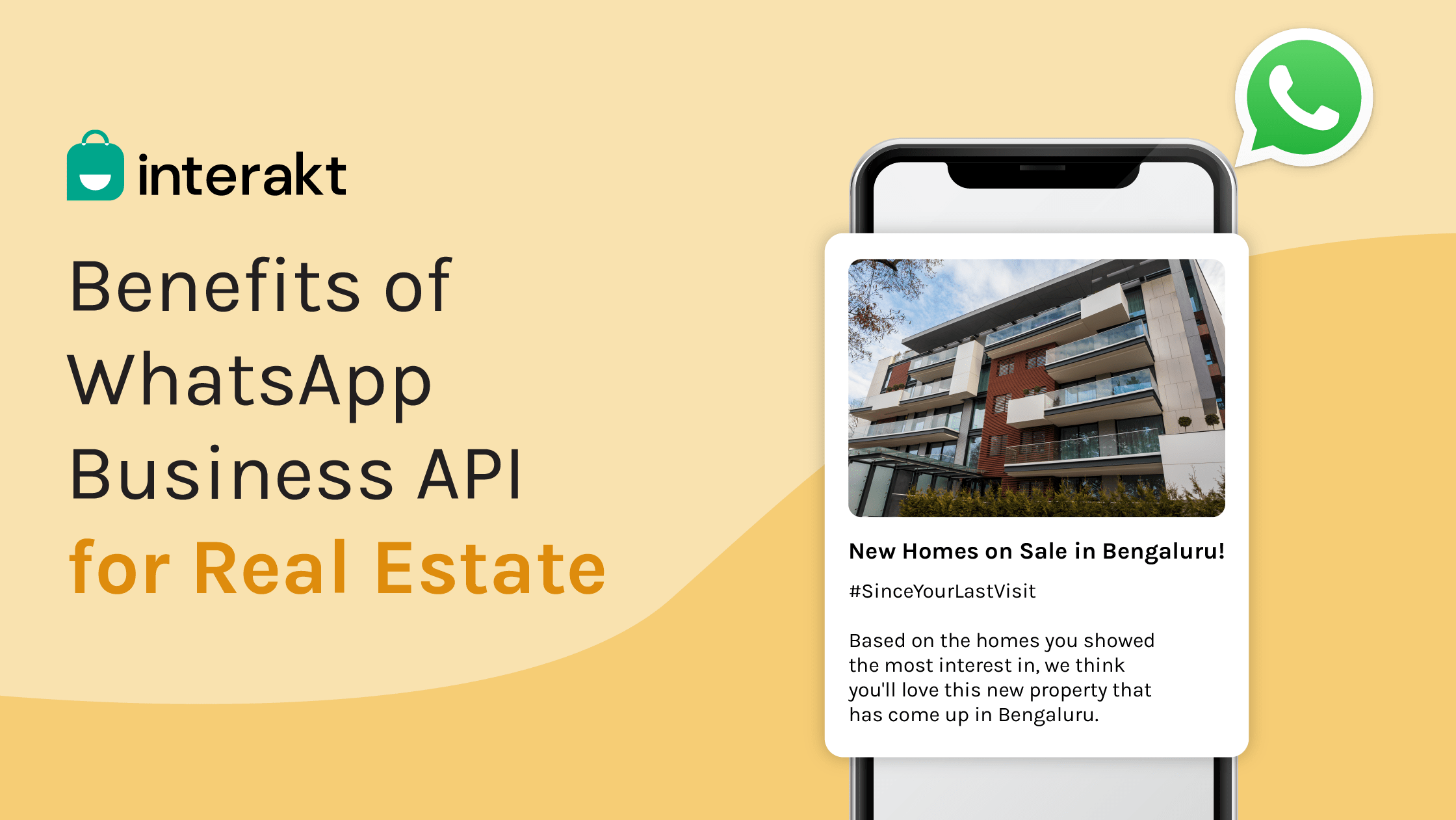 Benefits of WhatsApp Business API for Real Estate
The real estate industry was hit hard by the Covid-19 pandemic. With a lot of customer interactions moving online, real estate agents had to adapt to the new ways of working to stay afloat. They had to get acquainted with digital tools to be able to serve customers better. The real estate process involves constant communication and so real estate companies need a tool that can help them manage constant customer interactions effortlessly. This is where WhatsApp Business steps into the picture because of the ease and convenience it offers its users.
In this blog, we will explore the benefits and use cases of WhatsApp Business API for Real estate.
‍
Use cases of WhatsApp in Real Estate
In the real estate industry closing a sale takes much time and effort. This is a pressing issue affecting real estate companies as they need to constantly communicate with customers to increase the possibility of sales. Since real estate companies are heavily dependent on rich customer engagements, WhatsApp for Business becomes an indispensable tool for them.
Here are a few popular ways you can use WhatsApp for Business to enhance the real estate business
‍
a) Create new leads  
WhatsApp is an excellent platform that instantly provides user contact information such as name, phone number and email ID. With access to this information, you can easily reach out to and nurture leads with the hope of closing a deal.
‍
b) Organize site visits 
Instead of going back and forth with emails and calls, you can easily schedule site visits and customer meetings through WhatsApp. The automated notifications feature on WhatsApp Business API allows you to send reminders to customers as the scheduled date draws near.
‍
c) Conduct virtual tours
During the pandemic, most people were hesitant to leave their homes. This use case of WhatsApp helped real estate agents conduct virtual tours to enable customers to view the property and help them close the sale without any hassles.
‍
d) Enhance customer experience
WhatsApp Business API's shared team inbox allows you to manage all your customer chats efficiently. To top it all, you can go back to customer chats and view the chat history to gauge the customer expectations and tailor your services to meet their needs.
‍
e) Easily handle documentation  
If you see that a customer is satisfied with a property, then it's best to close the sale as soon as possible. With WhatsApp, your agents can easily share important documents such as receipts, agreements and other relevant documents with great ease.
‍
Benefits of WhatsApp Business API for the real estate industry 
A platform like WhatsApp Business API has multiple benefits to offer. Some of them are listed below –
1. 24/7 Customer support
WhatsApp Business enables you to offer 24/7 customer support with its shared team inbox and automated message features providing more opportunities for you to close deals.
2. Ease of use
Whatsapp is a channel that most people are familiar with. They need no prior training to use the app. It's one of the most convenient means of communication today. The app facilitates real-time conversations which can take place seamlessly without any interruptions or delays.
3. Collect feedback
Real estate agents would like to know how satisfied their customers are. WhatsApp is a great platform to send messages to collect quick feedback either after the first meeting or soon after closing a deal. This will help the company get a fair idea of customer satisfaction levels.
4. Set quick replies 
As a real estate company, you may be receiving numerous requests, messages and queries. WhatsApp Business allows you to set quick replies to take on questions that are frequently asked by customers. This will save your agents a lot of time, allowing them to focus on more important tasks.
5. Share engaging content 
The platform allows you to share rich media in the form of videos, audio, PDF files and images. Real estate agents can have enriching conversations with clients to lead them to a sale.
Integrate with WhatsApp Business API today! 
WhatsApp Business API will help set your real estate business up for success. Get access to WhatsApp Business API on Interakt to communicate effectively and improve your chances of sales. Sign up today to enjoy a 14- day free trial.