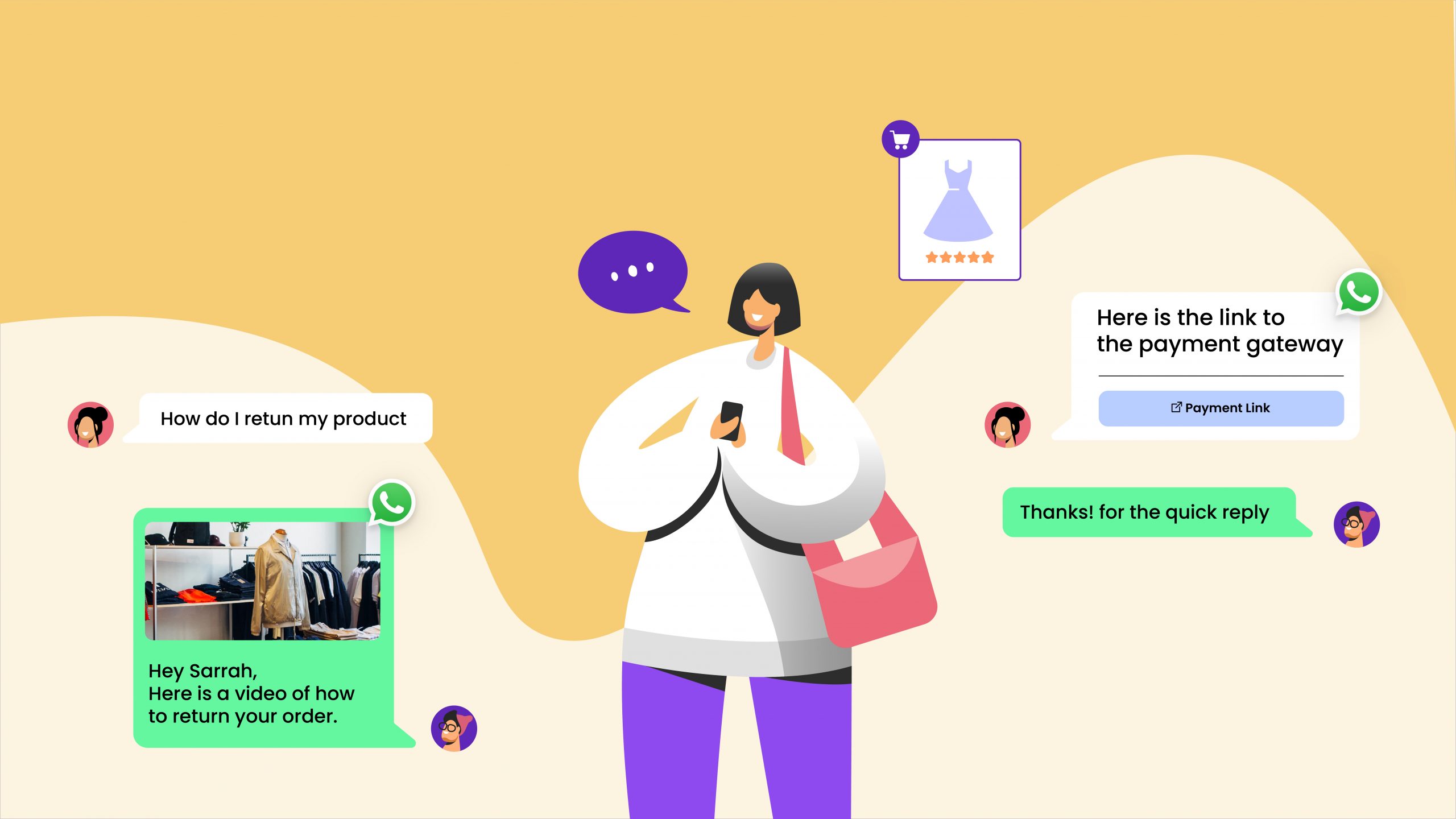 Conversational Commerce on WhatsApp: Guide to e-commerce WhatsApp marketing | interakt
The marketing world has a lot of buzzwords that surface every year. It could be a tactic, a hack, a template or a process that gets everyone talking. Often, these trends fade away after a couple of weeks giving way to new ones. But sometimes, these trends stay on, growing in popularity and gaining the power to change the marketing world and the way brands engage with customers.
One such trend that's here to stay is conversational commerce. The term has made it to the 'must have' lists of many businesses all over the world.
‍So, what exactly is WhatsApp-based conversational commerce? 
In simple words, conversational commerce is a dialogue-oriented form of exchange between a customer and a business.
Communication via messaging Apps such as WhatsApp is by far the most popular way that people communicate today. In conversational commerce, you sell through conversations.
‍How does it work? 
WhatsApp-based conversational commerce opens a dialogue with your customers asking them how you can help, so you can offer the most relevant and useful suggestions to meet their needs.
One can say that conversational commerce on WhatsApp is the closest thing in the digital world that compares to face-to-face customer service.
‍Why is conversation the future of commerce? 
Conversations build relationships. In business, retailers gain the right perspective on who their customers are and what exactly they want. For customers, it means better service.
Conversations are a powerful way to engage with shoppers and they play a key role in delivering the next-level brand experiences.
Here are a few stats from a Facebook survey on why shoppers message brands.
45% of shoppers message brands for product or pricing information
33% of the people found it easier to shop this way
31% of customers took to messaging to get personalized advice on products
‍Will WhatsApp-Based conversational commerce be the next big thing online?
Absolutely! WhatsApp is a channel that lets you reach all of your contacts on a single application. It's a platform that almost everyone you know uses. Here are a few interesting statistics to prove that WhatsApp is at the forefront of conversational commerce.
100 billion messages are exchanged on WhatsApp daily.
86 % of online shoppers want instant and proactive customer support, something that WhatsApp- based conversational commerce can offer immediately.
WhatsApp is an extremely reliable channel with a delivery rate of 99%.
80% of WhatsApp business messages get read within 5 minutes.
WhatsApp supports over 60 languages that people can converse in.
The big difference between conversational and traditional commerce lies in the way the conversations are handled. WhatsApp Business for conversational commerce supports real-time conversations with customers. Not only can you solve complex customer issues with instant replies but you can engage them with engaging WhatsApp Business templates.
Today's customers need quick replies and solutions to queries. They have little to no patience to wait for delayed email responses or for callbacks that may never happen.
‍Tips to ace conversational commerce using WhatsApp 
We have compiled some tips that you can adopt to ace conversational commerce on WhatsApp.
‍a) Quickly respond to customers with engaging messaging formats
Whether you have customer service representatives on board or a chatbot installed, you must maintain a fast response time. A response within 10 minutes of receiving a message, would be ideal. To achieve this, keep your templates ready, enable notifications and create 'away messages' ahead of time.
On interakt, using pre-approved WhatsApp templates, you can instantly respond to customers with engaging messaging formats. You can even automate and schedule bulk notifications to send out to a larger audience at one go. Additionally, you can create 'Whatsapp Quick replies' and shoot them out in just a click to address frequently asked questions.
‍b) Delight your customers with rich and engaging content 
How do you effectively converse with your customers on a messaging app? It's by creating engaging content through texts, images, videos, PDFs, audio files and more. WhatsApp Business API's rich media capabilities enable customer service teams to efficiently respond to product queries and provide the best customer support.
For instance, instead of sending detailed texts and instructions while addressing customer queries, you can easily send out screenshots to troubleshoot the issue.
‍c) Set boundaries – say no to spamming 
While WhatsApp is a platform that provides you with quick access to your customers, it's important to use it judiciously. Do not spam customers with messages. Use WhatsApp to effectively communicate with your customers by way of notifications, alerts and one-on-one conversations.
‍d) Keep your tone conversational and relatable
WhatsApp is a platform where people interact informally with their peers, friends and family. As a business, you need to reflect and match the friendly tone of this channel.
Building a great rapport with your customers is essential for any business. So when a customer reaches out to your brand, you would want the unique personality of your brand to stand out ( like bold, friendly, positive or humorous). You can even use emojis to communicate.
But, make sure you stay professional in tone. If you are using a chatbot to respond to customers, make sure the texts generated are as human as possible.
‍e) Ensure your messages are to the point
Let your responses be short and to the point on WhatsApp. Your customers are always on the move, it's best to keep your replies short and easy to read in one glance. Add quick reply buttons so that it's easier for your customers to reply to messages with just a single click. Avoid sharing too many images from your catalogue. Send only handpicked images with descriptive text and pricing while showcasing your products.
‍f) Provide clear Opt-in and Opt-out
Most people don't want to receive messages from people not known to them. Try and provide clear and explicit ways for customers to opt-in and opt-out of receiving communications from you. Opt-in is the consent given by your customer agreeing to receive messages from your business on WhatsApp.  While collecting opt-ins, it is best to specifically state the type of messages that your customers can expect to receive from your business. Similarly, inform your customers on how they can opt-out of receiving messages from your business and be sure to abide by their request in future.
‍g) Engage in direct two-way conversations on WhatsApp
Although the channel is ideal for sending notifications and alerts at various stages of a customer's journey, it is also a platform for direct two way conversations. Avoid going overboard and messaging customers too frequently.
Be transparent when it comes to return policy and delivery charges. Customers should not be kept in the dark because it can lead to cart abandonment.
Make sure your staff is trained to resolve issues, drive sales and engage your customers to the fullest.
‍h) Simplify payments through WhatsApp
While requesting payments, provide UPI links instead of asking users to share bank details. This not only protects users data but is also a simpler and quicker way for the user to make the payment.
‍ i) Share timely updates 
Provide timely updates to customers starting from order placement to order delivery.
On interakt, you can send pre-approved WhatsApp template messages to keep customers in the loop on every step- from order placement, to order confirmation, to order shipped and order delivered. Soon after a product is delivered, you may also send a follow-up message to your customers seeking their feedback on your product.  If you want to alert your customers about a product that is back in stock, send out an automated notification on WhatsApp letting them know that the product is now available for purchase.
You need to set these campaigns only once and then these messages would trigger automatically after the event has occurred.
How Brands Leverage WhatsApp Business for Conversational Commerce
Let's now look at an example to see how a brand has benefited from WhatsApp based Conversational commerce on interakt.
Home Canvas is an online curation platform for exquisite furniture and decor. They were looking to better manage their customer interactions and customer support on social media channels and decided to move all customer conversations to WhatsApp. 
They wanted to ensure their entire team could view and access customer chats. This way they could respond faster to customer queries, reduce customer wait time and notify customers about cart abandonment. 
To make this possible, Home Canvas decided to partner with interakt. interakt's shared team inbox was just the tool they were looking for. It offered them great flexibility. Their entire team could effectively manage chats and quickly respond to customers. With interakt, Home Canvas was able to engage with customers through the entire cycle of the user- journey from product enquiries to order updates, to after-sales services. They were able to effectively manage all customer conversations on WhatsApp via interakt.
Master conversational commerce with WhatsApp Business APIs
If your business is growing and you wish to tap into the power of conversational commerce, incorporate WhatsApp Business APIs in your communication strategy. The easiest way to get there is to partner with interakt, the official WhatsApp Business APIs solution provider which will power your business communication to newer heights. Get started today with a 14-day free trial!