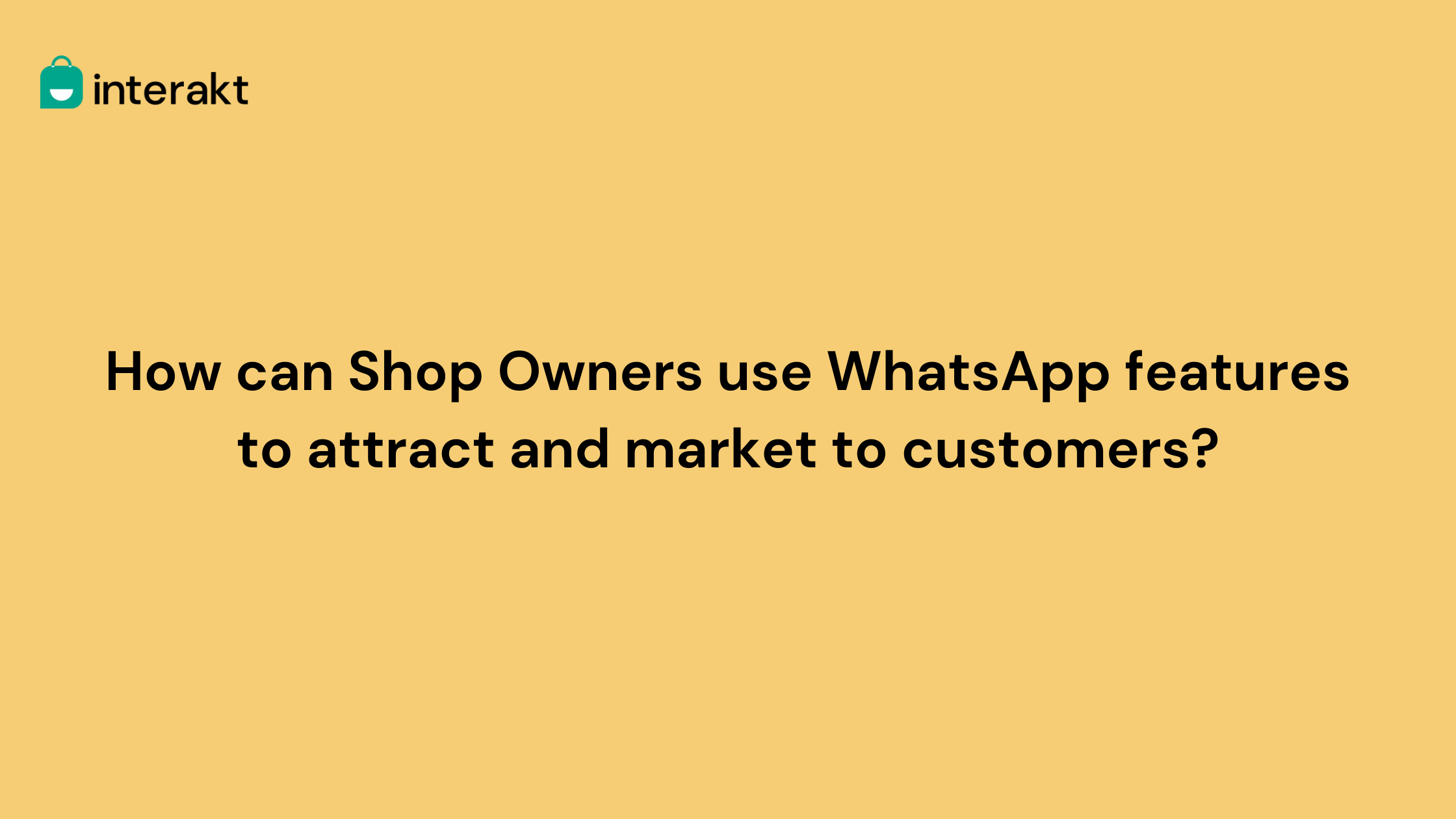 How can Shop Owners use WhatsApp features to attract and market to customers?
Owing to the pandemic, traditional retailers with brick and mortar stores took their businesses online. But when it came to getting in touch with their customers, most of these retailers struggled to bring back shoppers to their storefronts. And as we go back to normal, they struggle to get walk-ins to their physical stores.
The problem? Lack of consistent communication with customers before, during and after the pandemic.
But what's a channel that shop owners can easily put to work and manage for customer communication? WhatsApp. As a person, you're already making use of WhatsApp to network with friends and family. Now with WhatsApp Business and the WhatsApp Business API, you can use it to reach your customers too. Let's take a look at some ways in which you can use WhatsApp communication to market your shop – both online and offline.
Different ways in which shop owners can use WhatsApp to attract and market to customers
‍‍
1. Establish a connect at point of sale 
When someone makes a purchase from your shop, you can ask them to opt-in to your WhatsApp list. This helps you establish a channel of communication that you can later use to promote both your online and offline offers to the customer, and stay on top of their minds with consistent engagement.
‍
2. Announce your online storefront launch 
If you have just launched an online store for your shop, make sure you let your customers know. You can use WhatsApp to announce your online store presence, using interactive messages to also add a link to the website. In addition to your message about the online store, you can also add multimedia files to the same to promote your exclusive offer on first purchases.
‍
3. Offer shopping assistance
When a physical store goes online, consumers are no longer able to touch and feel products before making a purchase. There is a change of purchase journey and hence, they may require some additional assistance in making a purchase from your online storefront. Using WhatsApp Business API, you can set up FAQs to answer common queries on the messaging app; which can further help you make personalized product recommendations to your consumers too.
‍
4. Send order updates
WhatsApp for Business can also be used to send order updates. Let's say a customer purchases an order from your offline store, but the item needs to be delivered to their home address; you can use WhatsApp to send them delivery updates.
Similarly, if the order is placed on your online store, using the WhatsApp API integration to logistics partners, you can send transactional as well as delivery updates to buyers.
‍
5. Broadcast ongoing and upcoming deals 
Another way that shop owners can use WhatsApp, is to run broadcast campaigns. Broadcast campaigns can be set up using a WhatsApp Business API solution provider, to promote ongoing and upcoming deals, in both your online and offline stores. It's a great way to drive more traffic to your online storefront, and more footfall to your physical retail store.
‍
6. Send reminders for reorders 
Using the WhatsApp Business Platform, shop owners can also use labels to segment their customers and reach out to them with targeted reminders. This is especially handy for businesses that sell regularly required products such as grocery or other daily essentials. Even if you don't sell these products, you can use reminders to let customers know your offline store is open or your online store has offers that they'd love.
‍
7. Take customer feedback 
Another way that online shop owners can use WhatsApp is to reach out to customers, seeking feedback. This can help them understand what products they'd like to buy from them and from which of their sales channels, helping them stock items accordingly and plan out promotions to cater to consumer needs in a better way.
Conclusion
Traditional shop owners need to catch up with the times and establish a more consistent channel of communication with their customers. And WhatsApp Business is giving them an opportunity to do so.
But to be able to use WhatsApp for both their online and offline presence, shop owners will need to leverage the WhatsApp Business API. That's where using the WhatsApp API integration comes into play, and a solution provider comes handy.
Looking for ways to use WhatsApp for Business? Explore Interakt today.