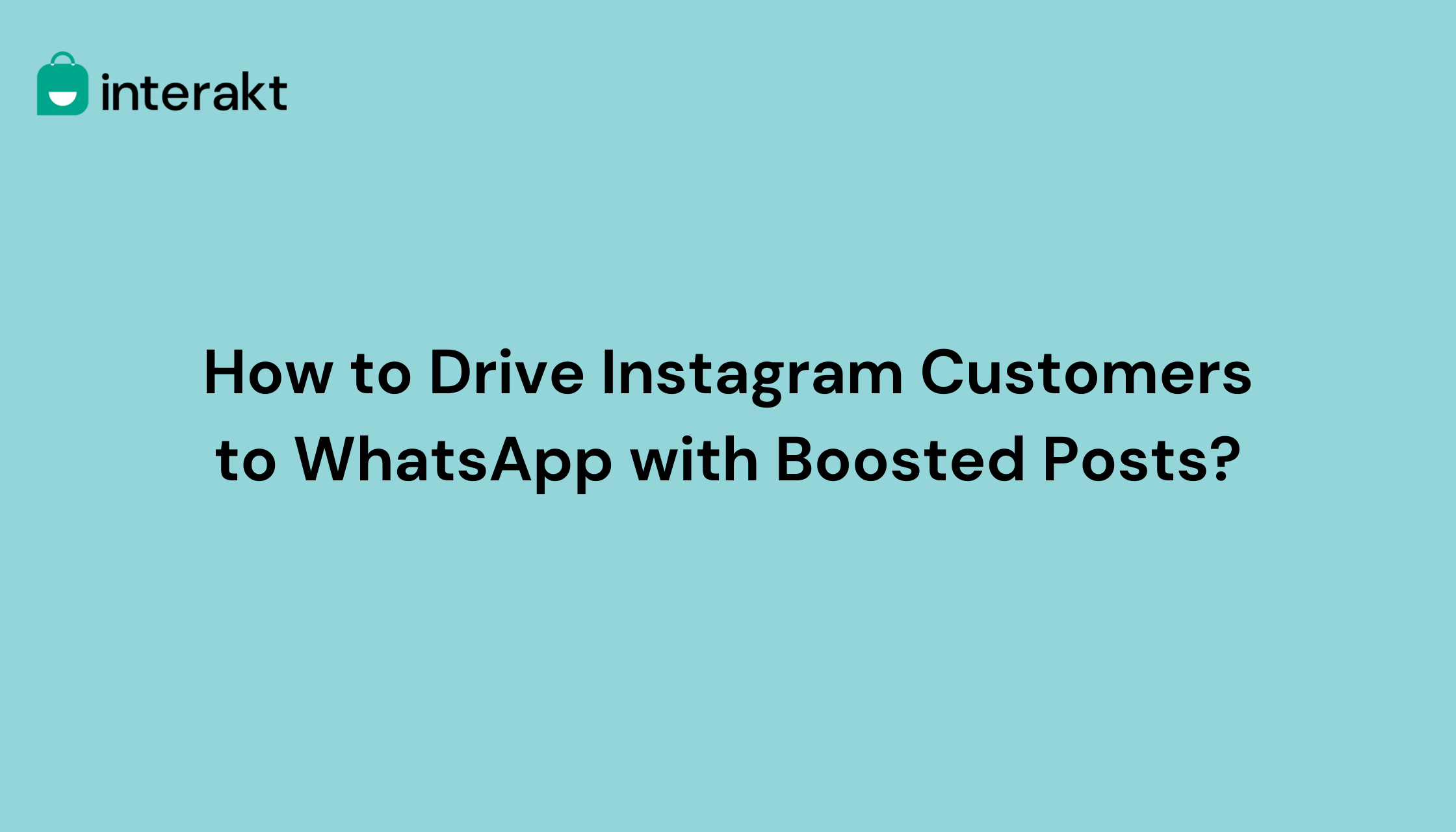 How to Drive Instagram Customers to WhatsApp with Boosted Posts?
Businesses all over the world are stepping up their game and capitalizing on the most popular online platforms to promote their products and services. Social media platforms like Instagram are turning out to be popular channels for product promotion, all thanks to influencer marketing campaigns that allow people to get to know their favourite brands a little more deeply.
The goal here is to make your company and its brands known to customers who are interested in a certain category of products. And that's why companies spend huge sums of money on advertising campaigns every year to drive more traffic to their business pages.
Once you have got people's attention and managed to get them to your pages, you need to make sure that they can contact you easily should they have any questions. This is possible on Instagram via Direct and thanks to a recent update, customers can contact you via WhatsApp. You read that right!
This new feature was launched to establish a connection between the various apps of Facebook (namely Facebook Business, WhatsApp and Instagram) and with that,  improve the whole user experience within these platforms.
By linking your WhatsApp Business Account to your Instagram profile, you provide customers with another convenient way to get in touch and strike a conversation with your business.
As per recent studies conducted by Facebook, 75% of people prefer to communicate with businesses through messaging. That's huge! And going by that number, if you can allow each individual to get in touch with you on their most preferred channel, you are on the right path to success.
How to add a WhatsApp Business Account to an Instagram profile? 
You can link your Instagram account with your WhatsApp Business Account by creating the Click to WhatsApp chat button on your Instagram page. With the Click to WhatsApp button added, customers can easily connect with your businesses and therefore increase your customer engagement rates.
To link these accounts, you must have the following in place-
• A business account on Instagram
• A WhatsApp Business Account
• The latest version of mobile apps.
Listed below are the steps to add the WhatsApp button on your Instagram page-
1. Head to your Instagram page and click on "Edit Profile"
2.Next, Click on "Contact Options"
3. Here, you need to enter your contact details such as email, phone number, address and more recently- WhatsApp number.
4. Then click on WhatsApp
5. Now enter your WhatsApp business number to which a verification code will be sent.
6. Enter the code on the Instagram profile, confirm and voila — you're done!
With this, the new WhatsApp button will appear on your page. This will allow users who visit your page to get in touch with your company in just one click.
‍
What are boosted posts on Instagram? 
These are posts that are created on Instagram that can be converted into Ads to reach more people. It's a convenient way to get your posts before more people who may not be aware of who you are or what your business is all about.
Let's take a look at how you can encourage Instagram customers to engage with your businesses through boosted posts.
How to increase customer engagement on WhatsApp through Instagram? 
Here is how you can connect with your next potential lead-
1. Go to profile settings on your Instagram business account and add your WhatsApp Business number to "Contact options".
2. Select an existing post on Instagram that you think will appeal to your audience.
3. Next, click the blue boost button, select messages and choose WhatsApp.
4. Add the rest of the parameters such as goal, audience, budget and duration for your ad that are in line with your objectives
5. Review your choices, preview the Ad and click on "create your ad"
6. On approval, your ad will go live in 24 hours.
Benefits of boosted posts that link to WhatsApp
• You can reach more people and encourage them to be your next customer through personalization.
• Compared to other ways of advertising boosted posts are more affordable.
• They are easy to set up
• Customers can connect with you instantly
• You can engage in two-way conversations with customers and lead them to a sale.
• It's a great channel to generate more leads for your business and you have the chance to convert these leads into paying customers through WhatsApp conversations
• You can offer delightful customer service and be available on a platform that customers are most comfortable communicating on.
Connect your Instagram and WhatsApp Business Accounts today!
If you are a business looking to expand your reach then wait no more. Link your Instagram account with your WhatsApp Business Account and find new customers through boosted posts. Get access to the WhatsApp Business platform on Interakt and offer excellent customer services through WhatsApp conversations. Sign up today to get a 14-day free trial.