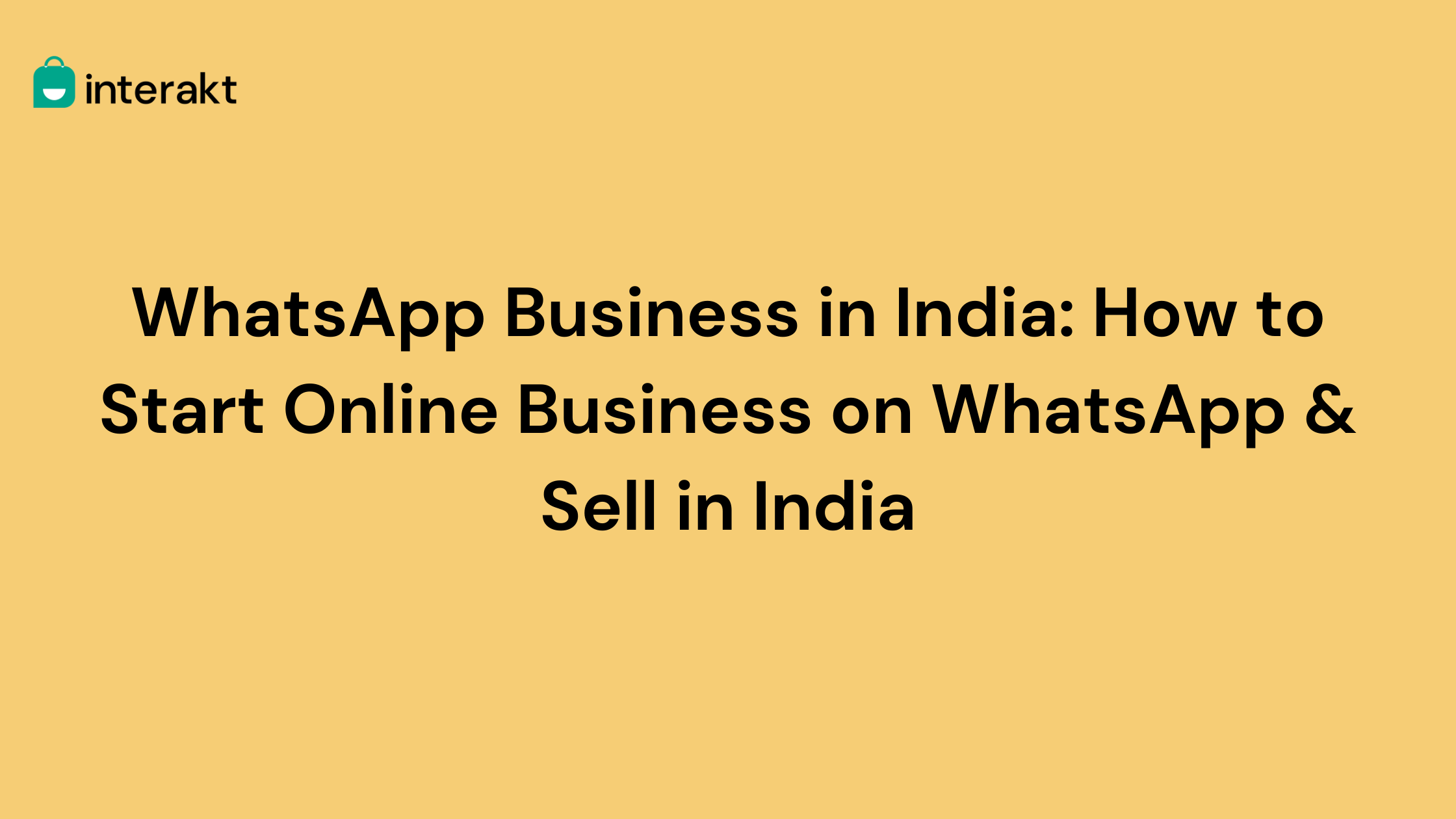 How to start Online Business on WhatsApp & Sell in India?
India has the largest WhatsApp user base in the world, with an average of 39 crore active monthly users using the app to stay connected, as of July 2021. WhatsApp is getting more popular by the day, with its user base expanding rapidly.
In fact, India had a +16.6% growth in WhatsApp user base in 2020 itself as per backlinko!
With such a large audience using the app every day, the potential business opportunity that it provides is the reason why we think you should start using WhatsApp for business in India. This messaging platform is becoming a preferred among retailers and small businesses.
Business on WhatsApp in India has a good prospect of growth and we believe you should be there too. You won't be late to this party, if you start now in a strategic manner.
So here is your comprehensive WhatsApp Business Guide for India.
Tips to start online business on WhatsApp in India
Start With Your Contact List
It will be easier and more practical to start your WhatsApp business, by selling to the people you know. Starting by selling to your peers, relatives, friends, basically those inside your contact list, is one way to gain confidence and test the waters. Start by covering your contact list, reach out to them with smart WhatsApp broadcast messages and secure your early sales from your known circles.
This will help you to sharpen your sales pitch, learn the market and negotiate better. You will receive genuine feedback from the people to improve. You will be better equipped to reach out to unknown audiences using WhatsApp.
‍
Create a WhatsApp Business account
While starting small is a great idea, you should focus on streamlining your business aspects early on. That's why as the next step, we recommend you to sign up and create a separate WhatsApp Business account.
To do this, you will need to install the WhatsApp Business app, review the terms of service from the chat app, allow access to all your contacts and photos, create and build your business profile, and then move towards creating a catalog of the products that you want to sell through the channel.
‍
Connect with Other Seller Groups
Joining a WhatsApp sellers Group can be helpful to reach audiences and open up new business opportunities.
These are groups that are run by other sellers to sell on WhatsApp.  You can use these groups to increase your sales and reach more buyers.
Some ways to find and/or join these groups are:
• A best way to find seller groups is to ask other online sellers that you know about their seller groups that you can join.
• Connect to retail seller groups on Facebook. Chances are that they will also be selling on WhatsApp. Find their groups on WhatsApp that will help you reach your buyers.
• Websites like "Grupya" lets you search for WhatsApp groups. Use them to find groups based on your choice of categories.
• You can create and grow your own selling groups with the help of your contacts on WhatsApp.
‍
Handling Payments
After getting your first customer orders, there remains the step of receiving payments. Running a WhatsApp Business in India, there are methods for payment that you can offer your buyers.
Some of these are:
• WhatsApp Payments ‍
Using the WhatsApp Payment option, your customer can pay you directly. You can send or receive payments directly to bank accounts, whether it be receiving cash or sending refunds.
• Online Payments Apps On Mobile
‍Another obvious way to get your payments is through mobile payment apps like Paytm, PhonPe, Google Pay etc. Get paid directly into your bank account with UPI or other payment methods.
• Net Banking
Buyers can also deposit money directly into your bank account with Net Banking services.
• COD or Cash On Delivery Service
‍Depending on their situations and preferences, some customers will not want to pay upfront, and might demand for the "Cash On Delivery" option.  Make use of various services that are available, like Krafty Sellers, that will help you in handling CODs while efficiently managing your products' safe delivery. For a buyer, the option of COD and professional service in product delivery can define their experience of doing business with you.
‍
Managing Product Shipping and Delivery
Having solved the question of your payment, now it's time to get the product to your customer.
For this you can take help from local courier services like FedEx, DTDC, DHL, Delhivery etc.
Or you can go with a good eCommerce shipping aggregator. A shipping aggregator provides you with multiple courier partners, COD option, notifications on delivery status for buyers and low shipping rates. You can also track your products and it's delivery status.
‍
Set up WhatsApp marketing automation
Set up smart automations for your WhatsApp business so that it will keep generating good results instead of being a brief one-off business adventure.
An official WhatsApp Business APIs solution provider like Interakt equips you with handy tools to set up automations that can be game-changing for your up-and-coming WhatsApp Business.
Some automations that you can set up include:
• Send out WhatsApp broadcast messages to promote new product catalogs, new stocks, back-in-stock products, discounts etc.
• Convert abandoned carts and win back sales with automated abandoned cart alerts and reminders
• Notify buyers to keep them engaged with shipping and delivery updates
• Confirm COD orders with automatic authentication messages on WhatsApp
‍
Start your online business on WhatsApp today!
There are still businesses out there today that use third party services to send out one-time messages that struggle to stay relevant to the times, while losing opportunity to sell more.
Find out the best WhatsApp Business API Price in India and be one of the first businesses to use WhatsApp strategically to work in your favor and sell better in this chat-enthusiastic market!