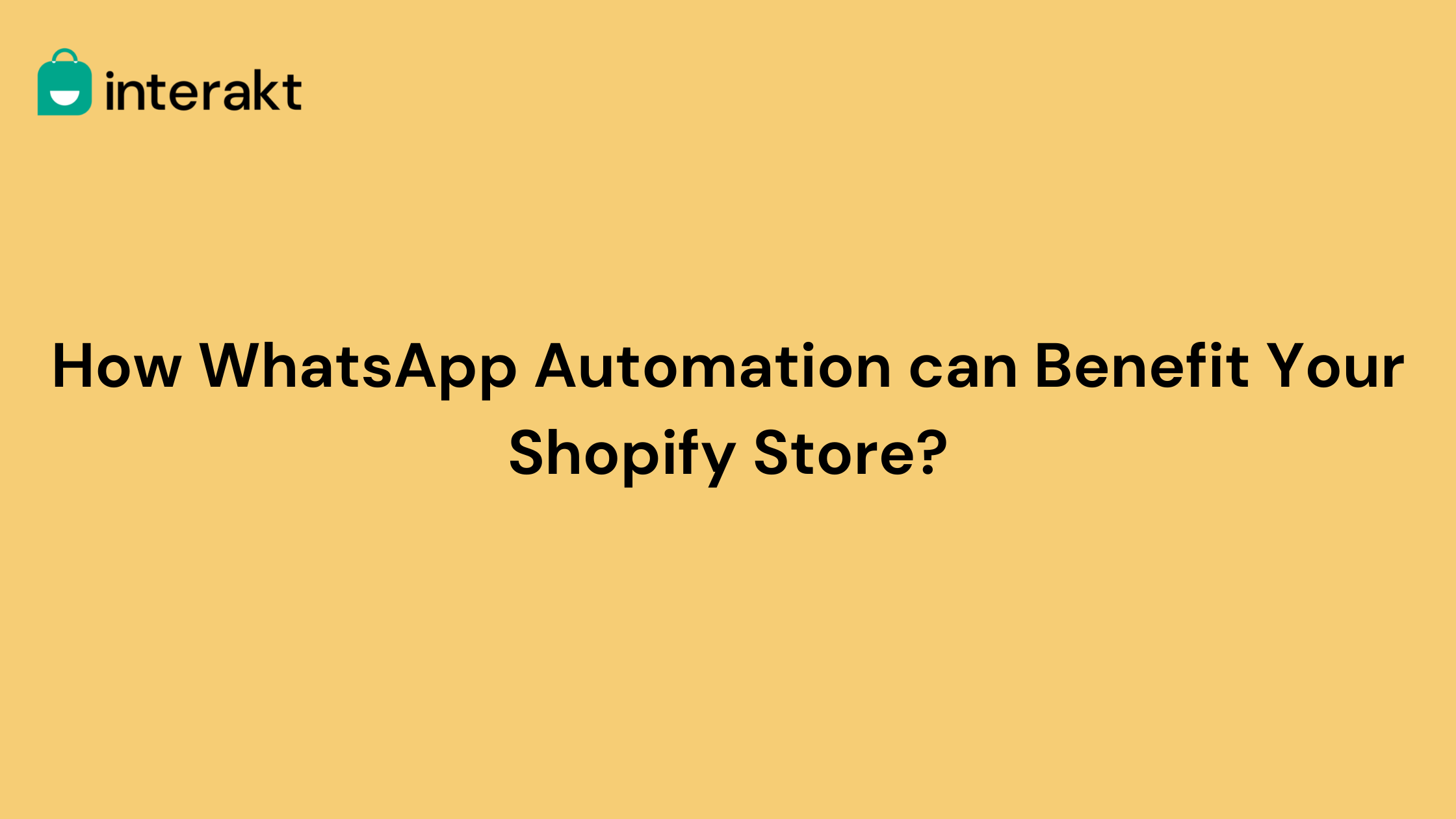 How WhatsApp Automation can Benefit Your Shopify Store?
Shopify is one of the largest e-commerce platforms out there, trusted by more than 1.7 million businesses, operating in over 175 countries. With its widespread reach, Shopify has become a sought after platform for businesses that are looking for ways to boost their sales.
Why is WhatsApp for Business the ideal channel for Shopify merchants?
If you are a Shopify store owner, you need to partner with channels that not only get you more visibility but also allow you to engage with your customers deeply. Customers may have tons of reasons to get in touch with a business and WhatsApp is the perfect platform that facilitates quick and easy communication.
The WhatsApp Shopify integration can do wonders for your store. You can not only engage with customers over personalized conversations but also get instant access to a host of power-packed features with WhatsApp API integration. All you have to do is download the Interakt App on the Shopify store.
By partnering with a business solutions provider such as Interakt, you will see your customer engagement levels soaring like never before.
With it, you can easily manage all customer conversations, set up quick replies, send alerts and notifications, send reminders on cart recovery, payment confirmations and much more. Your customers  love the idea of guided buying experiences and WhatsApp automation is the perfect solution for offering this personalized customer service.
Top benefits of WhatsApp Automation for Shopify Store
1. Excellent customer service 
Gone are the days of long wait times on calls, unanswered or delayed email responses, and clueless customer service reps. WhatsApp helps you offer the right kind of support that your Shopify store customers are looking for, building trust and loyalty along the way.
2. Convenient two-way communication 
WhatsApp for Business lets you engage in direct two-way communication with customers on an app they are most familiar with. That's not all, the WhatsApp API integration gives you direct access to campaign management tools and real-time, in-depth insights about your customer conversations.
3. Customer Opt-Ins make the platform more secure 
WhatsApp's end to end encryption and two-factor authentication makes both the business and customers feel safe. With WhatsApp, your business account gets verified on registration, ensuring that customers who opt-in to receive messages are receiving it from you—a trusted source.
Power your Shopify Store with the WhatsApp Business platform on Interakt
The WhatsApp Shopify integration will allow you to draw data directly from Shopify and send important and timely notifications to customers. Here are the top use cases of WhatsApp API integration on Interakt:
1. Alerts on Back-in-Stock products  
A WhatsApp Shopify integration will help your store improve its sales. With Interakt you can create automated notifications that inform customers about products that are back-in-stock and available for purchase. This is a great way to win back lost sales for your store.
2. Automated messages 
Send automated messages at every step of the buying journey — right from order confirmation, to shipping, to order delivery and payment confirmation.
3. Offer instant post-purchase services 
The WhatsApp API integration will help you offer the best post-purchase services to increase customer satisfaction and the overall shopping experience.
Send timely order status and delivery updates
Set automated messages for COD and payment confirmation
Get valuable feedback from customers
Keep customers informed on discounts and offers
4. Recover abandoned carts 
Most e-commerce retailers will tell you about their ordeal with shopping cart abandonment. 7 out of 10 shopping carts get abandoned leading to lost sales.
On Interakt, you can send WhatsApp business notifications to customers who have abandoned their shopping carts, encouraging them to return them and complete the purchase. Cart recovery messages will help you win back customers and recover lost sales.
5. Seamlessly manage large chat volumes
Your Shopify store may be getting a whole of customer requests and messages. To successfully manage them, you need a platform that supports your entire team. The shared team inbox on Interakt makes it possible for you to collaborate, track and manage all your customer chats with great ease and efficiency.
6. Set bulk campaigns 
Create one-time or ongoing campaigns to increase customer engagement and sales. Track its performance and optimize it to increase sales.
7. Talk to customers on their most preferred app 
You can add a WhatsApp Chat button on your Shopify store allowing customers to get in touch with you instantaneously. It provides a great opportunity for you to offer delightful customer services and create the best shopping experience.
Get started with Interakt today!
The WhatsApp Shopify integration will boost your sales and conversion rates. Sign up today to tap into the power of conversational marketing on Interakt.