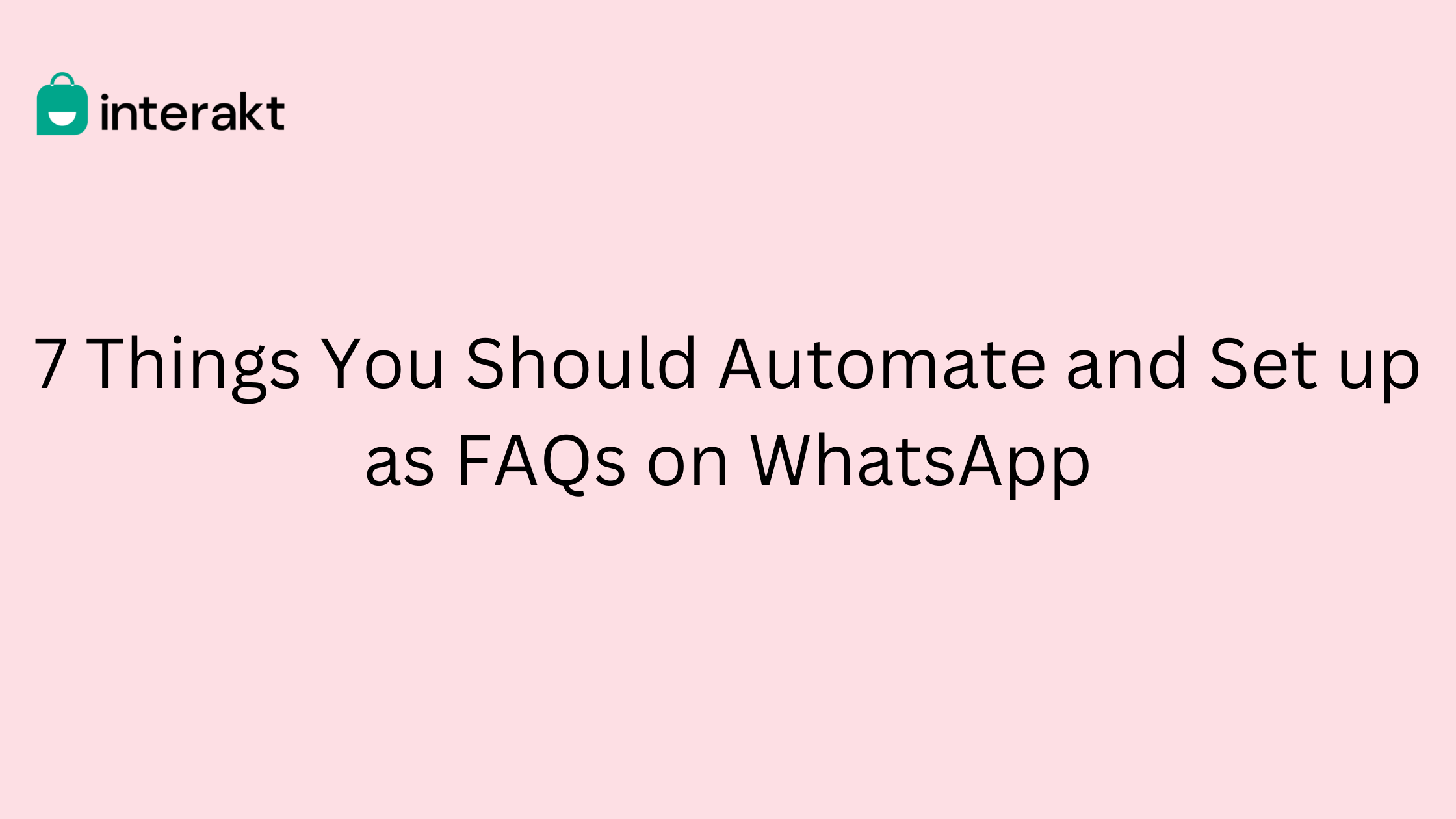 Must-Have FAQs You Should Set Up as Quick Replies on WhatsApp | Interakt
So far, we have talked about using WhatsApp Business to actively converse with customers at all the different stages of their buyer journey. WhatsApp's conversational essence has something to do with this.
But when your business expands and you start using WhatsApp at scale, eventually some tedious and repetitive aspects of conducting business tend to surface. Manually replying to these issues will be tiring, which brings the need for an easier system to be in place.
This is where you should start considering automating your FAQs with the help of the WhatsApp Business API.
What Are FAQs?
FAQs or Frequently Asked Questions are a list of specific questions (and answers), customers might ask or have asked frequently regarding your eCommerce store, its products, services, policies, purchase process, payment etc. They are all the common queries your customer could possibly have when doing business with you. These are some common FAQs in eCommerce-
"How long will it take to receive my product after I order?"
"What payment methods do you accept?"
"What is your return policy regarding products?"
Most often, the FAQ section of eCommerce brands resides on their store website. But the chances of customers actually reaching them and going through the questions are slim. They prefer directly asking someone their questions. This leads to an influx of a large number of customer queries, which is hard to keep up with and can easily overwhelm your customer support team. This is quite a problem as a large number of queries that could be easily remediated, overshadow the more important ones that need hands-on support.
Here, WhatsApp Business API becomes one exceptional solution.
How Does the WhatsApp Business API Help?
There are many different functions and aspects of your business where customers find the need for queries. This can be order-related, payment-related, product details etc. With the help of WhatsApp Business API, you can set up multiple FAQs around these things that consumers tend to ask repeatedly about.
So, when a customer reaches out to you on WhatsApp, you will be able to send out a quick reply without going through the task of actually typing out an answer.
The quick reply feature lets you create and save messages to be sent out as responses when customers reach out with frequently asked questions. These messages can be edited and saved for use, which takes some load off your support team to focus on more important tasks.
Now that we have established that using WhatsApp is the way to go when setting up FAQs, the question remains of what you should be setting up on these FAQs. Let's answer that!
Must-Have FAQs You Should Set Up as Quick Replies on WhatsApp
1. Shipping and Return Policy:
Craft answers to any possible queries customers might have in relation to your eCommerce brand's shipping and delivery policy. Delivery and shipping details are one of the most common areas of a business that customers have queries about. Address this with informative quick replies, like the example given below-
"Hello. Can't wait to lay hands on your special purchase? Don't worry. The product will reach you within 2-3 days after shipping. Feel free to reach out with any more queries."
2. Return and Refund Policy:
Many people who have second thoughts on purchases, or haven't been satisfied with their purchase might enquire about your brand's return and refund policy. This is also a very common query that FAQs can easily answer.
"Hey, there! Thanks for reaching out to us. Haven't found the right product for you? You can return the product within 7 days of delivery. Note: The product should be intact and in its original packing. Have a nice day."
3. Exchange Policy:
Exchange policies that brands have in place are very important to some customers who like to know that they can always exchange if they made a wrong purchase. Answer frequent questions related to your brand's exchange policies with quick replies like the one below-
"Thank you for reaching out to us! We accept exchanges done within 7 days after delivery. Your product will be collected within 2-3 days after you opt for an exchange."
4. Order Tracking:
People often have anxieties related to their purchases so will often tend to ask about the status and location of a shipped order. A WhatsApp Business API solution like Interakt can integrate with your logistics provider, allowing you to respond to these queries as well.
"Hello. Your product has reached our warehouse in Hyderabad, Telangana. The order is estimated to reach you by 15th September."
5. Payment-Related Questions:
Payment makes the climax of a business transaction so eCommerce brands see a lot of payment-related queries. They might want to know if G-pay is a viable method of payment, or if COD is available. You can respond to these with automated replies similar to these-
"Yes, we accept payments done through Google Pay. Here is our phone number: XXXXXXXXXX. Please send a screenshot after payment, for confirmation."
"Finishing up a purchase? You can use your Debit/Credit card, UPI or Net-banking to conduct payment. We also offer a Cash-on-Delivery option. Note: Unfortunately, COD may not be available in some areas. You can check this using your area Pin code while checking out."
6. Sizing Guides:
When buying products, especially in the apparel and fashion eCommerce industries, sizing can be confusing for customers. Respond here with appropriate quick replies that will clear any doubts the customers might have.
"Thanks for reaching out! The size M for a shirt measures 39.5 inches across the chest. For a better understanding of sizing, you could refer to our size chart."
7. Product How-To Guides:
If you have items like IKEA that require assembling or products that need instructions for setting up, you could answer these queries with quick replies containing how-to guides.
"Hello there. If you are facing difficulty with assembling the product, here is a simple how-to guide that will lead you through the process, step by step."
Set Up Your FAQs on WhatsApp
Automation is a great way to allow your team space to focus and expand on the parts of your eCommerce business that needs hands-on attention while improving the overall efficiency of the way your brand approaches customer support. To automate responses and create seamless conversations, you will need the WhatsApp Business API.
Interakt will let you utilize and unlock the full potential of the WhatsApp Business API and help set up smart automation to carry out business.
Sign up for WhatsApp Business with Interakt!