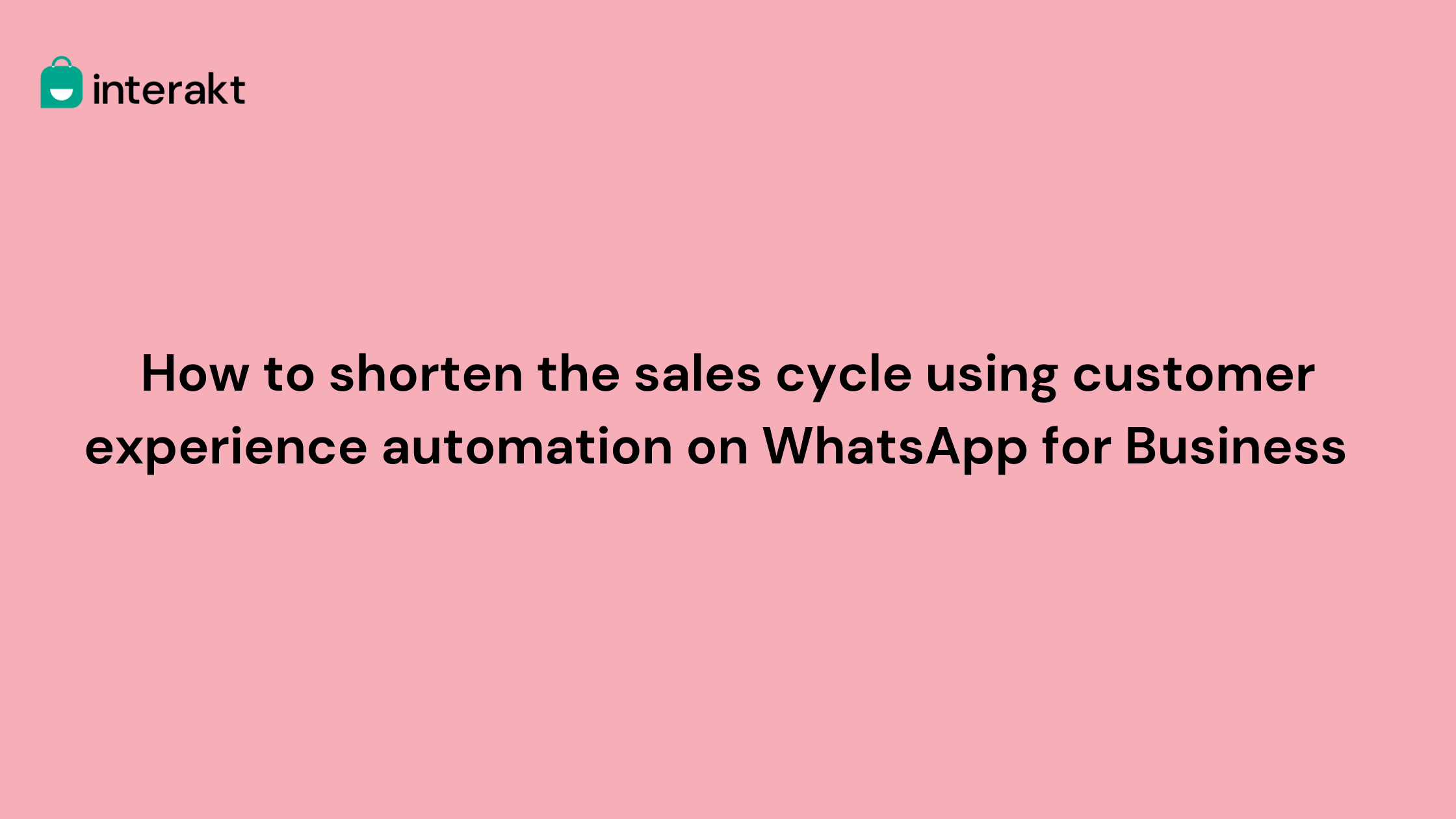 How to shorten the sales cycle using customer experience automation on WhatsApp for Business?
Depending on the product/ service sold, businesses experience different sales cycle durations with their target market. While some last just a few days, others run into weeks, months and sometimes even years, based on the complexity of what is being sold. But the one thing that remains common to them all is ensuring a great customer experience throughout the journey.
In this blog, we're going to talk about customer experience automation and how to use WhatsApp for customer experience.
What is customer experience (CX) automation?
Customer experience automation basically involves leveraging tools and technologies to make conversations between a business and a customer more seamless. It includes identifying repetitive tasks in a customer lifecycle, and using automations and workflows to make them more efficient.
CX automation is not a new concept and can be seen across various functions of a business, especially customer support. The primary reason being that the experience a customer has during their interaction with the business, can make or break a sale. The same holds true for online businesses as well!
A study found that with CX automation, businesses see a 110% increase in new leads and 94% increase in conversions.
Now what if we said that you could see the same results on WhatsApp for Business? Let's take a look at how.
Using WhatsApp for sales with customer experience automation
1. Manage inbound queries and identify sales opportunities 
Using the WhatsApp widget on your website, you can greet new visitors and ask them questions to budget an interaction. Generating the lead from the website, you can then follow up on the messaging app to understand what they're looking for and how you can add value to them.
With the WhatsApp Business API, you can also set up FAQs to keep the conversation going with leads, qualifying them every step of the way and handing off the chat to a live agent or a sales representative only when a clear sales opportunity is identified.
See how Carigar Tools generates more leads with the help of WhatsApp for Business.
2. Nurturing leads through conversations 
Most sales cycles require nurturing leads at every stage. Now traditional means usually include sending value-packed content over emails, following up via cold calls to schedule demos, trials and so on. But the natural conversation often gets lost in transition, becoming a mere transactional chat.
With the help of a WhatsApp Business API solution, you can label different leads as per their stage in the buying cycle. You can then use WhatsApp broadcasts to send segmented and targeted campaigns to the leads in order to nurture or further educate them about your products/ services.
3. Converting leads through conversational commerce 
Consumers across all industries are moving to mobile devices to access their emails, social media and messaging apps. This only goes to say that converting your leads needs to be as natural to them as using their smartphones, giving rise to the need for conversational commerce.
With WhatsApp Business API, you can also convert the leads you're nurturing by giving them the option to complete the purchase using in-chat payments. With the help of WhatsApp Payments, you can remove the need for cross-channel navigation to get a consumer to complete a purchase, making them more likely to do so.
4. Ensuring post-purchase customer service 
Another important stage in a sales cycle is the post-purchase journey of a consumer with your business. In times when the competition is increasing by the day, it is becoming important for businesses to keep converted leads engaged too with post-purchase sales services and support.
With the help of WhatsApp Business API, you can run broadcast campaigns to request feedback on your sales cycle or offer help on the purchase. You can also leverage interactive messages and FAQs to resolve customer queries faster, making them feel as cared for as before they made the purchase.
See how Popcorn Infotech has increased its customer engagement by 75% using the WhatsApp Business API for sales.
Conclusion – Do you really need WhatsApp for sales?
As found by Think with Google, consumers want to message businesses. Infact, 68% of consumers were found to buy from businesses that offer convenient communication throughout their purchase journey and that's exactly where WhatsApp comes in.
WhatsApp is a messaging app that makes it convenient for consumers to interact with businesses they intend to purchase from, even on the go. And considering the frequent use of the messaging app, it's a win-win opportunity for businesses too!
The only thing you need on your side to use WhatsApp for sales, is the WhatsApp Business API and the ability to put all its features to work at every stage.
Ready to explore how businesses are using the WhatsApp Business API to optimize their sales cycles?