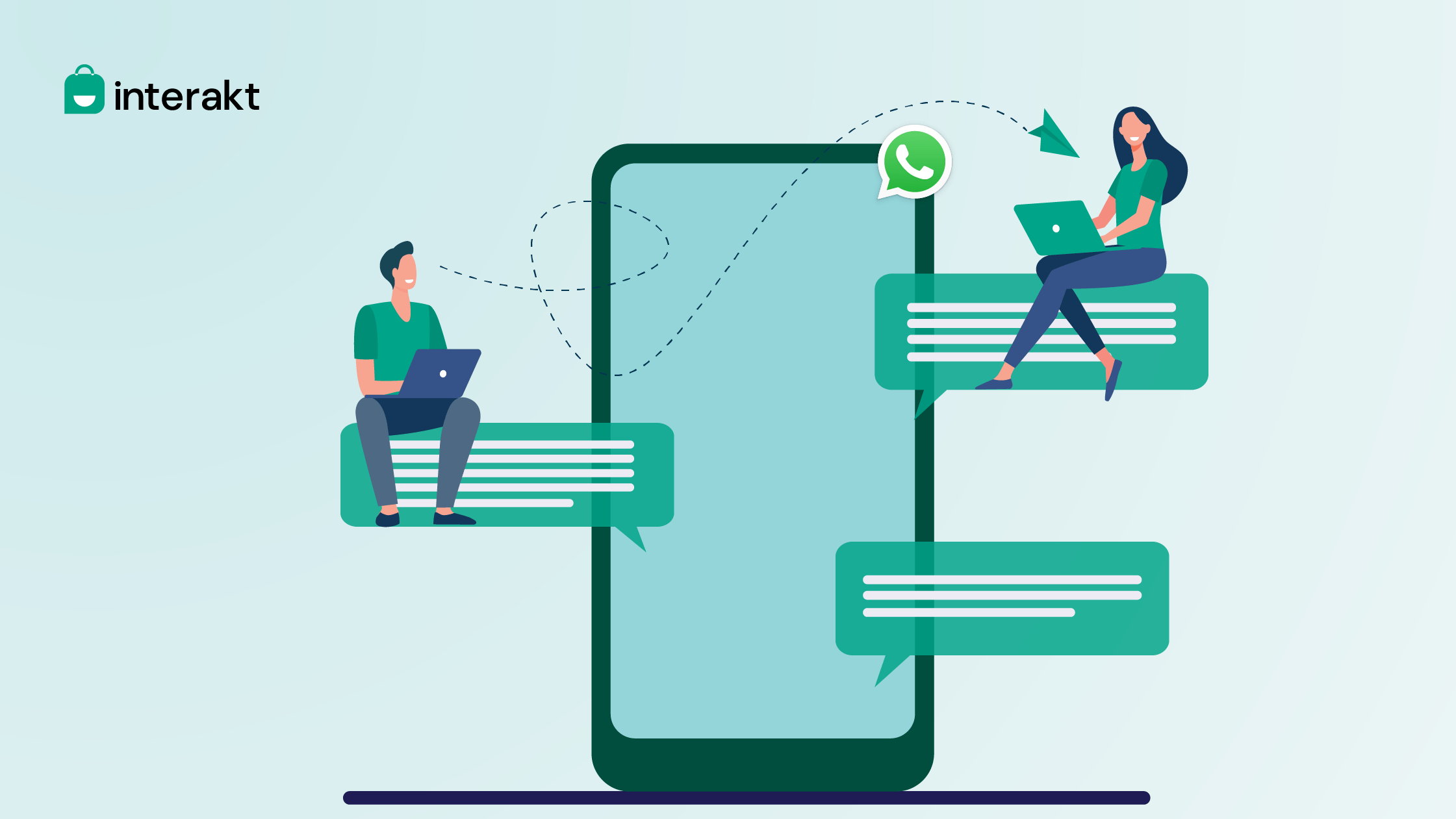 Using WhatsApp Business API to acquire consumer details after opt-in
In our previous lessons, we have been talking about the various ways in which you can get online shoppers to start a conversation with you on WhatsApp. But a simple WhatsApp greeting message template to get the chat going may not be enough.
Once you have the consumer opt-in to your WhatsApp list, the next step needs to be getting to know them better. This is where the various features of the WhatsApp Business API come into play. In this lesson, we're going to explore how you can use interactive messages on WhatsApp for Business to get to know your new opt-ins better, and tailor their shopping journeys more effectively.
Recap: What are interactive messages?
Contrary to the typical text format, interactive messages are a feature available on the WhatsApp Business API. They give the recipients a much simpler way to navigate the options presented in a message or interact with them.
There are two formats of interactive messages:
• List messages
These are a format of WhatsApp messages that basically open up a list or a menu of up to 10 items that a recipient can choose from. This type of message offers consumers a much simpler and consistent way to interact with your business messages.
• Reply messages
This is a format of WhatsApp Business messages that can include up to 3 options or buttons that a recipient can choose from. These options appear as call-to-action buttons.
Here's how interactive messages look like: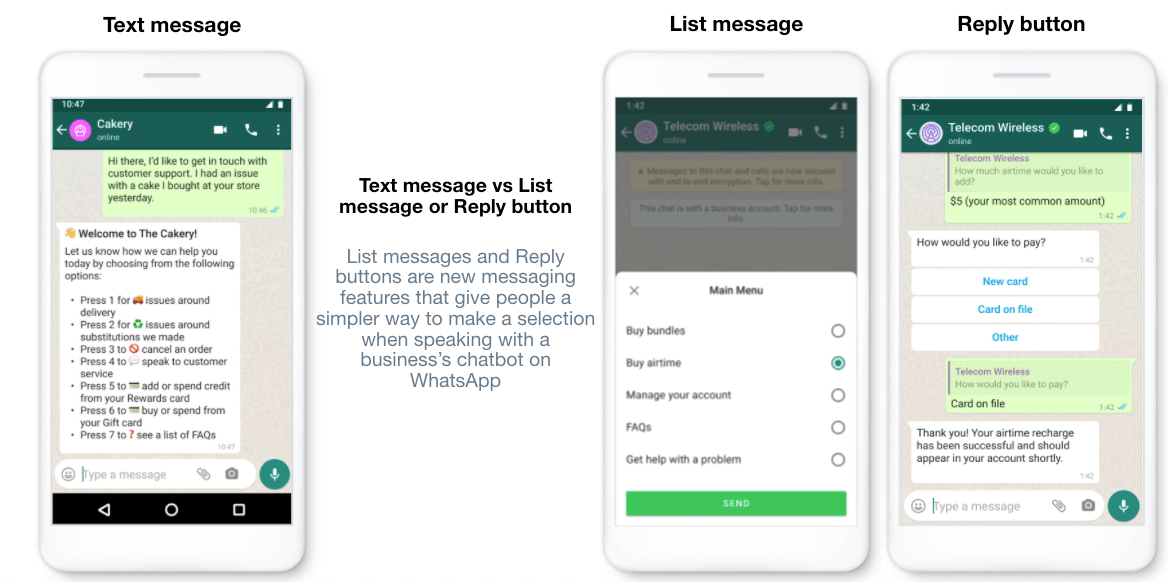 Now let's take a look at how you can use interactive messages to get more information about consumers who opt-in to your WhatsApp list.
How to use interactive messages and automations to get details of WhatsApp opt-ins
A consumer choosing to click through an ad campaign and express their interest in your business may get you an opt-in. But you can make the most of an opt-in only when you get to a consumer more than their phone number.
That's where you need to go one step further than the greeting message we talked about in the previous section, and make use of interactive messages once you get an opt-in.
1. Ask what they're looking for
You can use both list message or reply buttons to ask what a consumer was looking for when they chose to start a conversation. You can use the options displayed to show them a list of things you sell or offer, or reply buttons to give them clear actions to thereafter – let's explain this with an example.
Let's assume you sell custom made clothes online and are running a Click-to-WhatsApp ad online. Once a consumer initiates a conversation and opts in, you can do two things:
• Send them a list of up to 10 items they can choose to customize (shirts, pants, dresses, baby clothes, etc.)
• Send them a list of 3 action buttons that lets them simply choose the category of products they want to customize (men's clothing, women's clothing, kid's clothing)
This helps you create a tailored chat experience for the consumer, making it much simpler for them to reach the products they are looking for.
2. Gather more intel on consumers
Your ad targeting may be very specific, trying to lead a certain audience segment to your store. But to be able to offer them a personalized shopping experience, you need to narrow things down even further. Simply put, you need to use WhatsApp to get to know more about consumer needs and preferences before directing them towards making a purchase.
For example, Carigar Tools uses the WhatsApp Business API to set up automations that are targeted at opt-in engagement. They use various types of WhatsApp messages to get to know their new opt-ins better; which typically includes understanding their use of machinery, how old it is, what they intend to do with the new, what their role entails and so on.
3. Share more information
Apart from gathering information from opt-ins, you can also use WhatsApp interactive messages to share details. For example, if an opt-in has come from a specific product page, you can use interactive messages to list out the information options available with you – seller details, sizing guide, material care, return policy, etc.
This lets a consumer go through all the product details and make an informed purchase, leading to a better shopping experience. In addition to that, this also gives you an opportunity to understand purchase preferences of the consumer to make recommendations in case a product doesn't match their need.
4. Create automated follow-ups
Once a consumer has shown intent in your products or has shared information about what they want to purchase, don't forget to follow-up. Despite the conversational nature of the messaging app, you may still experience drop-offs that are similar to cart abandonment.
Using the WhatsApp Business API, make sure you follow up with the interested consumer to stay on top of their minds. You can also use the opportunity to offer shopping assistance or seek feedback to understand why they did not make the purchase.
Ready to use interactive messages to get to know your WhatsApp opt-ins better?
WhatsApp is a communication channel and owing to its usage, it requires a more human approach to conversations – even if you're using it for business purposes like marketing, sales and support.
That's why before you even begin any of your WhatsApp broadcast campaigns, we actually encourage gathering as much information as possible about a consumer. This helps you tailor and personalize your WhatsApp campaigns better, leading to a higher number of conversions.
Now, setting up an interactive message automation requires using the WhatsApp Business API in addition to your WhatsApp Business Account. This is where you will need to work with solutions like Interakt to set up an automation that not just greets new opt-ins but triggers a conversation to get to know them better.
Don't know the consumers who have opted in to your WhatsApp list? Sign up for WhatsApp Business API today with Interakt.
Worried about your WhatsApp marketing costs going through the roof? Read our next lesson to see how you can keep your spend optimized for higher conversions.