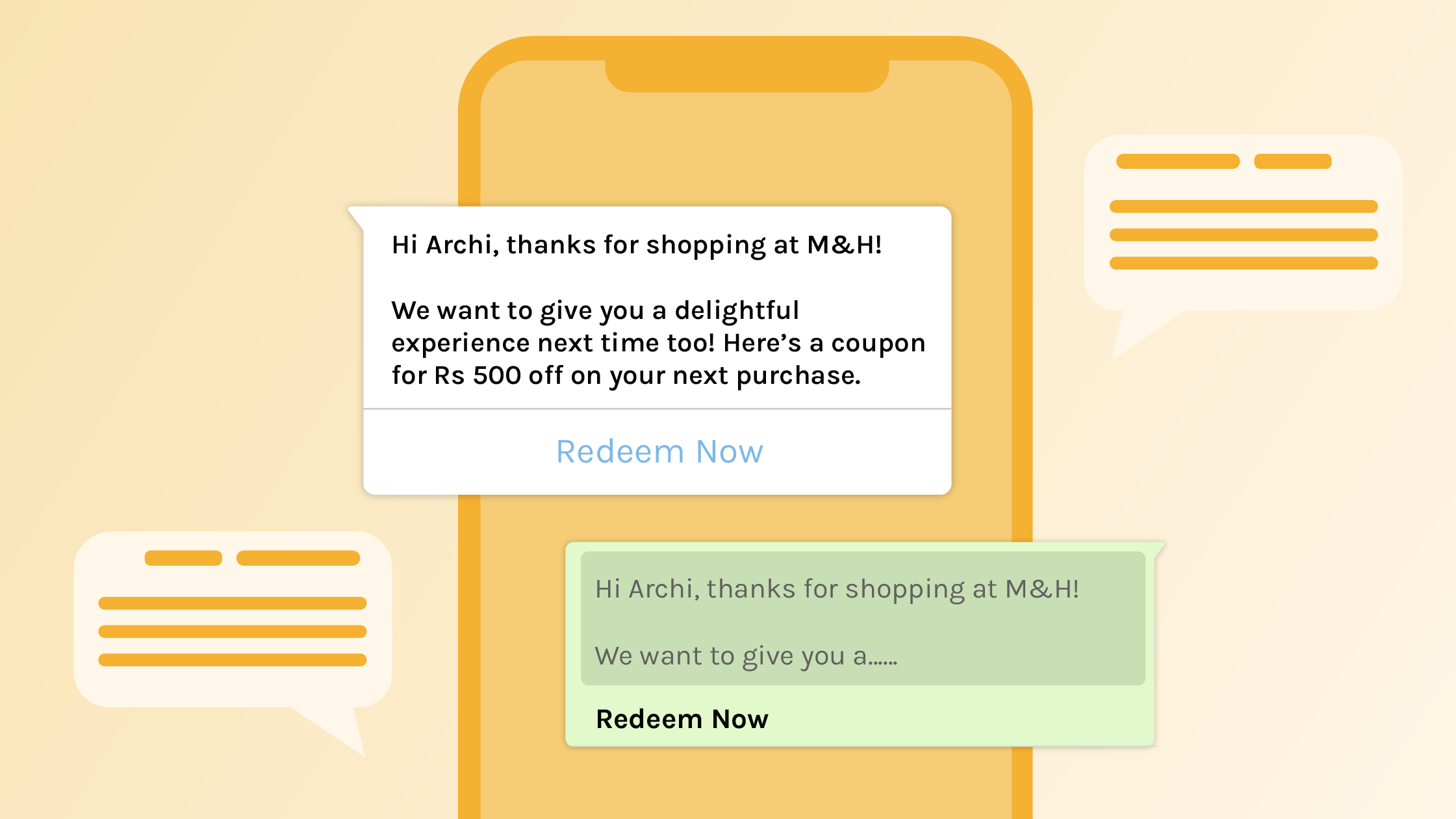 What are Promotional WhatsApp Templates and how to use them to promote offers and send product alerts?
In our previous lessons, we have been talking about using the various features of the WhatsApp Business Platform to enable conversational commerce. Now a big part of commerce is to continually run offers and send product alerts to get online shoppers interested in what the brand offers. That's where promotional WhatsApp messages come in.
Now if you're a business looking to reach out to 1000s of customers on WhatsApp to inform them about new products and offers, you might struggle to do so owing to WhatsApp's template guidelines. But there's a way out.
Using a WhatsApp Business Platform like Interakt, you can now create personalized WhatsApp Templates with non-transactional content as well (for example – templates containing new product announcements/discount offers/product back-in-stock alerts, etc.).
If you're not yet using Interakt for WhatsApp, sign up here.
But if you already have an account, go deeper into this lesson to learn more about promotional WhatsApp templates.
What are promotional WhatsApp templates?
WhatsApp promotional templates are basically non-transactional messages that let businesses reach out to consumers with updates. These updates include sending product recommendations, new product launch alerts, cart abandonment reminders, and similar.
As opposed to the normal WhatsApp app, when you're using the WhatsApp Business Platform, your customer needn't have your number saved for receiving bulk and personalized notifications from you.
Up until now, WhatsApp allowed such bulk messaging only with templates that are transactional in nature (for example – confirming a customer's order/updating the order's shipment status to the customer, etc.). If you wanted to send out a personalized template having discount offers/product back-in-stock alerts etc., WhatsApp would reject that template.
How can your business use non-transactional WhatsApp Templates?
Owing to the nature of these promotional messages, these WhatsApp templates can be used in a number of ways depending on your business goals and objectives. Some of our personal favorites include:
• Time-sensitive Discount offers
• Product back-in-stock alerts
• Reviving an inactive customer
• Announcing a new product
• Upselling to an existing customer
• Abandoned cart recovery messages
You can use promotional WhatsApp templates for one-time campaigns as well as ongoing engagement on the messaging platform.
Example of Non-Transactional Templates you can send out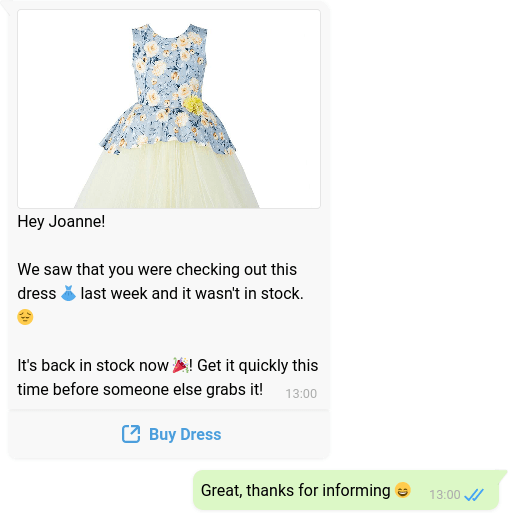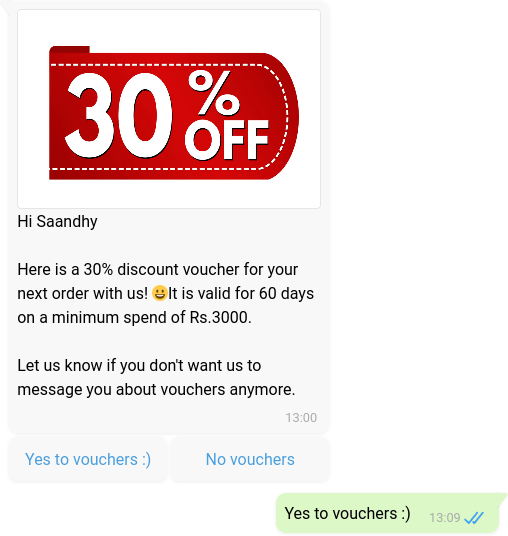 How to create a promotional WhatsApp template?
One of the prerequisites of being able to send promotional WhatsApp messages is having access to the WhatsApp Business API. To make things simpler, you can actually work with a Business API solution provider like Interakt to start sending promotional messages faster.
1. Sign up on Interakt
As the first step, you need to get access to the WhatsApp Business Platform and a solution provider like Interakt makes this easy. Click here to sign up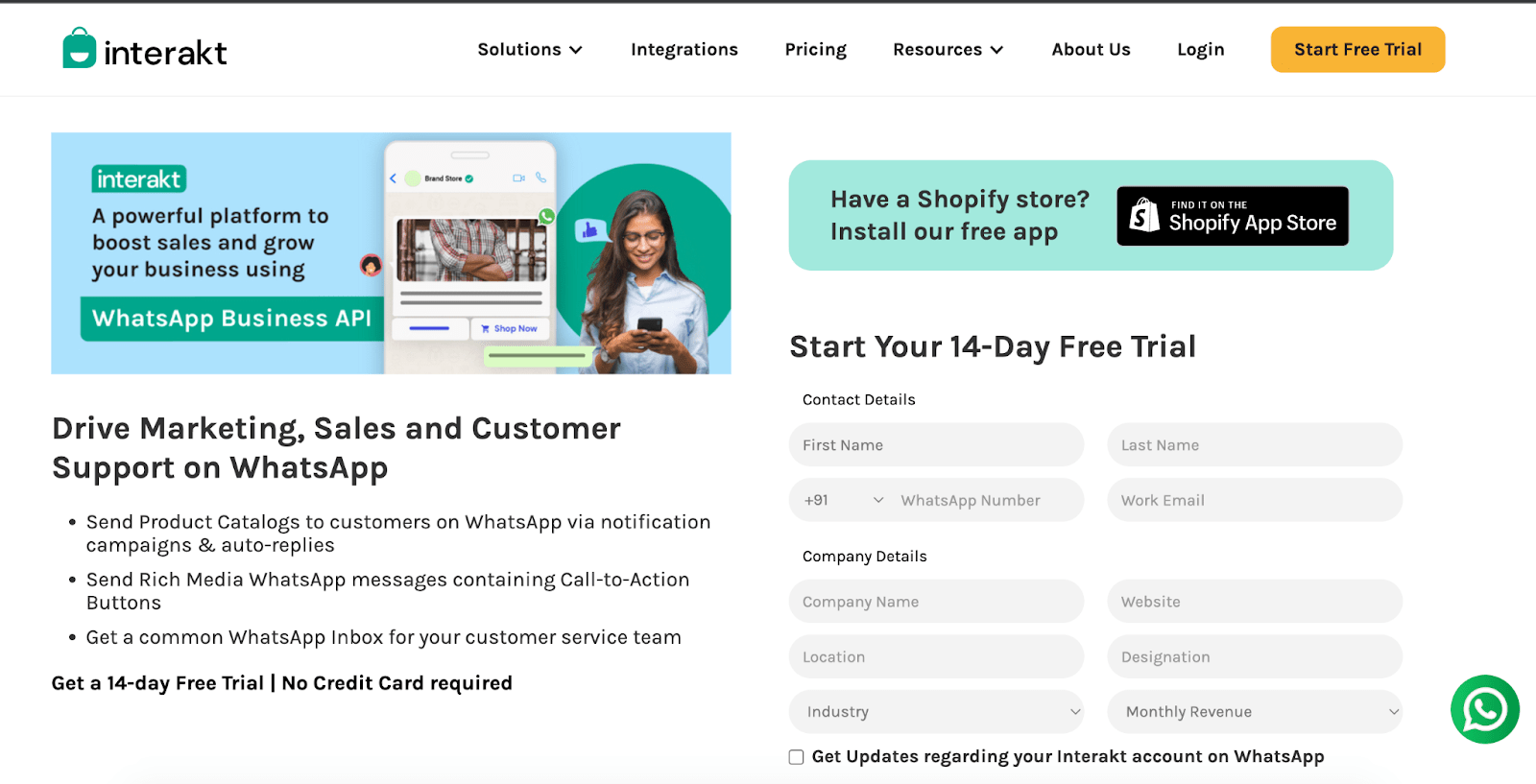 2. Steps of how to create a promotional template on Interakt here..
Can WhatsApp promotional messages really help increase sales for your business?
As a business looking to convert more prospects into paying customers or re-engaging existing customers to drive higher revenues, you would want to touch base with the customer at multiple points in the customer's journey with your business.
• As per research by WhatsApp, 75% of adults want to message with businesses the same way they do with people. Hence, there is no better place for you to touch base with your customer than a platform where you can converse with your customer – WhatsApp!
• Moreover, it is an established fact that read and reply rates on WhatsApp can be 5 times higher than other channels like emails / SMSs / push notifications etc.
• Hence, if you want to send out an offer to a visitor on your e-commerce website to make him carry out his first purchase, there is no better place to do so than his WhatsApp inbox. Or, if you wanted to revive a dormant customer of yours by sending him product recommendations based on his past purchases, you would want to send that recommendation to his WhatsApp inbox.
• In fact, some experiments where businesses sent out non-transactional templates to customers yielded results like the following:
–> 37x more conversions compared to SMSs for a food delivery platform
–> 2.5x more conversions compared to push notifications for a food delivery platform
–> 3x higher response rate compared to emails for an Interior Design Platform
Hence, one can expect such non-transactional WhatsApp campaigns to have a significant direct impact on increasing revenues for businesses.
What are some of the important caveats to keep in mind while using non-transactional templates?
• Businesses must collect WhatsApp Business opt-ins from customers before sending such non-transactional templates to them. Hence, your customers must be expecting to receive these messages.
• The messages should be personalized in nature, should contain valuable information, and should outline a clear call to action(s) for the customer.
• You should send out these messages to customers at a logical time (ex: soon after the customer has engaged with your business, or at a time when the customer is expecting to hear back from you).
• You should provide clear instructions to customers on how they can opt-out of receiving such communications from your business and you should make sure you honor those opt-out requests.
• Keep monitoring your Account Status messaging limit on Interakt (or the Quality Rating of your WABA account on the FB Business Manager). If your non-transactional templates are causing customers to block your number on WhatsApp / report your communications as spam on WhatsApp, it might affect your Account Status / Quality Rating, which might lead to rate-limiting or disabling of templates.
So, what's next after sending promotional WhatsApp messages?
Now that you know all about WhatsApp broadcasts, promotional messages, and more, you're probably handling all the orders you have generated through conversational commerce.
But your work doesn't end there – it's not about acquiring a customer and getting a sale; it's about getting that customer back to your store time and again to make more purchases.
This is where your customer engagement strategy on WhatsApp needs to step in.
In our next module, we will be talking about using WhatsApp Business Platform features to keep customers engaged for higher retention, loyalty, and repeat sales.