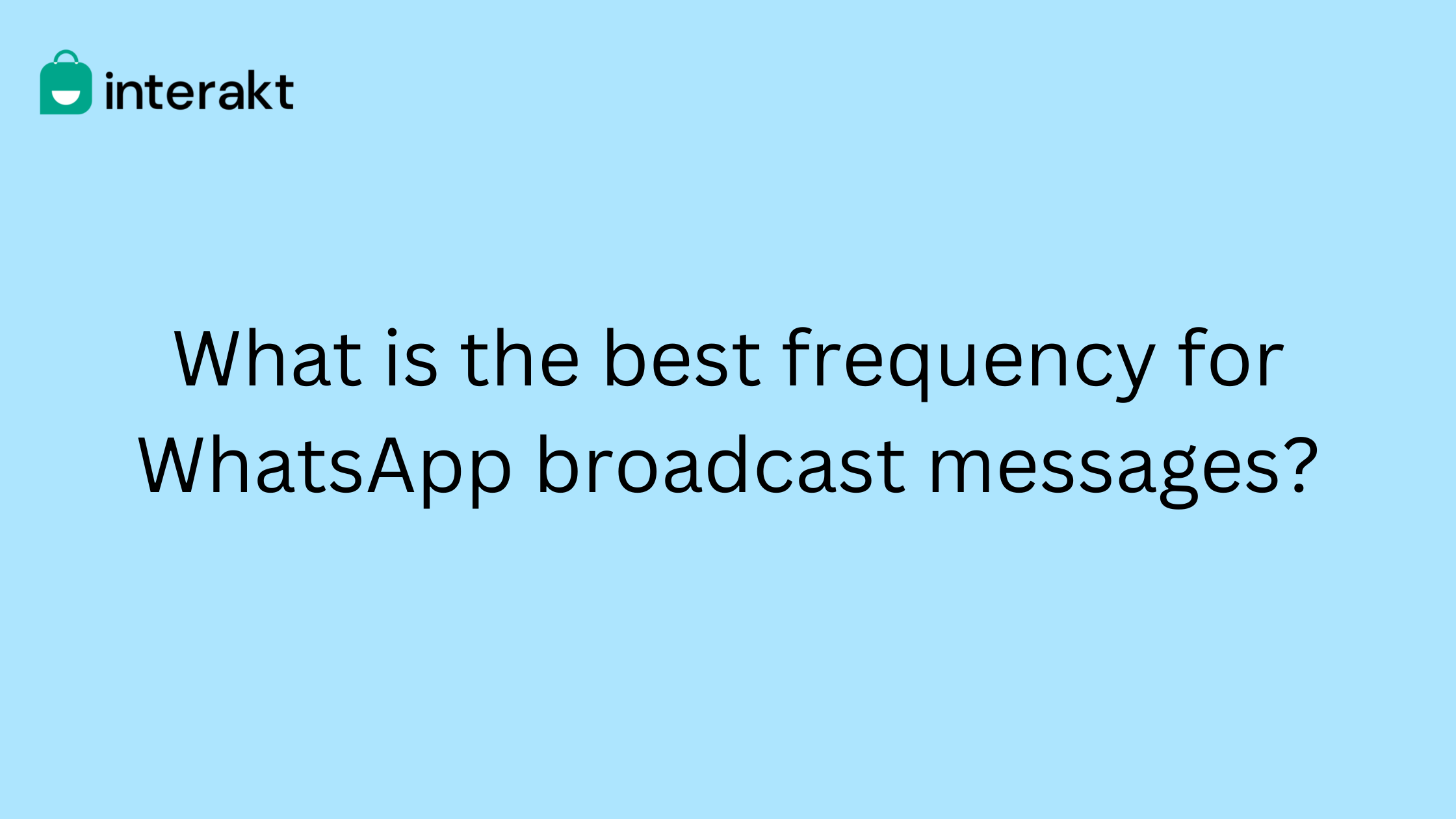 What is the best frequency for WhatsApp broadcast messages?
In our previous lessons in the WhatsApp Business academy, we have been talking all about different ways to use WhatsApp broadcasts to acquire, engage and retain customers. But just like every other marketing communication channel between a business and a consumer, there are some best practices to be followed – specifically, the frequency at which you message them.
While there is no one-size-fits-all approach to WhatsApp broadcast frequency for businesses, this lesson talks all about maintaining a healthy approach when using the messaging platform to reap positive results from campaigns.
What is a WhatsApp broadcast message frequency?
WhatsApp broadcast frequency refers to the number of times you send a message to your opt-in subscribers and customers over the messaging platform, in a defined period of time. It is indicative of how frequently you touch base with customers leveraging the WhatsApp Business API to send messages about your ongoing and upcoming deals, offers, product launches, and more.
Why is WhatsApp message frequency important?
Some of the reasons why we recommend brands focus on the frequency of WhatsApp broadcast messages are as follows:
1. Helps establish expectations with consumers
Consumers who opt-in to your WhatsApp list expect to hear from you. But when you start following a frequency, it establishes a set expectation with consumers. They know how frequently they get to hear from you and when; which executed properly can make them look forward to your broadcasts.
2. Helps align marketing campaigns
As an e-commerce business, you're probably running multiple campaigns to promote new launches, deals, and discounts. When you set a frequency for your broadcast messages, you're also able to align its goals and objectives with campaigns being run on other channels. This helps create omnichannel campaigns that drive better ROI.
3. Helps create consistency
Similar to how businesses know how often they are to send email newsletters, setting a frequency for broadcast messages ensures consistency. Your marketing team falls into a routine to ensure they're leveraging the channel to keep consumers engaged.
4. Helps prevent spamming
Apart from consistency, it also helps ensure that you're not surpassing the right frequency – or the number of messages you send to consumers on a channel that they also use for personal communication. It makes you think twice before setting up a broadcast campaign.
How to find the right frequency of WhatsApp broadcast messages
While there's no one set way of doing this and WhatsApp is a fairly new channel for most businesses, let's take a look at some key steps that can help find a frequency that suits both you and the consumer:
– Start slow and monitor results – We recommend starting off by sending one message a week and slowly building up the frequency based on the response you get. The idea is to gauge interest and intent and double down on the same.
– Segment your lists – Take note of opt-ins that actively engage with your broadcasts, those who engage, and those that are disengaged. Create segmented lists of each based on behavior.
– A/B test segmented frequencies – Once you have segmented your WhatsApp list, test out different frequencies on each to see how it impacts your open and click-through rates.
– Experiment with different types of messages – Don't just send deals and discounts on WhatsApp broadcasts. Run different types of message campaigns so that even at a higher frequency, you're adding value to the consumers.
– Seek customer feedback – Set up an automated campaign to seek feedback from your customers. Ask them how frequently they'd like to receive updates and what type of messages they prefer.
– Keep costs in mind – As you start running WhatsApp broadcast campaigns, we also suggest keeping the pricing of running these in mind. This will help you optimize for better ROI.
– Optimize your frequency – Based on all the data you collect in the steps above, optimize the frequency of your WhatsApp broadcast messages. This may include increasing, decreasing, or spacing out your campaigns for different lists.
Best practices to keep in mind for your WhatsApp broadcast frequency
We have three simple rules for businesses to find the right frequency for sending WhatsApp broadcast messages – your messages should be expected, relevant and timely. Here's explaining this a little in detail:
– Expected – Your customers should have opted in to receive WhatsApp messages from your brand or purchased from your business.
– Relevant – Your messages should be personalized as per the consumer's demographics, previous interactions, and other valuable information, clearly outlining the call to action.
– Timely – Your messages should be sent at a logical time, adding value to their interaction with your business; eg. after they make a purchase or once an order gets delivered.
These best practices are important to keep in mind as consumers can block or report a business at any time.
Simply put, following these rules as you experiment with the frequency of WhatsApp broadcasts will ensure the customer experience remains positive.
Make the most of WhatsApp broadcasts with data
Finding the right frequency of WhatsApp broadcast messages is as tricky as knowing how many social media posts it takes to grow organically.
This is where having an intelligent WhatsApp Business API solution like Interakt comes into play. Interakt helps businesses set up smart automation at key moments of the purchase cycle and leverage broadcasts to keep them engaged.
The data collected on these campaigns on an analytics dashboard then helps businesses identify how their broadcasts are being perceived and engaged with.
After having worked with thousands of online businesses, we believe the only way to find the best frequency for WhatsApp broadcasts is to look into your data.
Ready to make the most of WhatsApp broadcasts?