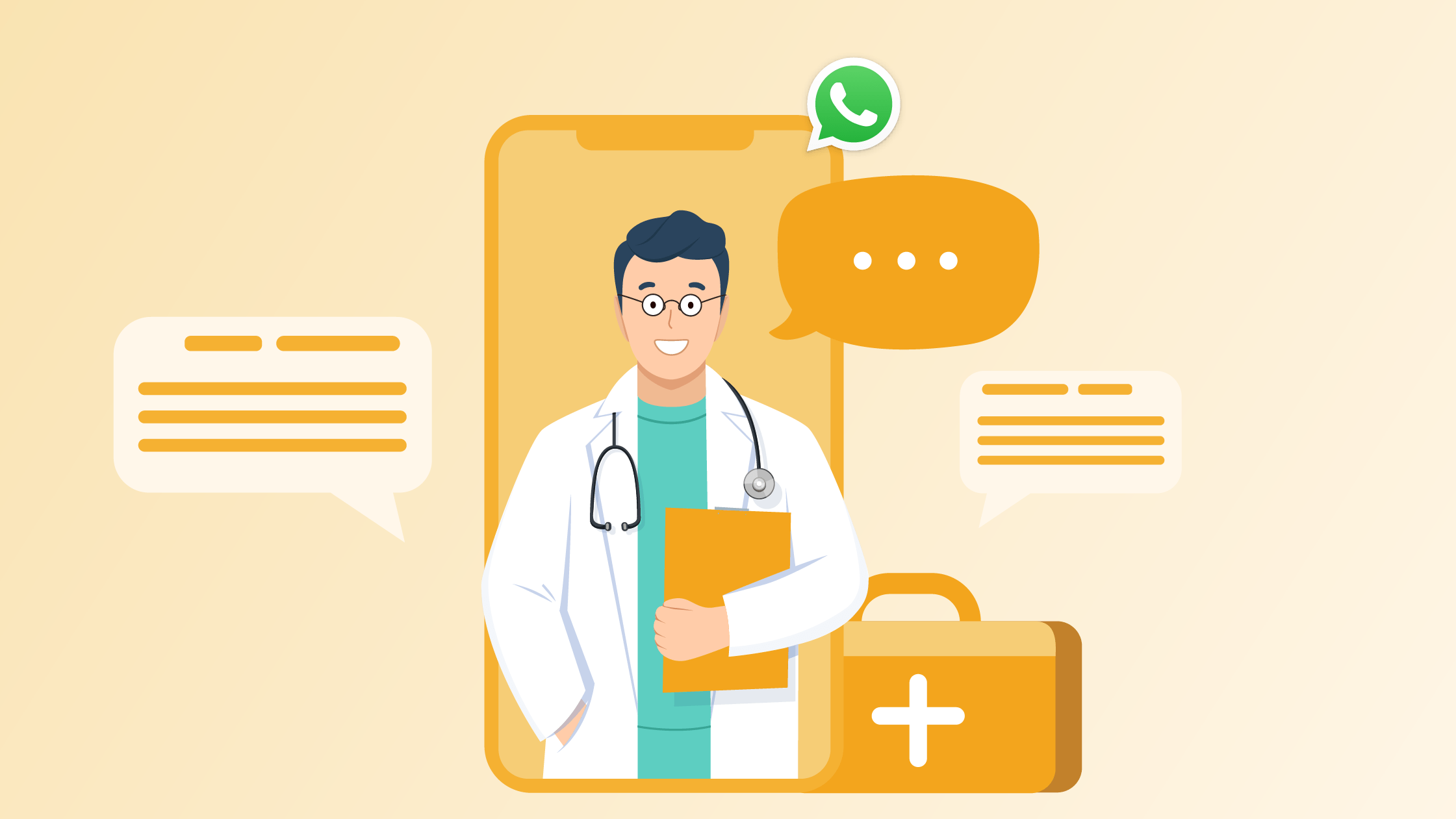 WhatsApp Broadcast Ideas and Templates For Health And Wellness Ecommerce Stores
If you're a health and wellness online store and looking for ideas or inspiration for customer engagement campaigns, this lesson is for you.
From customer opt-in to new product launch to re-engage and upsell – this lesson will spark inspiration for WhatsApp broadcast campaigns all through your customers journey.
WhatsApp broadcast ideas and templates for health and wellness stores
Before you start sending out WhatsApp broadcast messages, you should know that you can send messages only to customers who have opted-in, meaning you have their permission to send them WhatsApp messages. Don't have a WhatsApp list yet? You can take the help of a WhatsApp Business API solution provider like Interakt to get started.
1. Customer opt-in
When customers first opt-in to your WhatsApp list, you could send them a welcome or a thank you message. They'll either opt-in via a marketing campaign or after their first purchase from your site. And you should have a campaign ready as soon as they opt in.
Example 1
Hey Mira,
Welcome to HealthNow!
Thank you for signing up. We will be sending you updates on upcoming sales, discounts, news about new products and all that's happening in the health and wellness industry.
PS. There's a 10% off site wide right now.
Shop now.
‍
Example 2
Hey John,
We hope you like your first purchase from our store. We'll keep you updated on new products, discounts, and more. Stay tuned.
We've just added a new curated section of super foods. We think you might like it.
Check it out now.
2. Offer free trials
Health and wellness retailers have to keep introducing new products to keep up with trends and consumer demands. But when you introduce a new product, you have to promote it or it won't get noticed. That's where WhatsApp broadcasts in the picture.
Example 1
Hey Sam,
We've just launched our newest product on the site – a plant protein mix – and we're giving away free samples with every order of $50 and more.
Shop from our site today to get a free sample. Offer lasts until tomorrow. Or simply buy and try the new mix.
Shop all I Buy plant protein mix
‍
Example 2
Want to try our new green blend, Jim?
Made of multi-greens and natural oxidants, it provides your complete daily natural nourishment in one pack.
There's an introductory offer – Buy 1 Get 1
Buy now I Know more about the green blend
3. Share educational content
By sharing educational content, you can turn a one-time purchase into a daily habit. Send recipes, blogs around benefits, etc. to get customers engaged and interested in the product. Here's how.
Example 1
Hey Sheena,
When life handed us lemons, we turned them into an energy packed super blend for you. We hope you like what you just bought. To make it more enjoyable, read our blog for recipes and how you can drink the lemon blend.
Read now I Go to recipe section I Shop more
‍
Example 2
Hola Peter,
It's been a while since we posted something on our blog. That's because we were putting together a series of podcasts with health and wellness experts from all across the world.
We're sure you'll find these helpful.
Listen now.
4. Cross-sell products that work together
One way to sell more products is to create product combos. Another way is to cross-sell products that go well together through marketing campaigns. You could use WhatsApp broadcast for this.
Example 1
Hey Carla,
We noticed you bought biotin hair gummies. How about you also buy omega 3 fatty acids capsules. It's a must for overall health and nourishment for your hair and body.
Oh! We're also running an offer – buy any three different products and get 15% off.
Explore now.
‍
Example 2
Hi Alex,
Thank you for your purchase of protein supplements.
You can also explore our herbal and ayurvedic mass gainers and essential vitamins.
If you'd like to know more, we have some reviews of how customers benefited from these products.
Explore shop now I Read customer reviews
5. Gather customer feedback
Customers who've recently bought your products are the best people to request for feedback. Whether you want feedback on their shopping experience or the product, here's how to collect it.
Example 1
Hi Rick,
We'd love to know your recent shopping experience on Health&Me.
Please rate your experience below:
5   Excellent
4   Good
3   Nice
2   Bad
1   Horrible
0   Skip
Example 2
Hey Monica,
We hope you like your recent purchase. How likely are you to recommend this product to your friends and family?

Got suggestions for us? Reply to this message.
6. Promote reorders and subscriptions
Customers tend to repurchase the same health and wellness products that they use. You can increase the customer lifetime value by promoting reorders and subscriptions for your health and wellness products via WhatsApp broadcast.
Example 1
Hey Samantha,
We noticed it's almost a month since you ordered your monthly vitamin supplements. Order it now so that it reaches in time before your supplements get over.
We also have a better option for you – a subscription. Choose quarterly, half yearly or annual. So you don't have to worry about placing your order every month.
Explore subscription plans now I Buy now
‍
Example 2
Hola Leona!
You might have forgotten but we remember. It's time to reorder your vitamin tablets.
Reorder it now and avail a 5% off. Limited period offer.
Reorder now.
7. Collect product reviews
Did you know 90% of people who're going to buy your products/services for the first time will read reviews before they place an order. And who better to ask for reviews than your customers? Here's how to do it.
Example 1
Hey Mat,
You've been using the energy boost supplements for a while now. We'd love to know how you feel after using them. Please spare a few words in a review.
As a token of appreciation, you can avail a 10% off on your next order. Use the code YES10.
Write Review Now
‍
Example 2
Hi Summer,
We'd really appreciate it if you drop a few lines of review about your recent purchase experience on our site.
In return, enjoy shopping with free reward points we'll add in your account.
Unlock reward points by writing a review now!
8. Sales and discounts
The almost instantaneous nature of WhatsApp marketing makes it a perfect channel to announce your sales and discounts. And you'll need to run sales when you have extra inventory, a slow sale period, or simply to re-engage customers.
Example 1
George, the moment you've been waiting for is here!
Our annual sale is starting in an hour and your favorite products are going to be available at upto 50% off.
Shop Ayurveda collection
Shop vitamin supplements
Shop green range
Shop all site
‍
Example 2
We're having a flash clearance sale, Mini.
Select items upto 50% discount until stocks last.
Don't miss this opportunity. Start shopping now!
Shop all
Shop 20% off
Shop 30% off
Shop 50% off
9. Re-engage inactive customers
Customers have many options of online stores to buy from. And so, if you don't put an effort to constantly bring back customers to your site, you might lose them forever. WhatsApp broadcast campaigns can help you out.
Example 1
Hola Monica, we haven't seen you in a while.
We just wanted to tell you that we've added some amazing new products on our site. Other customers are loving them and we're sure you would too.
Check them out here.
And just for you, here's a 20% off on your next purchase.
Happy shopping!
‍
Example 2
We've been thinking of you, Gabriella.
Why? Because our newest health and wellness products are something that you would like.
Would you like to buy them at a discounted price? You can do so by simply clicking on the 'Unlock discounts' link below.
Explore now I Unlock discounts
10. Turn abandoned carts into sales
Whether it's a new customer buying from your site for the first time or your seasoned customer about to try a new product, they might need your help. A little push can help you turn hesitant shoppers into big revenues.
Example 1
Hey Monica,
Feeling confused about which product is best for you? We get you and so we've kept the items in your cart on hold just for you. You can purchase them anytime at a 5% discount.
Reach out to us to know more about the product I Go to cart now I Explore other products
‍
Example 2
Hola Greg!
We see you've forgotten some items in your cart. They're selling out fast. Grab them before they're gone.
Go to cart now I Buy now
All set with your WhatsApp broadcast marketing campaigns?
As we've shown above, WhatsApp broadcasts can be used in many ways to re-engage customers, increase sales, and grow your Shopify business. You can run different types of campaigns for your different customer segments – new customers, existing customers, subscription customers, inactive customers, etc. And as we mentioned before, before you launch your campaigns, you should make sure you have customer opt-ins in place.
To get opt-ins sorted, you can use a WhatsApp Business API solution provider that can help you with the set-up, get opt-ins, set up call to actions, automate your messages, etc. Interakt has all these capabilities and more.
If you're new to WhatsApp for Business, sign up on Interakt today.
Looking for more inspiration? Head over to our next lesson to check out how other industries can use WhatsApp broadcasts.