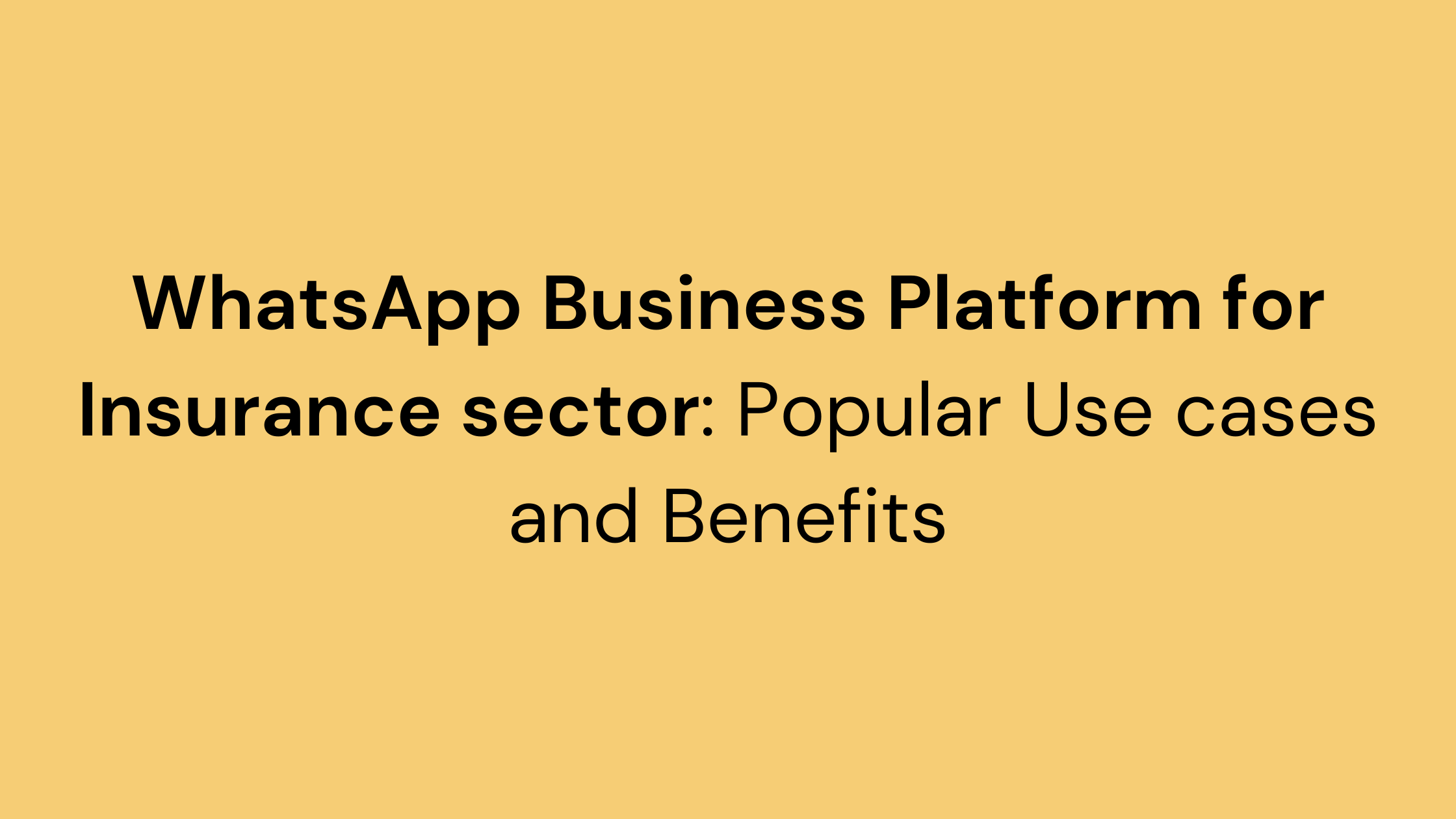 WhatsApp Business Platform for Insurance sector: Popular Use cases and Benefits
Since its launch in 2018, the WhatsApp Business platform has become one of the most popular channels for conversational commerce. Companies from various sectors are using WhatsApp to meet their communication needs including those in the Insurance sector. You may wonder if one can use WhatsApp Business for the insurance sector? Yes, WhatsApp has several benefits to offer which companies in the insurance sector can take advantage of.
There are 50 million businesses worldwide using WhatsApp to engage with customers and increase sales. WhatsApp is easy to use and lets companies interact with customers at a scale no matter where they are located.
Is WhatsApp for Business the right solution for insurance?
Insurance companies function to offer security and peace of mind to customers during their most difficult times. However, a lack of clear communication with policyholders and users can lead to panic and confusion. As many industries are embracing a digital transformation, it's time for companies in the insurance sector to follow suit and embrace digitization.
Like any other industry, insurance is dealing with many challenges as a result of the pandemic. Some of these include a sharp rise in customer claims and questions about travel and health to car insurance and more. The list goes on. This steep rise in customer claims, questions and concerns are a burden to the insurance customer service department as they find it hard to keep up with the vast inflow of requests.
Offering excellent customer service is essential to acquiring new customers and retaining the existing ones. When customers choose an insurance policy, they are looking for seamless processing and convenience where they can have their claims processed online.
This is potentially a huge opportunity for insurers, however, it is a big step to take for a sector that isn't digitally enabled as others. On the bright side, it's an issue that can be solved by a solution that's familiar and loved by many- WhatsApp. With an ever-increasing user base, WhatsApp is the channel to be on.
‍
Popular Use cases of WhatsApp Business API for Insurance companies 
‍
Lead generation
WhatsApp is a powerful tool for lead generation. It can be used to connect with new leads who are potential customers. You can answer their questions, share all the information they need and guide them towards the right policy. You can also share links to specific landing pages on your website that contain details of your policies. Apart from that, you can provide users with the option to receive PDF files with information about policies.
‍
Filing claims while on the go 
WhatsApp Business makes it possible to share rich multimedia files. While filing for claims customers can use WhatsApp to share important documents, images, audio and video files. WhatsApp being a secure platform ensures that their information is safe and does not fall prey to hackers.
Renew policies 
While it's possible to get insurance policies renewed automatically, that may not always be the case. With the help of WhatsApp Business, you may send messages to clients alerting them that their policy is about to expire and urging them to renew it to prevent a lapse.
By allowing customers to share all the required documents for policy renewal, you save time that would otherwise be lost in back and forth communication or meeting in person for documents handover.
‍
Send automated notifications 
Notify policyholders about policy renewals, policy status and directives and office working hours. Use checkout reminders to reach out to potential customers who initiated the process but paused midway through and did not purchase a policy. This message can be sent to encourage them to complete the checkout process.
Keep customers updated on changes in policies
Besides policies that are expiring, WhatsApp allows you to send messages out to customers informing them about any changes to their current policy. Most often, such information is not well received by policyholders especially if it is something that they were not looking forward to. So while going ahead with it, make sure to state the reasons why the changes are being made and how it's going to affect them.
‍
WhatsApp Business API for the Insurance sector
Using WhatsApp Business API for the insurance sector is a great step for companies in this industry to become tech-savvy and streamline their processes. The WhatsApp Business platform on Interakt will be useful for generating new leads, following up with customers and offering the best customer service you wish to provide. Wait no more, sign up today and enjoy a 14-day free trial.