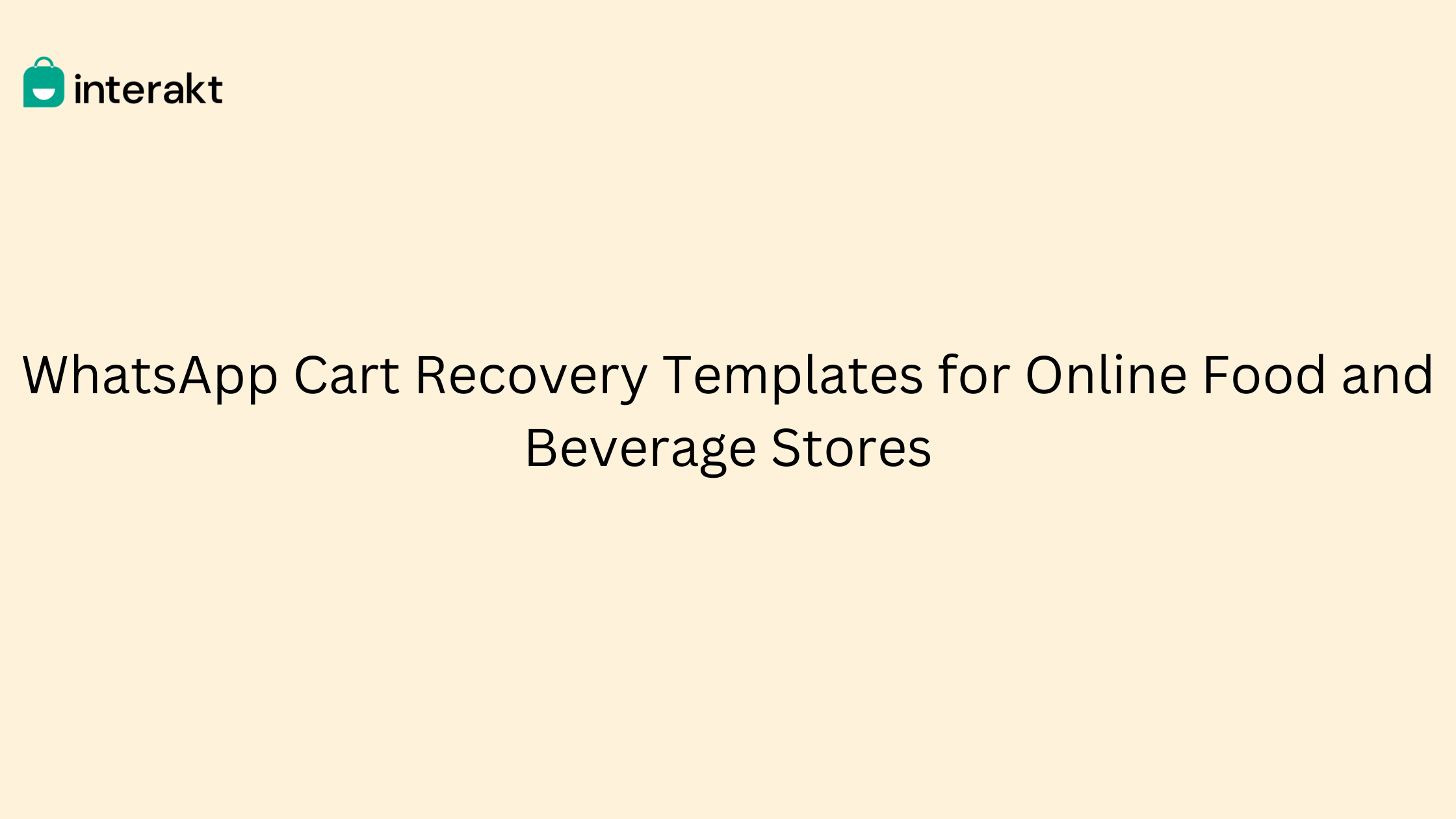 WhatsApp Cart Recovery Templates for Ecommerce Electronics Industry
The consumer electronics industry has recently been expanding. So much so that it's turning out to become a very popular and fast-growing market in today's eCommerce sphere.
The global electronics e-commerce market size in 2021 stood at $473.21 billion and with an annual growth rate of 11.2%, it is expected to grow to a whopping $825.39 billion by the year 2026. We see that customers are moving away from traditional brick-and-mortar stores for their gadgets and electronics, towards online shopping. And with thousands of ever-increasing brand choices, customer attention is getting even harder to retain.
According to statistics, online electronics brands have been seeing cart abandonment rates of 50.03% on average, as of 2022.
We have discussed how WhatsApp Business and WhatsApp API can help in recovering abandoned carts. Here we have a few industry-appropriate WhatsApp Cart recovery message templates for electronics eCommerce brands.
WhatsApp Cart Recovery Message Templates for Electronics eCommerce Brands
As always, these strategies and templates can be used to target a specific scenario but adapting it and using a combination of two or three approaches can prove effective as well.
Offer Discounts/Offers:
Discounts and offers are dependable, appealing and most often a winning strategy when it comes to marketing in general as well as WhatsApp marketing. Use a discount coupon or an offer that provides a good incentive for customers returning to the cart. Chances are, your customer will be back in their cart, more motivated to complete the purchase.
"Hello Jacob! We see that you have one DVD of Gran Turismo for PS4 waiting in the cart. Buy now and get a free Game Pass at our store!"
"Hey Mindy. Looking for smartphones? Get to your cart and finish the purchase right away for an 8% discount!"
Send a Simple Reminder:
Not all customers leave their carts having doubts about the purchase. Most customers get distracted and are unable to complete the purchase at that particular moment. Here, all you need is a simple reminder so that your customers will get back to their cart and get on with their purchase. Try to employ a casual and friendly tone, while being straightforward.
"Hey Rami. As fellow music lovers, we are here to remind you about your SkullCandy Earphones WAITING in the cart. Return to it right away."
"Hey Bob. Remember those beautiful Bluetooth speakers you were planning to own? It's still waiting for you in the cart."
Send Guides & Offer Shopping Assistance:
Consumer electronics is a tricky market to navigate, with its own complexities and techie jargon to overwhelm customers. Address this! Offer shopping assistance to customers in your WhatsApp cart recovery messages, by helping them to better navigate your store as well as to find the products suited to their needs. Sending a guide to help set up a product or a guide for choosing the right product could also be welcomed and appreciated.
"Hello there Maya. You seem to have the Nintendo Switch unattended in your cart. Need advice on the right gaming console for you? Talk to our panel of the geekiest experts you'll ever find!"
"Good morning, Joy! Having trouble completing your order? Feel free to reach out to us and we'll be more than happy to help."
"Hey Rick. Don't know what size your LCD tv should be? Here is a guide for choosing the right screen suitable for your entertainment purpose."
Induce FOMO:
Online electronics brands always seem to be running sales and special offers. Try creating a sense of urgency around this. The prospect of losing a good sale might be the motivation they need to get back to their carts and actually make a purchase.
"Hey Carl. Our site-wide discount on laptops ends tonight. Don't let it slip. Get back to your cart and secure your laptop."
"Hurry up! Our Big Diwali sale on smartphones ends in 24 Hours. Return to your cart and avail the offer ASAP."
"Hello Riz. Our latest POCO Smartphone is loved and might be sold out any moment now! Hurry up and return to your cart."
Send Product Recommendations:
If customers aren't returning to your cart for some time try luring them back in with a personalized product recommendation. The recommendation can be something complimentary or compatible with the product in the cart, or something you believe will be of interest to the customer based on their browsing behavior.
"Hi Kiran. Looking for Laptops? Here are a few Cooling Pads we highly recommend for an enhanced gaming experience on the laptop you are about to buy."
"Hello Roy. You have 1x the latest PS5 gaming console in your cart. We highly recommend our personalized Beginners Gaming Bundle to get you started."
Share Social Proof:
As electronics can be complex and choices are endless, people expect a lot to go wrong with their purchase. Provide your customers with numbers and social proof so that they can make a purchase decision without having to second guess and be overwhelmed with choices. This is also an opportunity for you to subtly boast about your brand's popularity, but don't overdo this.
"Hey Morty! We'd like you to know that the Precision-point Mouse in your cart is trusted by more than 100 happy gamers. Don't wait any longer. Go for it!"
"Hi Celine! 42 others have already owned the Grade A 32" HD LED TV you are about to buy, and the reviews are awesome. Return to the cart and seal the deal!" 
Recover Sales from Abandoned Carts on Your Online Electronic Store with WhatsApp!
The scale of the consumer electronics market in eCommerce is immense and so is the competition. An active way to deal with disengagement and cart abandonment is essential for your brand to set itself apart and battle competitors.
Using WhatsApp's conversational aspect and the WhatsApp API features, reach out and recover lost sales with the help of automation.
Signup for WhatsApp Business API to get access to WhatsApp Business API, strategically enhance your cart recovery campaigns, and much more.
Need more WhatsApp Cart Recovery Message Templates?
Explore our academy to find industry-appropriate templates.