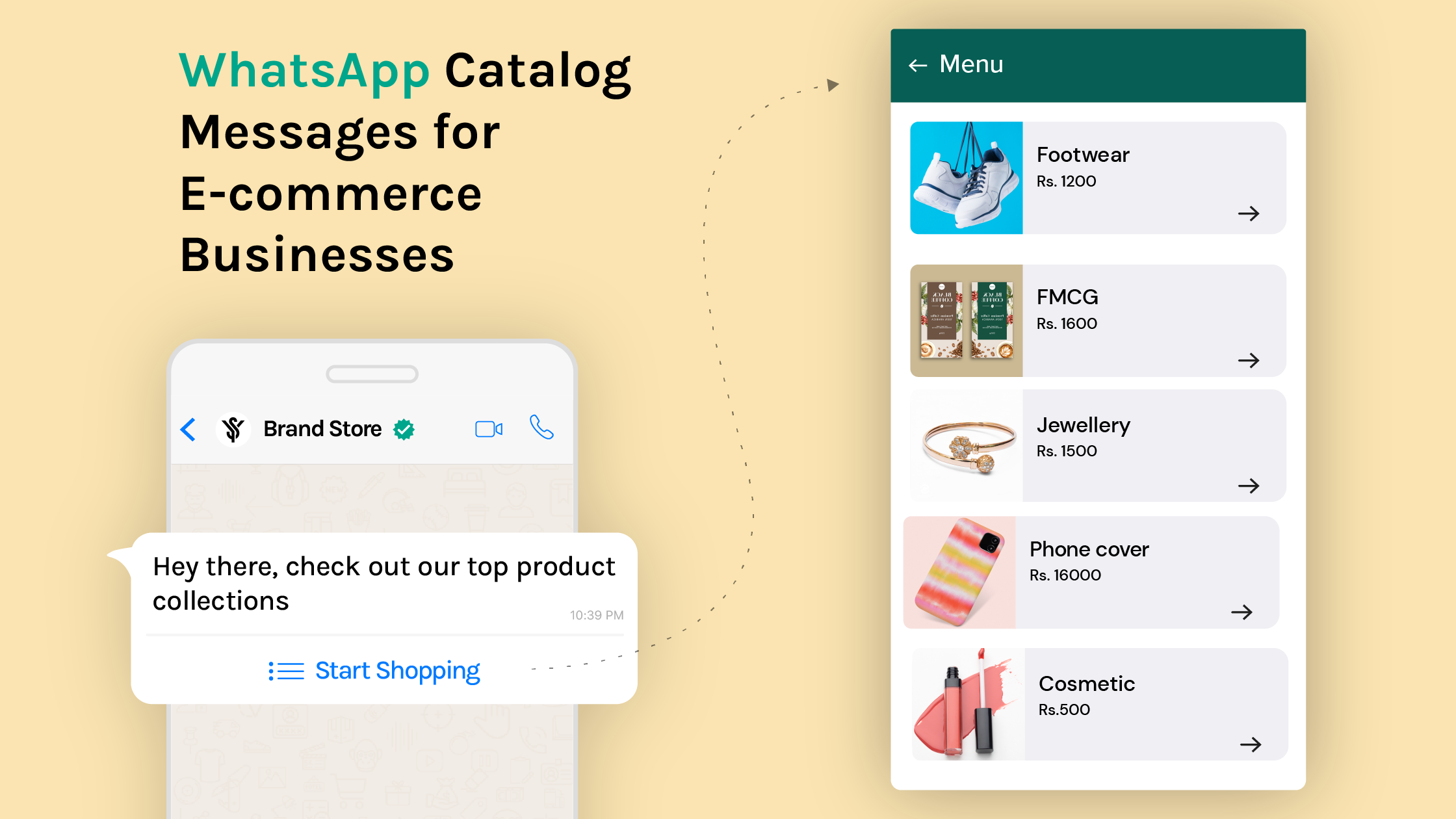 WhatsApp Catalog Messages for E-commerce Businesses
With currently more than 2 billion active users worldwide, WhatsApp is the most used messaging platform. Its users are not only plentiful, but they are also incredibly active, sending millions of messages daily. Therefore, it comes as no surprise that more and more e-commerce businesses are leveraging WhatsApp Business to sell and engage with their customers.
However, having to exchange multiple messages and photos to share product information is tedious. WhatsApp decided to make it easier to share product information with the introduction of catalog messages in WhatsApp Business API.
What do you understand by the term – WhatsApp Product Catalogs?
Catalogs are mobile storefronts for e-commerce businesses to showcase and share their products so people can easily browse, discover and select something they would like to buy. Previously, businesses had to send product images one at a time and repeatedly provide information, now customers can see their full catalog right within the WhatsApp chat. It makes it easier for business owners to keep customers engaged in the chat without directing them to a website.
For each item in the WhatsApp Catalog, a business can add information such as price, description, discount etc. To be able to send out WhatsApp Catalog Messages, a business needs to use WhatsApp API via a provider like Interakt and then set up the Catalog Messages within Interakt (after having added products to their Facebook Catalog).
There are 2 types of Catalog Messages:
Multi Product Messages (MPM): Messages containing a selection of up to 30 items from a businesses' inventory.
Single Product Messages (SPM): Messages with a single product item from the businesses' inventory. The product is displayed in a Product Detail Page (PDP) format.
Customers can view the product and add it to their cart, which they can share with the business in the chat. After that, the business can define the next steps, such as requesting delivery details and giving payment options.
Examples of Catalog Messages used by E-commerce Businesses- 
For instance, if you're an e-retail business owner selling cosmetics, apparel, footwear, etc., you can easily create and share a WhatsApp Catalog messages for your products like this –
Why do you need WhatsApp Business API to send Catalog Messages to your customers on WhatsApp? 
You can send out WhatsApp Catalog Messages only if you use WhatsApp Business APIs. On the WhatsApp Business app, you can only share a link to your WhatsApp catalog, while WhatsApp Business API will let you send up to 30 products within a catalog message itself.
WhatsApp Business API also enables you to:
• Get your team to log in from multiple devices & manage WhatsApp conversations on a common number
• Send WhatsApp catalog messages to 1000s of opted-in customers by triggering a campaign
• Send catalogs as part of Auto-messages whenever a customer contacts you or whenever a customer abandons the shopping cart.‍
It's quite obvious that the future is all about customer convenience, and WhatsApp's new Catalog feature for businesses delivers just that. There's no doubt that the WhatsApp Catalog Message is going to take the world of e-commerce by storm. Both small and big e-commerce businesses are going to profit from this new launch, The question we want to ask is, are you going to be one of them or not?
‍If you wish to jump on the WhatsApp Business API bandwagon and make it easy for customers to discover and purchase your products and services, sign-up for your 14-days trial now!