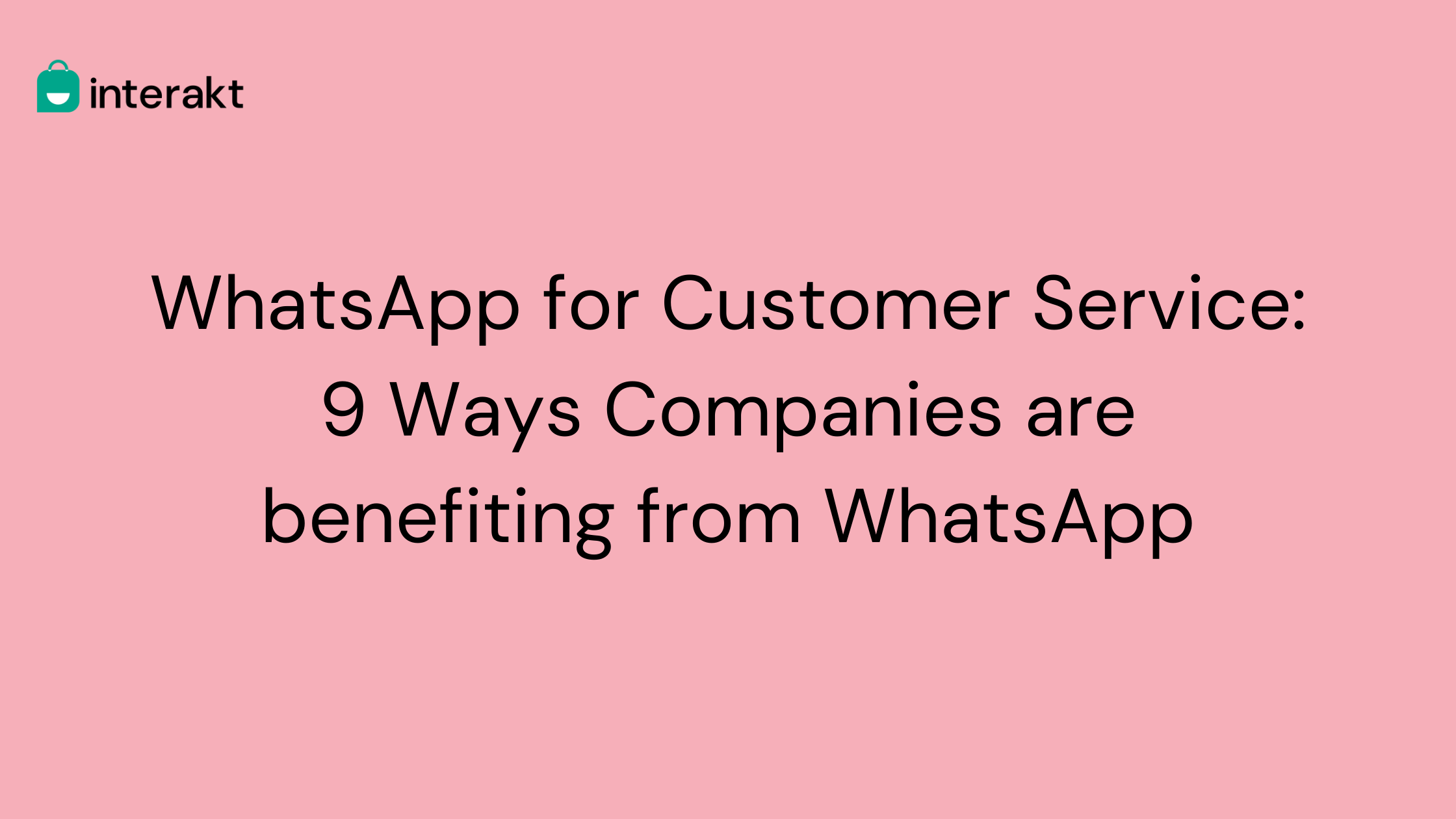 WhatsApp for Customer Service: 9 Ways Companies are benefiting from WhatsApp
WhatsApp has skyrocketed into one of the most sought after applications to harness the growth of a business or an enterprise and there's no stopping it. With an estimate of 2 billion users, WhatsApp is a preferred mode of communication with family and friends. Its massive user base is also the reason why we see a lot of companies jump onto this bandwagon.
What does it offer? A user-friendly interface, multimedia shares (audio, video, photos, documents, slideshows and so on), end-to-end encryption and a plethora of many more features crown this popular cross-platform communication service.
But, do you know that WhatsApp has curated solutions depending on the nature of your business? Are you puzzled about what your business may need – WhatsApp, WhatsApp Business or a WhatsApp API?
For starters, the regular WhatsApp account that we are all familiar with is the basic and a less formal version with a plug and play usability. Ideal for one-on-one personalized interactions, WhatsApp is the most convenient way to communicate with your friends and family. The WhatsApp Business platform, on the other hand, is a more practical solution that's best suited for small businesses and entrepreneurs to help them keep their personal and business communication separate. A business profile, product catalog and automated messages are its key features.
Moving on to WhatsApp Business API, which is ideal for companies and large enterprises that require in-depth and advanced solutions to rely on. From the green tick- which means it's a verified profile to a shared team inbox, it encompasses so many features that WhatsApp or WhatsApp Business is unable to offer. Simple integration with a BSP (Business Service Provider) such as Interakt is all you need to use WhatsApp Business API, but this comes with a price tag.
Now that you know the difference between the three, let's learn how growing enterprises and companies are using WhatsApp Business API as a solution to up their game. WhatsApp Business API is the next big thing when it comes to customer service and engagement.
Companies that have an omnichannel strategy in place will find WhatsApp for customer service as an apt solution that greatly helps to engage with customers at scale.
From managing customer questions to sharing product information to sending notifications and providing updates, a lot of these tasks can be accomplished with the help of WhatsApp to augment the customer experience with your brand.
Can I use WhatsApp for customer service?
Yes, WhatsApp is a great tool for customer service. Using WhatsApp as a channel for communication can build your customer support and elevate it to greater heights of engagement. WhatsApp Business is being used by 50 billion businesses worldwide to build stronger customer relationships.
How to use WhatsApp Business for customer service?
Let's take a look at 9 ways WhatsApp can come in handy for customer service.
‍
1. Keep customers informed on the status of their orders 
You can use WhatsApp for customer service to send notifications and alerts that keep customers informed while on the move. Customers can get updates about the status of their orders — right from order placement, to order shipment, to order delivery, payment details and any other information about their order through WhatsApp.
2. Manage customer queries 
Customers expect quick responses, every time that they reach out to your business. With WhatsApp, it's possible to engage in direct two-way communication with customers and respond quickly to answer all their queries in good time.
‍
3. Gather feedback from customers 
Customer feedback should be considered as a crucial aspect in building a solid customer base for your business. According to a study, 52% of people think that companies must take action based on what customers have to say. Thanks to WhatsApp, it's really easy for brands to reach out to customers and seek feedback from them.
Why is WhatsApp the right channel for collecting feedback? 
• WhatsApp supports two-way communication making it easy for brands to collect feedback from customers in real-time
• One of the main factors that make WhatsApp an ideal channel for feedback collection is due to the flow of conversations that the channel supports
‍
4. Share bulk notifications 
Using the WhatsApp Business platform you can send out bulk personalized messages in the form of notifications and alerts to customers to keep them informed on the go. This will further enhance their experience with your business.
Reminders on appointments, bookings made, payment requests etc. are some of the automated messages that you can send out to your customers. You can also include booking related questions and process requests such as changes, upgrades and cancellations.
‍
5. Touch base with customers after the sale 
WhatsApp is a great channel to keep in touch with customers after they have completed their purchase. The purchase history can be used to send messages proactively and make personalized recommendations with the possibility of upselling or cross-selling to customers.
‍
6. Showcase your products and services
With WhatsApp Business for customer service, you have an opportunity to showcase your products and services allowing customers to browse through and find their favorite items. Regardless of whether your business is small or large, you can showcase your products to the world for free using WhatsApp business.
‍
7. Use rich media to enhance customer support 
Messages aren't limited to just plain text and images anymore. You can enhance your customer experience by sharing multimedia messages, QR Codes, Video Tutorials, Locations, Documents and more. If any issues have to be handled — live agents can get on a video or a voice call to resolve it.
‍
8. Integrate with leading third-party solutions 
WhatsApp Business API on Interakt supports easy integration with third-party solutions like CRMs and E-stores. Leveraging this, all your customer data gets centralized and can be used to offer better customer service.
‍
9. Assign conversations with ease
WhatsApp being an instant messaging platform can be used by customer support teams for internal communication. For instance, if a customer has reached out to one of your agents and they are unable to resolve the issue, they can quickly reach out to another member of their team to tackle the query and resolve the customer's issue at the earliest.
Transform your communication using WhatsApp for customer care
From conversations in native languages to adding interactive buttons to your messages — WhatsApp Business API helps companies stitch a seamless user experience for the customer. The intelligent and proactive shift of conversations from automated mode to live support keeps your customer engaged and valued.
WhatsApp Business API's unique features will revolutionize your customer service by adding value and giving you an edge over the competition. By including it in your communication strategy, you can set your businesses up for growth and success. Sign up on Interakt today and get a 14-day free trial.