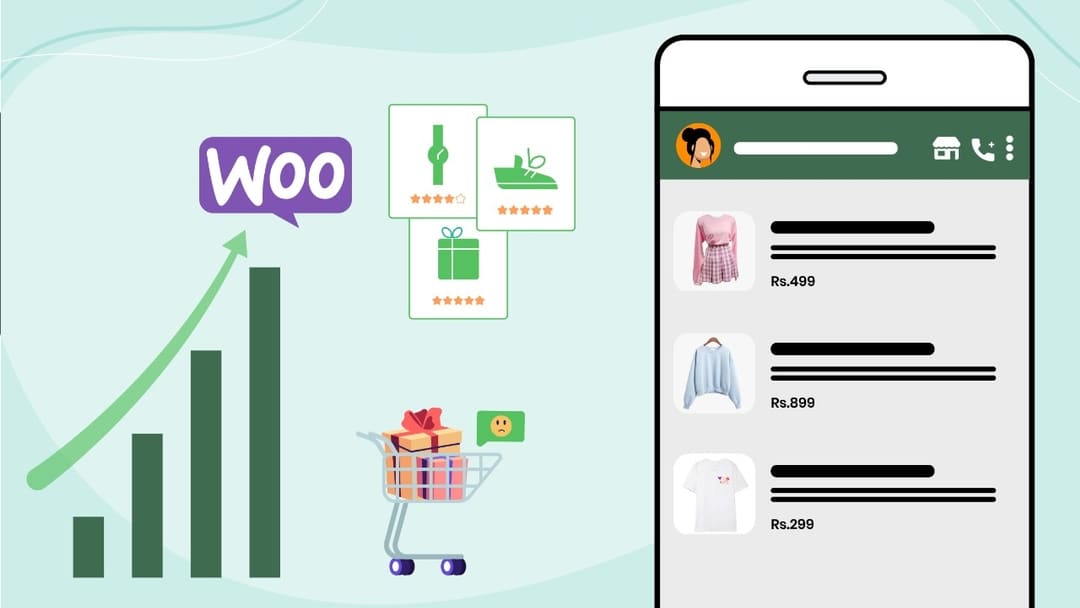 WooCommerce Abandoned Cart Recovery on Interakt
Shopping cart abandonment is one of the biggest issues that online business owners face today. Every year, billions of dollars are spent on digital ads to drive traffic onto e-commerce websites, despite this, the average conversion rate is at a dismal 2%. This goes on to show that the majority of the shoppers who head to a store do not complete the checkout process but decide to leave empty-handed.
According to the Baymard Institute, the shopping cart abandonment rate is at 88%, indicating that 8 out 10 potential customers abandoned their shopping carts. This happens due to multiple reasons like additional shipping cost, a complicated check out process, lack of sufficient information on a product, a cumbersome interface and hidden costs that aren't revealed upfront.
Shopping cart abandonment usually has a huge impact on the turnover of a company. According to a study conducted by Forrester, e-commerce stores lose a staggering $18 billion every year in revenue because of shopping cart abandonment.
What happens after shoppers abandon their cart? 
They either return at a later time to buy the product from your store or they simply head to a competitor to buy the same product. In such cases, reach out to customers proactively. Ask them a few questions to understand where they faced bottlenecks and why exactly they left. This will give you information to fix what's wrong in the process and save other customers from leaving their shopping carts abandoned.
‍What is WooCommerce abandoned cart? 
WooCommerce is a plugin that integrates seamlessly with your existing WordPress site, converting it into a fully functioning e-commerce website with just a few clicks.
When a shopper visits your WooCommerce store, adds products to a shopping cart but decides to leave midway, it results in cart abandonment. That is where WooCommerce abandoned cart recovery comes into the picture.
‍What is WooCommerce cart abandonment recovery?
It is the process where you reach out to your customers and remind them about the products they have left behind at your store. This way, you encourage them to revisit their cart and complete the checkout process. This is a big opportunity for you to recover lost sales. Studies reveal that the cost of recovering an abandoned cart is much lesser than the cost involved in acquiring a new customer. This is mainly because the customer is already in the loop, and you know what the customer is looking for and can offer personalised deals to convince them to buy from you.
‍Recover sales with WooCommerce abandoned cart
If you are a WooCommerce store owner, you know by now that shopping cart abandonment is inevitable. Therefore you need a solution that will help you
make informed decisions about cart recovery, recover abandoned carts with ease, win back lost customers and recover lost sales.
There are several ways you can recover abandoned carts. One of the most common and traditional ways is to send emails to recover abandoned carts. However, the disadvantage with emails is the low open rate. On an average, only 18% of emails get opened which means that only 1 in 5 emails sent on cart recovery would be read.
Hence, you need a platform where you can easily get in touch with your customers and be assured that your attempts at reaching out to them won't go in vain.
There are many apps and tools that you will find to send cart recovery messages, but one that tops our list is WhatsApp.
Here are some of the benefits of using WhatsApp for abandoned cart recovery.
• WhatsApp is one of the most popular conversational Apps of our time, everyone you know is using it.
• Messages sent via WhatsApp get delivered instantly and their open rate is 99%.
• 80% of WhatsApp messages are read within the first 5 minutes of it getting delivered.
• Users don't have to log in to read their messages.
To automate your cart recovery process via WhatsApp you will need access to the business version of WhatsApp, which is WhatsApp Business API. This is made available by WhatsApp Business API Solution Providers like Interakt. Interakt will help you get on board WhatsApp Business API where you can enjoy a host of features to power your business communication.
These features include a shared team inbox that supports multiple devices where users can collaborate and manage all customer conversations. By using the quick replies feature, you can answer customer FAQs and address any queries that customers may have on the check out process or payments.
Interakt lets you send personalised automated notifications on checkout abandonment. You can send timely messages to customers reminding them to head back to their carts and purchase products that were abandoned. This way you have an opportunity to regain your customers and recover lost sales.
How to integrate WooCommerce with Interakt for abandoned cart recoveries? 
The WooCommerce integration with Interakt can be facilitated by Integromat. Integromat is a cloud automation tool that connects various apps and processes helping you automate your workflows.
The integration is easy. It can be done without any coding. Setting this up will not take you more than 30 minutes. The integration can be done on Integromat's free plan. However, you will need to subscribe to their paid plans priced at $9 or $29 per month, if you plan on using the platform regularly.
By connecting your Woocommerce store to Interakt via Integromat you will be able to send WhatsApp reminder messages whenever customers abandon their carts.
Apart from cart recovery messages, you will be able to send: 
• WhatsApp messages as soon as a customer places an order on your WooCommerce store with all the details of the order captured in it.
• Order updates via WhatsApp informing customers as soon as their orders get shipped or delivered.
‍Benefits of integrating interakt with WooCommerce
• Easily send personalised and automated WhatsApp notifications to your store's customers.
• Seamless integration in just a few minutes.
• Helps reduce the cart abandonment rate of your WooCommerce store.
• No coding is required.
Combat cart abandonment on your WooCommerce store today!
If you are facing high rates of cart abandonment, link your WooCommerce store with WhatsApp Business API on Interakt via Integromat and send timely WhatsApp messages and updates to convert lost leads into loyal customers.
Sign up on Interakt and avail your 14-day free trial.