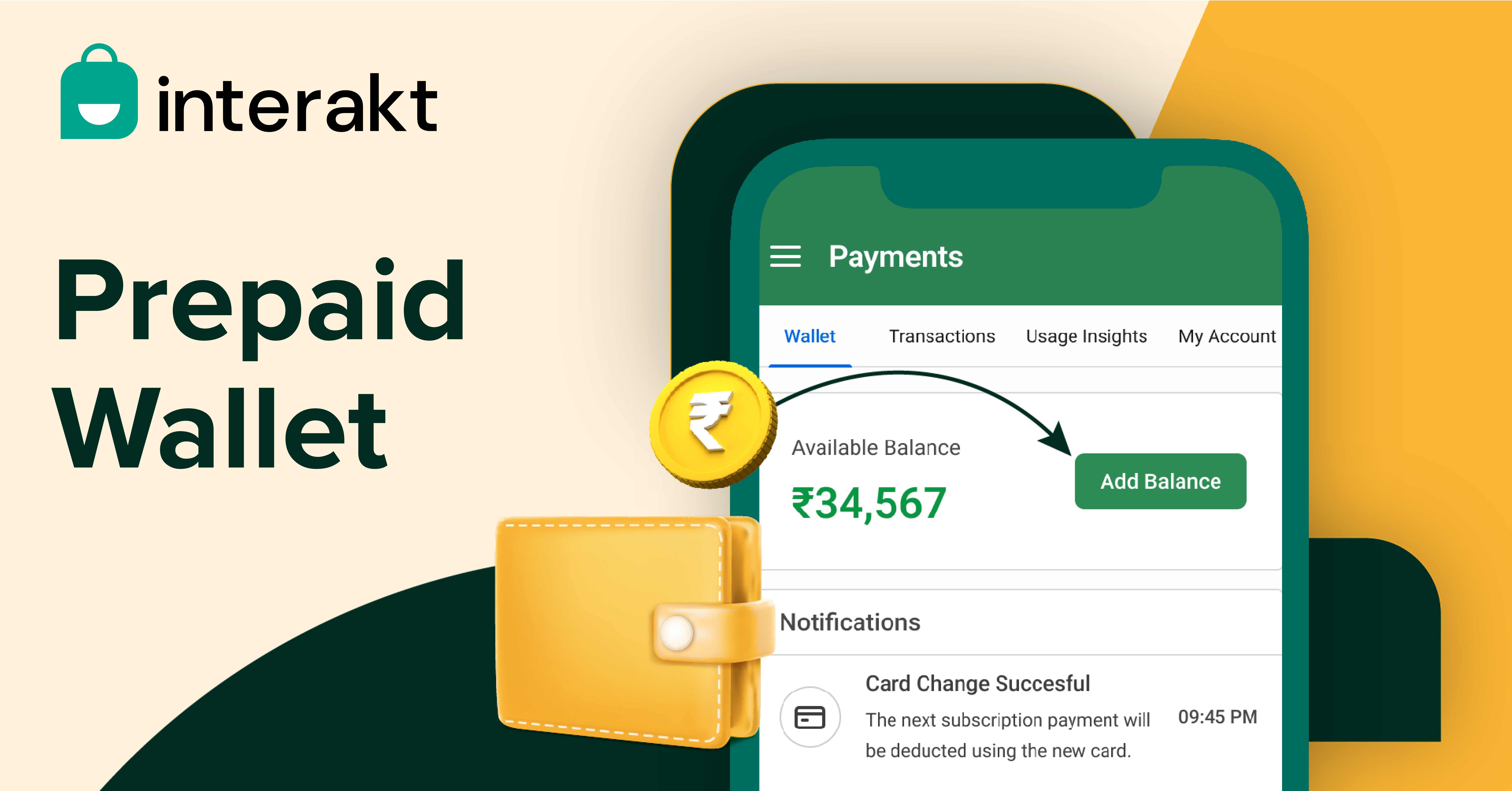 Prepaid Wallet
In our bid to make pricing more transparent and reduce ambiguity around our invoices, we are launching a Prepaid Wallet.
As a business owner, there is a lot of confusion around how you are charged for using the platform; especially campaign charges. We want to make this as transparent and upfront as possible so that you have complete visibility into your usage and charges.
New businesses will get a 14-day free trial of Interakt's platform, without providing any credit card details or having to top-up a prepaid wallet. Once their free trial is over, they can choose a subscription plan as per their business needs and add a certain amount to their wallet and continue sending WhatsApp campaigns and replying to their customers.
What does a prepaid wallet mean for Interakt's customers?
We have enabled a wallet on your account where you can top up a certain amount for sending campaigns as well as replying to customers.
What makes this relevant is that we will be showing an estimate of these charges upfront before setting up campaigns and show actual deductions basis Meta's inputs at the end of every day. The balance will get adjusted into your wallet at the end of every day to reflect the actual amount left.
Here's how it works:
Before sending any campaign you will be shown an estimate of the costs associated and you would be required to maintain that balance in your wallet in order to send the campaign.
You would also need to maintain a minimum balance required to engage in 1-1 conversations with your customers
If you are using ongoing campaigns, you will need to ensure you maintain sufficient balances in your wallet for these to continue working seamlessly
Free conversations per month, will be applicable at a WABA level and not phone number, just like how Meta reports it. [Note: Starting June 1st, 2023, as per Meta's new conversation-based pricing changes, business-initiated conversations will no longer be included in the free tier. However, you will continue to receive 1,000 free user-initiated conversations per month (the 1000 free conversations will be at a WABA level)]
All conversation counts and charges would be adjusted against how Meta reports them at the end of each day.
We will send reminders and display alerts on the platform on low wallet balances
Balances in your wallet are nonrefundable
Note: This will be separate from the subscription charges as per the plan you have selected ie., Starter, Growth, or Advanced.
This simplifies a few things for you:
How customers are engaging with your brand on WhatsApp
How you should budget for your WhatsApp account
Also, you don't have to wait for an entire week to get a surprise!
Wrapping up
Today, some of you struggle with issues, such as payments or how invoices are raised. These grievances will get handled with the launch of the prepaid wallet. We will be enabling multiple payment gateways followed by daily deductions and adjustments so that you don't have to worry about failed payments or huge unsolicited invoices at the end of the week.
For any other queries related to the prepaid wallet, simply write to our team at [email protected], and we will be right there to help you out.
FAQs
How will deductions on WhatsApp prepaid wallet work on Interakt?
We'll be providing an estimated campaign cost for one-time campaigns before they are set live. This estimated cost will be deducted from your wallet balance. Ongoing campaigns can be set as they are.
For user-initiated conversations, we will rely on information provided by Meta APIs
At the end of each day, we will call Meta APIs and request for BICs/UICs for the day. Your deductions for the day will be adjusted against the actual data provided by Meta.
Will I get alerts for my WhatsApp prepaid wallet balance on Interakt?
Yes. You will get alerts for deductions, recharges, low balance (below INR 1000 or USD 100) & insufficient balance (below 0).
How can I make the payments on WhatsApp prepaid wallet?
You can make payments by clicking on the 'Add Balance' button on the wallet tab in your account. Just recharge using the payment gateway/method of your choice and the credits will be reflected in your wallet balance.
Can I pay later on WhatsApp prepaid wallet?
Unfortunately, you will not be able to pay later since the platform will now be tightly coupled with the wallet balance. If the wallet balance goes negative, then all your campaigns could get paused.
What will be the minimum balance required on Interakt's WhatsApp prepaid wallet?
There is no minimum balance requirement at the moment. However, we strongly suggest maintaining a balance of INR 1000 / USD 100 or above for reducing the possibility of the account getting paused.