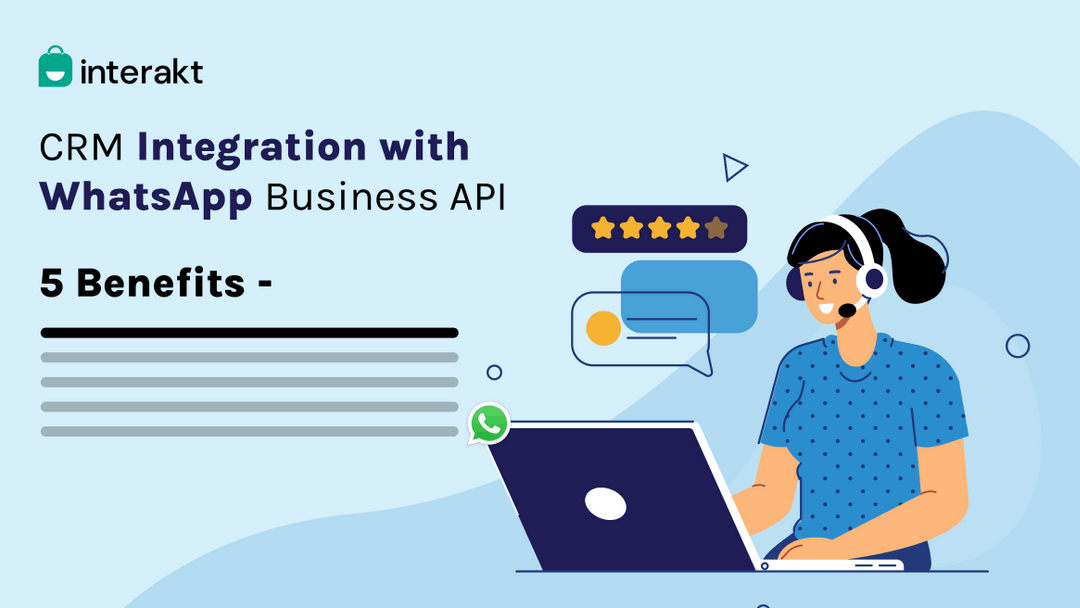 CRM Integration with WhatsApp Business API: 5 Benefits | Interakt
WhatsApp is the most popular instant messaging app in the world with a growing user base. The channel is used for both personal and business communication. Companies that include WhatsApp in their communication strategy can benefit a lot more if they integrate it with their existing CRM.
Before we tread any further let's get right to the basics. There are 2 types of WhatsApp Business Accounts-
1. WhatsApp Business App
2. WhatsApp Business API
What's the difference between WhatsApp Business and the WhatsApp Business API?
For starters, the WhatsApp Business App was launched for small businesses with 1- 5 employees, receiving a fairly low volume of incoming messages which can be managed by one or two customer support agents at the most.
On the other hand, WhatsApp Business API was created for fast-growing SMBs that receive a huge volume of chats from prospects and customers.
The WhatsApp Business App can be easily downloaded from the Google Play Store or the App Store (for Apple devices). The app is free to use and that is why it has a lot of takers. However, the regular WhatsApp Business Account doesn't support multiple users.
How to use WhatsApp Business when you have an entire team who needs to work together to solve customer issues? The answer lies in WhatsApp Business API. With a common WhatsApp number, Interakt's shared team inbox allows multiple users to log in from multiple devices to seamlessly manage customer conversations. If you are faced with high chat volumes and have a team of agents allotted for customer service, you need access to WhatsApp Business API. Let's explore the advantages of WhatsApp Business API
WhatsApp Business API benefits include- 
• An official WhatsApp Business Account with a green tick verification. The green tick verification showcases your business as being reliable and trustworthy.
• A shared team inbox where your whole team can collaborate and manage customer chats effectively.
• A unified dashboard for sending timely and automated messages, notifications, alerts and updates to clients.
• It helps you offer delightful customer services by allowing you to engage in direct two-way communication with customers.
• You can quickly resolve customer issues and provide relevant information on the products and services they are interested in purchasing. This will enable you to build customer trust and loyalty.
To gain access to WhatsApp Business API you need to approach a WhatsApp Business API Solutions Provider like Interakt.
‍
Is the WhatsApp Business API free to use? 
Unlike the WhatsApp Business App, WhatsApp Business API has advanced features to offer and so it comes with a paid subscription model which varies depending on the service provider you opt for. At Interakt, WhatsApp Business API is made available for a reasonable fee. Check out Interakt's WhatsApp Business API pricing plan.
‍
WhatsApp CRM Integration
If you have an existing CRM in place, you can integrate it with WhatsApp to use the information contained in your CRM to connect with customers at scale.
WhatsApp can be integrated with leading CRMs such as –
• Hubspot
• Zoho
We will now play out the benefits of integrating WhatsApp into your CRM.
1. International reach
Currently, WhatsApp has 2 billion users worldwide and the numbers are expected to rise with each passing year. By integrating with WhatsApp you have the ability to tap into this enormous user base.
Every day, an average user spends 38 minutes on the app as per a report by Backlinko. So why not connect with your customers on a platform that they are most active on?
2. Quick responses and faster resolution of customer queries
Instant messaging as the name suggests is synonymous with immediacy. WhatsApp being the most popular instant messaging platform allows you to engage in real-time conversations where you can offer swift responses and solutions to customer queries.
WhatsApp is more efficient than other traditional forms of communication like emails or contact forms due to the speed and convenience it offers its users.
Since WhatsApp is a platform where the conversations are kept simple, friendly and informal, you don't have to spend a lot of time structuring your messages as you would otherwise do for an email.
3. Nurturing leads
WhatsApp integration helps you nurture your leads. It lets you send product catalogs, images, documents, videos and much more based on your interactions with customers. This way you encourage customers to move down the sales funnel and get closer to a conversion.
4. Order tracking
Your customers would love to hear from you particularly if it is regarding their orders. Use the WhatsApp template messages feature on WhatsApp Business API to create order updates and provide quick information to customers every time there is a change in the status of their orders.
5. Send timely automated messages to boost engagement
Shoot out timely messages and keep customers informed at every stage of their journey with your brand. This will provide customers with all the information they need without having to follow up with your business multiple times.
Send out personalized messages to greet customers when they have reached out to your brand for the very first time.
If your chat agents are busier than usual and you are unable to attend to a customer query, send an automated WhatsApp message letting them know that you will attend to their query at the earliest possible time.
You could also send out personalized messages on the occasion of their birthdays or anniversaries which will reflect positively on your brand and help you build long-lasting relationships with your customers.
Integrate your CRM with WhatsApp today!
Get access to WhatsApp Business API, offer top-notch customer service and win customers like never before. Sign up today and get a 14-day free trial.