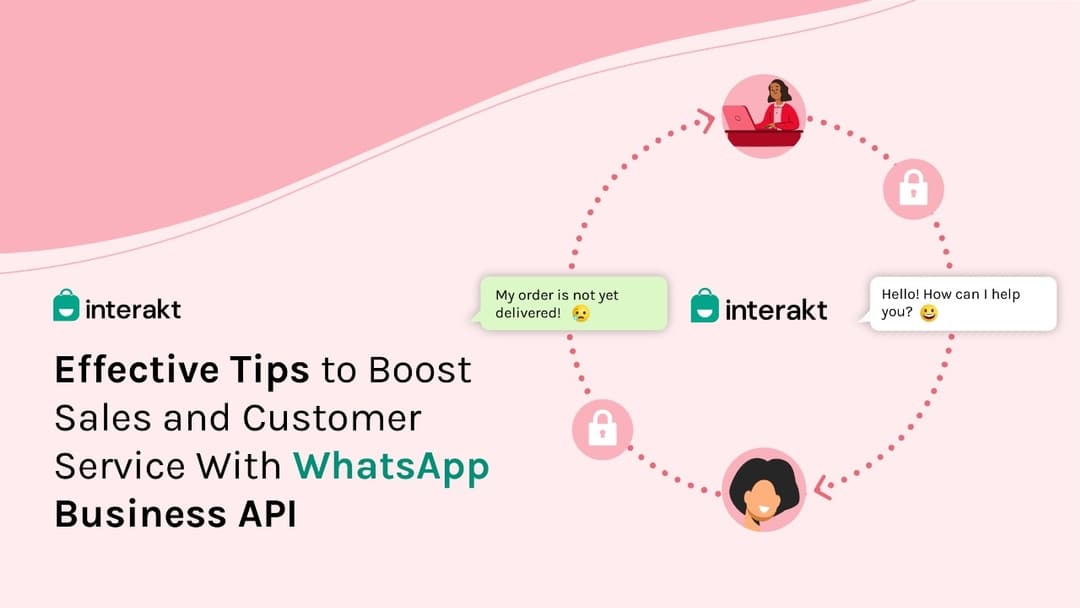 Effective Tips to Boost Sales and Customer Service With WhatsApp Business API
Today, WhatsApp is synonymous with instant messaging and has become an integral part of our daily lives. Thanks to its tremendous popularity, it was only a matter of time before WhatsApp would be used by businesses to connect with customers and conduct transactions. 5 million businesses use the business version of the app to cater to their customers. WhatsApp is one of the most reliable platforms with a daily engagement rate of 70%. Personalization is at the core of WhatsApp allowing you to connect more easily with your target audience. Having said that, you must be careful not to spam users with constant messaging or improper content.
If you are a store owner, you need to establish strong ties with your existing customers and find ways to promote and advertise to reach out to newer audiences. WhatsApp can help you achieve this and much more!
In this article, we are going to look at how to use WhatsApp to boost sales. You may wonder, can you sell things on WhatsApp? That's right, you can generate sales through WhatsApp! We will give you the lowdown on the tips and tricks you can use to boost your sales and customer service with WhatsApp Business API.
Before that, let's take a look at why you should use WhatsApp Business for sales.
Top benefits of using WhatsApp Business for Sales 
‍
1. Easy access 
WhatsApp allows you to connect with customers on a channel they are already using and comfortable with. People open the app and check their messages many times in a day making WhatsApp the easiest and most convenient channel to get in touch with customers. An average user of WhatsApp spends 38 minutes per day on the app. So, messages sent via WhatsApp are hard to go unnoticed.
‍
2. Global reach 
WhatsApp has over 2 billion users worldwide and the platform is extremely popular in countries like India, Brazil, Mexico and Malaysia. There are 573.6 million monthly active users in India, Brazil and the U.S alone.
‍
3. Speed 
Customers get frustrated with endless waiting lines and delayed responses. WhatsApp is a platform where real-time conversations take place. Customers can get instant responses to their queries. Since WhatsApp messages are shorter and more direct when compared to emails, it gives your team the ability to respond quicker, cutting down the likelihood of churn.
4. Data privacy
With its end-to-end encryption, WhatsApp is committed to ensuring data privacy and security for its users. WhatsApp also assures its users of a spam-free experience.
‍
Top tips for effective selling on WhatsApp 
We have compiled a list of powerful tips that will help you boost your sales by using WhatsApp for customer support. 
1. Spamming is a big no-no on WhatsApp 
This is one rule you sure can't ignore. WhatsApp is strict when it comes to spamming. Like any other messaging platform out there, WhatsApp will detect and block anyone who takes to mass advertising. Avoid sending any content that your customers don't wish to receive. If you do, WhatsApp will quickly block it and you will miss an opportunity to sell. Instead, send personalized messages with content that adds value to your customers.
2. Maintain a friendly and conversational tone in all your chats
Avoid coming across as a robot when you chat with customers. WhatsApp chats are meant to be friendly and informal. So you need to be warm, polite and helpful. The best way to go about this is to talk to your clients as you would to anyone else on your contact list while being professional and respectful throughout the conversation.
3. Make the most of emojis 
Using emojis can help you build a good rapport with your clients. In the world of instant messaging, emojis have the power to help you express better and add warmth to your messages. Make sure to not go overboard with it though.
For example, you can use the Thumbs Up (?)emoji to convey approval or agreement and a smiley (?)to greet your customers. 
4. Send engaging template messages 
WhatsApp Template messages are the best resources that a salesperson can use. These are saved messages that are kept ready to be sent to customers in any given situation. These messages have to be pre-approved by WhatsApp before they are sent out to customers.
Here is an example of a template message to establish initial contact with a prospective client-
Hi! My name is John and I work at Premier Autos. I have just received your contact info through our website. How are you? 
‍
5. Send messages with interesting content 
If you are a regular user of the app, you will know by now that WhatsApp is being used to circulate information that isn't always true. This makes people a bit cautious and they may not read or believe what's being said in the messages. And so, you need to be all the more careful in sending out content to your customers through WhatsApp particularly if they haven't yet purchased from you.
Here are some tips to engage people with your content-
• Include informative and educational content related to your product and niche in your messages.
• Offer customer support through the app including voice messages
• Send videos containing helpful information to your customers
• Write catchy text messages with details on promotions for those who access your sales page through a WhatsApp link
The intention here is to contribute to your customers' knowledge and captivate their interest.
Few mistakes to avoid while selling on WhatsApp 
• Don't try to sell to your customers at all times
• Don't ignore customer feedback. It's important to take into account the feedback that comes from people who connect with you on WhatsApp. Respond and resolve any issues that they have as quickly as possible.
• Don't act inappropriately. Refrain from sending any personal messages to your customers. Your content must always represent your brand and be related to the products and services you offer. 
Boost Sales and customer service with WhatsApp Business API today! 
Gain access to WhatsApp Business API via Interakt to unlock the power of conversational commerce and drive sales.
Sign up today for a 14- day free trial. Explore WhatsApp Business Pricing and find out what all Interakt can do for your business.