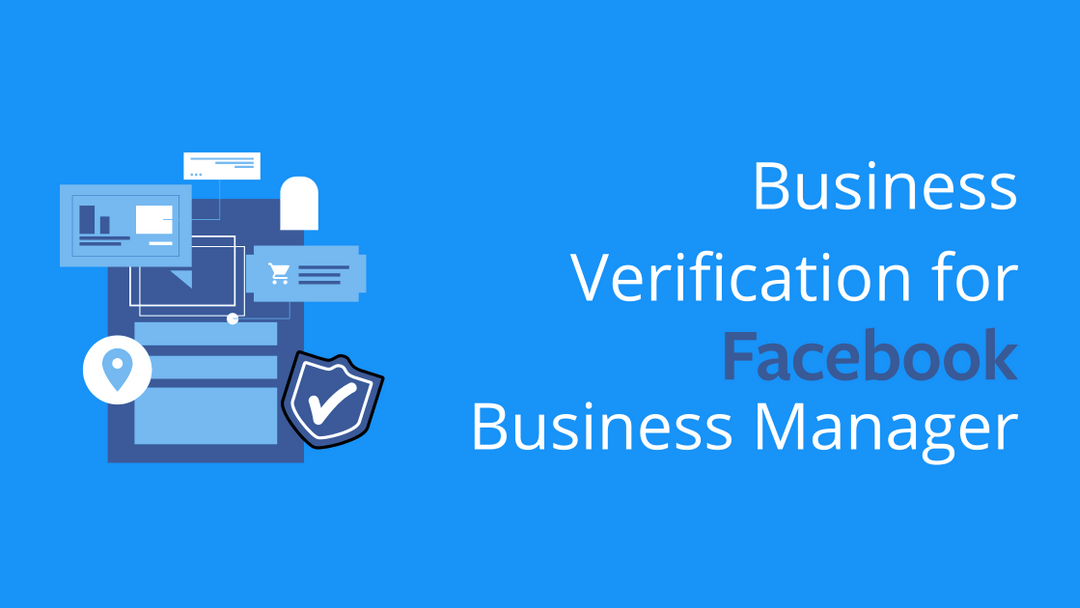 How To Get Your Business Verified on Facebook Business Manager
If you have decided to integrate your business with WhatsApp Business API, you will be required to complete the verification process of your company on Facebook Business Manager. ‍
Take a look at the list of documents you will need before you start the Facebook Business Verification:
For Facebook to verify your business, it needs to confirm the registered business' legal name, address and phone number. Facebook also cross checks with the MCA (Ministry of Corporate Affairs) records to validate any information you submit to them. Hence, it is absolutely essential to submit the most up-to-date and correct documents because any discrepancy can lead to rejection or further questions. To confirm the legal name, address and phone number of your business, following are the documents in order of recommendation that are acceptable ✅
• Certificate of formation or incorporation (Ex: GST Certificate)
• Articles of Incorporation
• Business Bank Account Statements
• Utility bills (Ex: phone or electricity bill) that show the legal address, name and phone number of your business respectively
• Business Credit Reports
• Business license and permits from local, state or central government
• Goods and services tax registration certificate(GST)
• Permanent Account Number Card (PAN)
• Shop establishment certificate
• Udyog Aadar (UID)
Additionally, you can refer to this Facebook to know all the about the list of documents that you will need to upload for verification.
Here is a list of the documents that will NOT be acceptable for the verification of legal name, address and phone number of your business:
• Invoices
• Purchase orders
• Self-filled applications for the company
• Tax returns filed by you or your company
• Personal bank statements
• Website print
• Other documents like company flyers, letterheads etc.
How to verify your Business on FB Business Manager?
Step 1: Go to your business manager and on the left hand side panel, click "Security Center" and click the button "Start Verification"
A quick heads up! If the "Start Verification" button is disabled/greyed, you will need to create an app from the "My Apps" section and link your business manager account to it. However, a more simpler way to get this set up would be by signing up with an Official WhatsApp Business API Provider. They will assist you with not just the process of Facebook Business verification, but anything else that is required throughout your journey with them!

Step 2 : Here, you will need to fill in your business details that include legal business name, address, phone number and website.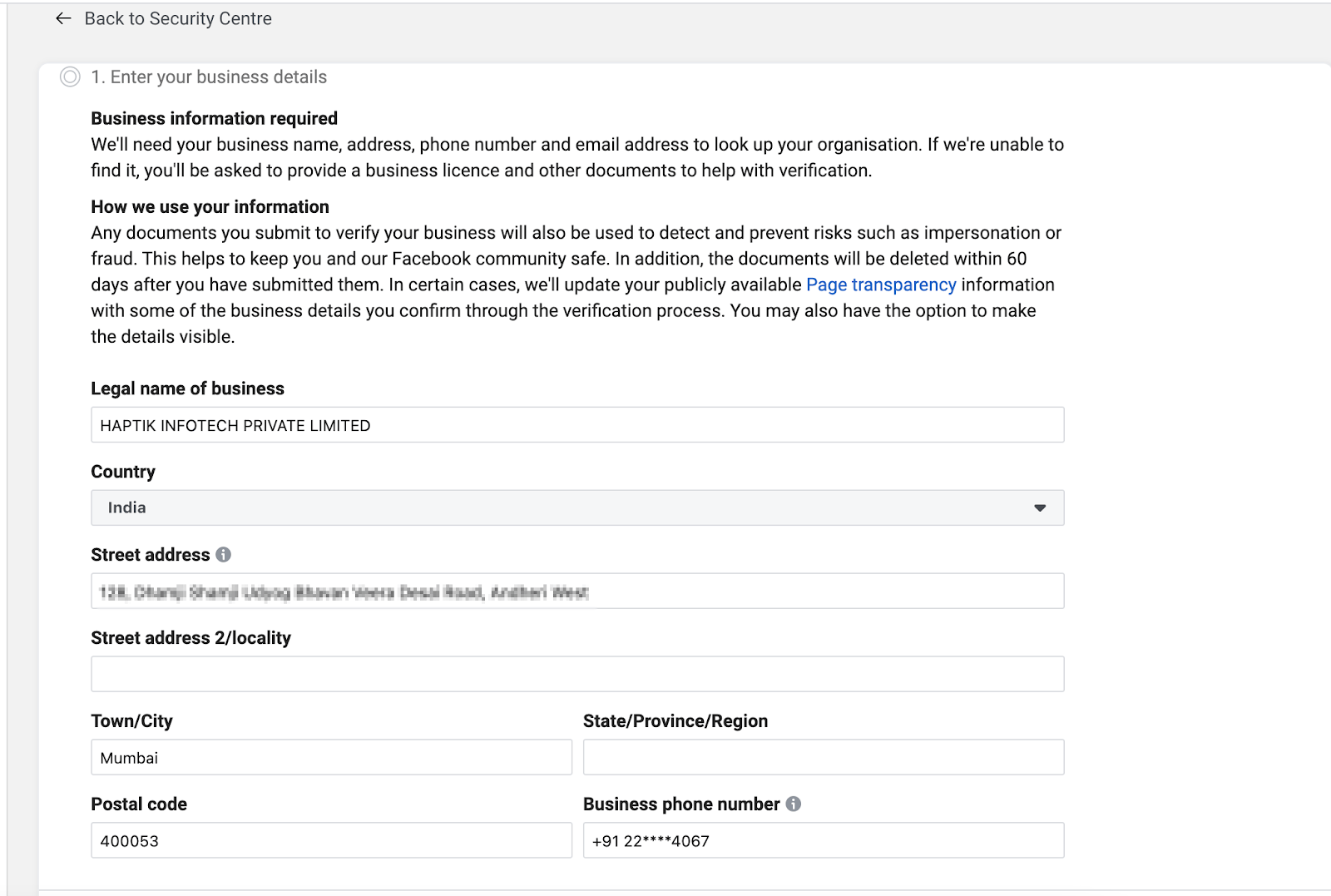 Step 3: Facebook will generate a list of legal businesses. You need to select the correct business from the list.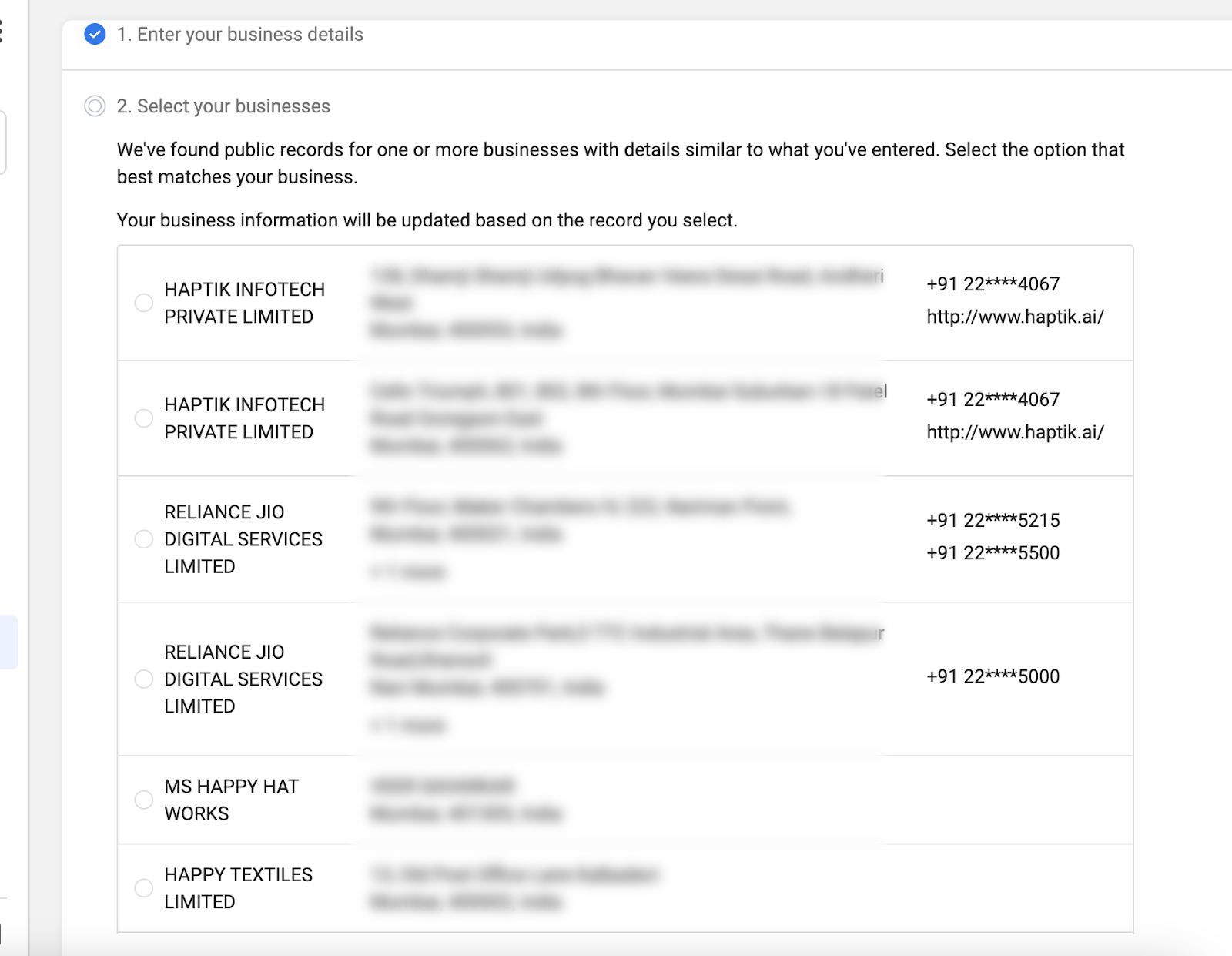 Step 4: To confirm your Business Details, you will need to select the phone number that you have access to and click 'Next'.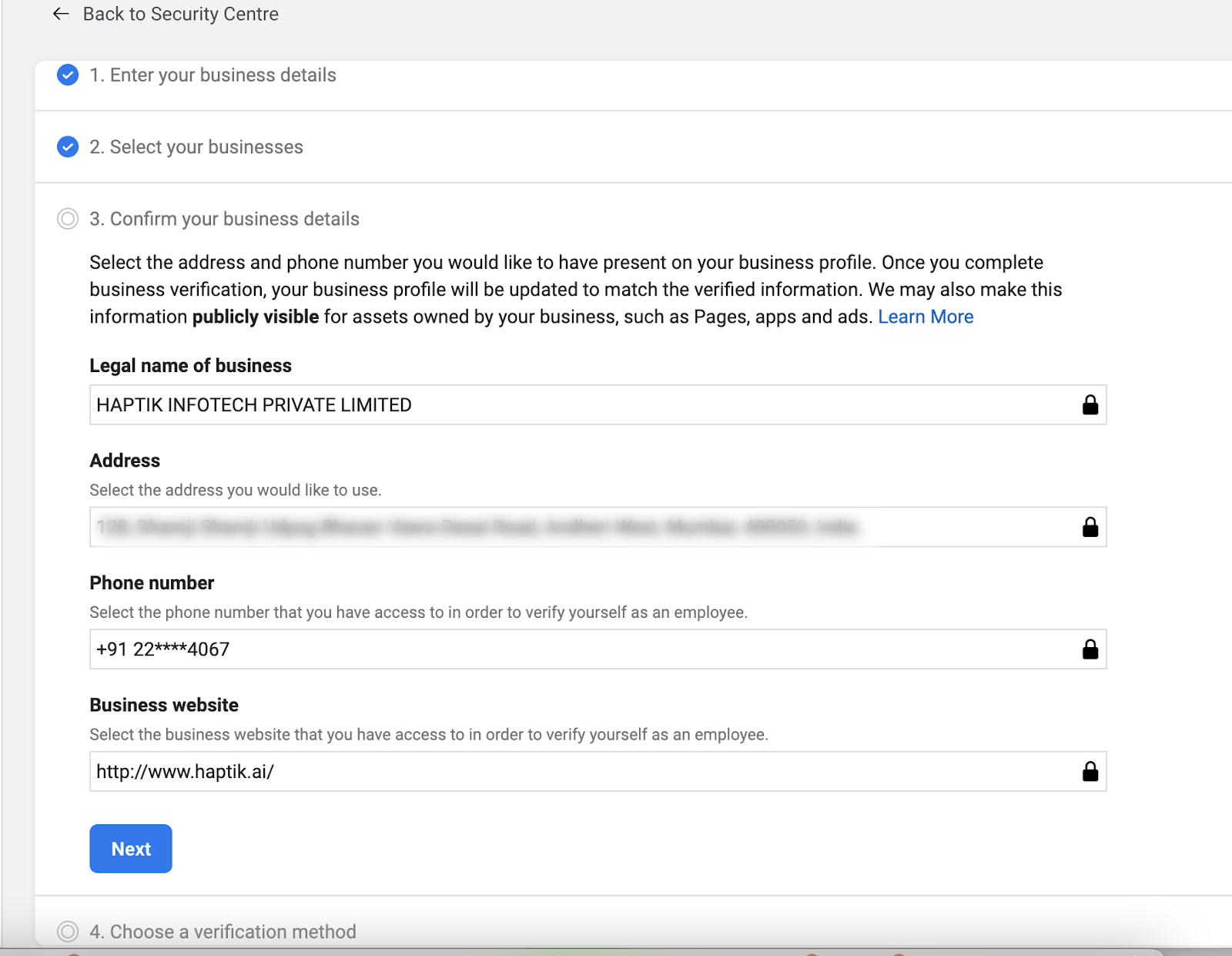 Step 5: You can now choose to receive a verification code via call or email and verify your details. When submitting the documents, please ensure you select the language of the documents! It is also necessary that all the documents you submit are in the same language.
And that's it! If you've done everything correctly and submitted the required documents, you should be successful with your Facebook Business verification in no time. ?‍
How long does Facebook Business Verification take?‍
If your documents are in order, it should not take more than 5 business days for your verification to be completed. Facebook generally reverts in 3 business days with a review of your setup. In case they do require any additional documentation, the user can respond to the same support ticket from Facebook and appeal. This usually comes with a timeline within which you must respond with any clarification or furnish additional documents based on Facebook's feedback. ‍
So is it possible for you to monitor the verification process? You bet! 
You can do so within the Facebook Business Manager, under "Business Settings". If your business has been verified. It will look like this:
‍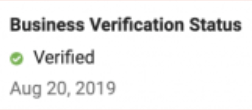 Still facing a difficulty? Here's why your Facebook Business Verification might be failing:

1. Your verification can be rejected if the documents that you are submitting for Legal Name and for Proof of Address have details that are not consistent. Facebook uses third party databases to verify the proof you have submitted for business verification so make sure your the legal name and address you mention are the same as in MCA (Ministry of Corporate Affairs) records!
2. The scanned documents that you submit should be free of any hand written notes scribbled. If there is anything on the document that indicates it may be forged, your verification will be rejected.
3. You should make sure that the website you are submitting to Facebook has the Business Legal Name on the footer of your website, or it can lead to a rejection.
4. Submitting 2 documents is enough to apply for the verification. In fact, submitting documents beyond what is required can also lead to delay/rejection of your application.
How many times can you apply for Facebook Business Verification?‍
From what we have seen, Facebook gives up to 3 chances to send corrected documents and apply for verification. Post which, they may disable the ability to apply for Facebook Business Verification.
If you have already tried verifying your business and have failed to do so, it is advisable to get on board with an Official WhatsApp Business API Provider, such as Interakt, as they take you through the entire process step-by-step. Besides, integrating with WhatsApp Business API is becoming an indispensable tool for fast-growing businesses because of all the game-changing features you get access to!
1. Verify your Domain – Since Facebook limits the ability to edit, link thumbnail images, headlines and descriptions as a way to control the spread of clickbait and misinformation, verifying your domain is a good idea even if it is not for the purpose of business verification. However, doing so would provide a way for you to claim ownership of your domain in Business Manager.
2. You should keep a close check on the documents you are submitting and make sure that the information on all of them are consistent and do not vary from the business details with the MCA.
3. Depending on the document and from where it was issued, the language in which it is prepared can be different. Make sure that you specify the language of the documents you are submitting correctly so that the reviewer is easily able to verify it: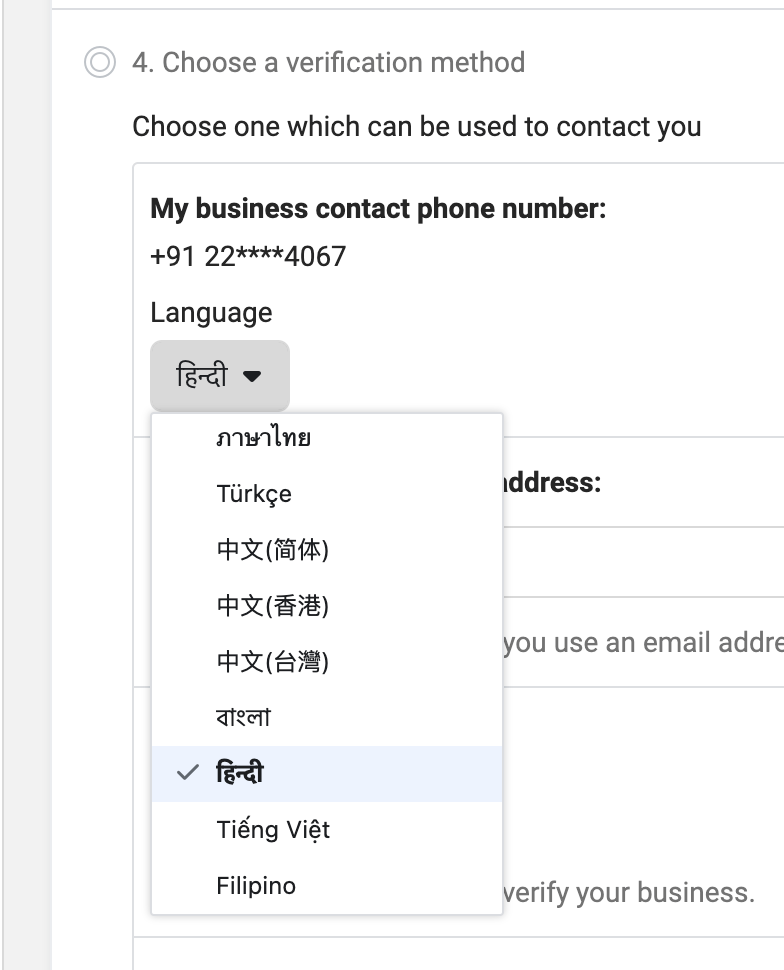 If you are looking to integrate your business with WhatsApp Business API and are facing difficulty with the Facebook business verification process, feel free to reach out to Interakt's team. We are here to help you every step of the way and will even contact Facebook on your behalf if need be in order to make this process as frictionless as it can be.